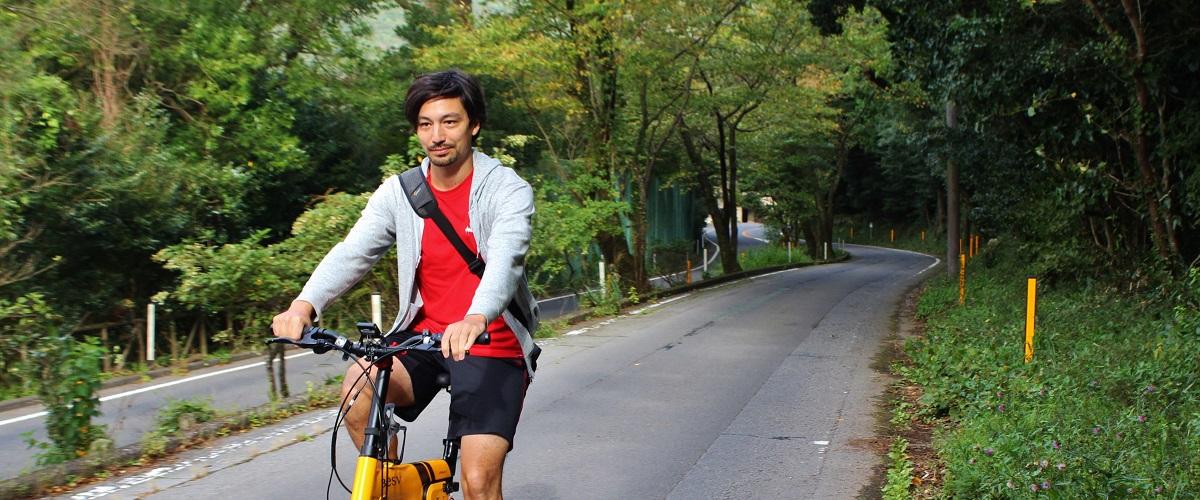 Pedaling around in Nagasaki
Bicycle rental services are available at many locations in Nagasaki Prefecture. Here, we introduce 6 areas that can be explored on a bicycle.
Unzen: Cruising through a Volcanic Peninsula Forest
Unzen Onsen is a small hot spring town located at the center of Shimabara Peninsula. Surrounded by Mt. Unzen, this little quiet town is on the grounds of Japan's first national park - "Unzen National Park." With a bicycle, you can easily get around the town and visit popular attractions such as Unzen Jigoku (Unzen Hell), Unzen Toy Museum, Shrines, day-trip hot spring facilities, cafes and restaurants. For adventurers, ride into the forest of Mt. Unzen towards Nita Pass. One cannot help but feel relaxed as the gentle breeze and refreshing air passes by as you weave through the mountain roads. Once you're at Unzen Ropeway Station, you can take a ropeway to the top of Nita Pass for a magnificient view of the Shimabara Peninsula and Kumamoto Prefecture.

Electric bicycles are provided by Unzen Tabi-Chari, and it can be rented at three locations: Unzen Fukudaya Ryokan, Green Terrace Unzen Restaurant, and Unzen Golf Course. The stylish electric bicycles are highly functional, making it easy to ride up slopes and even mountain roads. If you're not sure where to go with your bicycle, Unzen Tabi-Chari has 4 suggested routes based on different themes (historic sites, scenic spots, and etc.) and your stamina.
Shimabara: A Castle Town and the City of Swimming Carps
One of the most convenient ways to travel around Shimabara City is to rent a bicycle at Shimabara Station. From there, many attractions are within a 15-minute bike ride away.

For starters, bike to Shimabara Castle in just 5 minutes. This castle exhibits artifacts and historical documents that is unique to this region; especially its history on the Hidden Christians in the Nagasaki Region. From the castle, you can bike north to Bukeyashiki - a former samurai residence street with houses and exhibits open to public. Alternatively, you can head south to an area referred to as "The City of Swimming Carps." As Shimabara City is blessed with tonnes of natural spring water everyday, the water is so clean that many carps live in the water canals of that area - hence its given name. Nearby, you'll also find Shimeiso Spring Garden - a traditional Japanese villa built on top of a pond created by natural spring water. There you can enjoy a cup of tea and a take in the picturesque scenery of the villa and the swimmings carps just below your feet.

For experienced cyclists, you can also bike to the "Memorial Park of Houses Destroyed by Debris Flow," located inside Mizunashi-Honjin Fukae Roadside Station (about 7km from Shimabara Station). The memorial park exhibits 11 houses (preserved in its original condition) buried by the debris flow from the volcanic eruption of Mt. Unzen. The houses were buried with debris measuring up to 3 meters tall. Today, three of the houses in the memorial park are protected under large tents, and 8 houses are located outside; all of which are open to the public with no entrance fees.
Iojima: The Resort Island Perfect for a Getaway Trip
Iojima Island is best known as a resort island located 20 minutes away by ferry, or 40 minutes by car from Nagasaki City. There are multiple facilities at the "i+Land Nagasaki" resort including types of lodging, bars with billiards and darts, restaurants with all you can eat buffet, outdoor BBQ, a mini aquarium, and bicycle and segway rentals. Renting a bicycle is the best way to explore the island as you can go down narrow streets, or stop on the side of the road to take a photo of a picturesque spot.

For adventurers, you can bike to the lighthouse located at the northern tip of the island, or bike to a beach area and go rock hopping amongst the wavy reefs that appear at low tide. When you get tired, stop by one of the four cafés scattered around the island and roast your own tea leaves, or brew a cup of coffee.

※ For those with an international driver's license, you can also rent and drive a tuk-tuk around the island too.
Goto Islands: The Perfect Playground for Cyclists
"wondertrunk & co." organizes a variety of cycling tours according to themes and riding classes, and travels to five islands consisting of about 140 islands covering about 80 km in length.
The islands always offer such amazing natural beauty that cycling here will calm your heart and you will never get bored of the diversity of routes and terrains available. There are multiple islands to explore, each with different scenic views and characteristics. For example, the islands of Fukue and Kamigoto both belong to the Goto archipelago but are totally different. Fukue depends on a mix of agriculture and fishing as its main industries, while Kamigoto relies solely on the ocean as its lifeline. These differences affect each island's infrastructure and means cyclists can experience entirely different roads, views, and atmospheres depending on which island they explore.

Also, Goto City Tourism Association offers electric bicycle rental service "GOTOCHARI" at Fukue Port Terminal.
Ojika: One of the Most Beautiful Villages in Japan
Ojika Island is listed as one of the most beautiful villages in Japan by "NPO Most Beautiful Villages in Japan Union." Upon arriving at the Ojika Port Terminal, you can choose to rent a regular bicycle or an electric one to start your journey on this peaceful and heartwarming island. Ojika Island was formed by volcanic eruptions over thousands of years ago, so its landscape is relatively flat with gentle slopes. Some of beautiful spots on the island that you can get to by bicycle include the Avenue of Pines - Himematsubara, Akahama Red Beach, Goryo Cliff, Kakinohama Beach, Madara Island, Chinokojima Shrine and many more.

※ English guided tours are also available.
Iki: Adventure on an Island where Gods Dwell
Electric bicycles can be rented at a total of 6 locations including Gonoura Port, and Ashibe Port (aka the gateways to Iki Island).

Iki Island is said to be the birthplace of Shintoism in Japan, and today, there are more than 150 registered shrines on this small island. One of the most popular and picturesque shrines on the island is Kojima Shrine. The fascinating part about Kojima Shrine is that it can only be accessed during low tide. Most ryokans and hotels on the island will provide a tide chart schedule at the lobby.

Iki Island also has a long history that can be traced back to the Yayoi period. In fact, it was mentioned in historical Chinese texts as "Ikikoku" of Japan. Attractions such as Harunotsuji - the rebuilt capital city of Ikikoku during the Yayoi period, is one of a kind that it will make you feel like you've travelled back in time.

※ While on the island, have a taste of Iki's famous "Iki Wagyu" beef, and the island's award winning "Iki Shochu" (alcohol made from barley) that received the "Geographic Indicaton" designation from the World Trade Organization in 1995.

SHARE