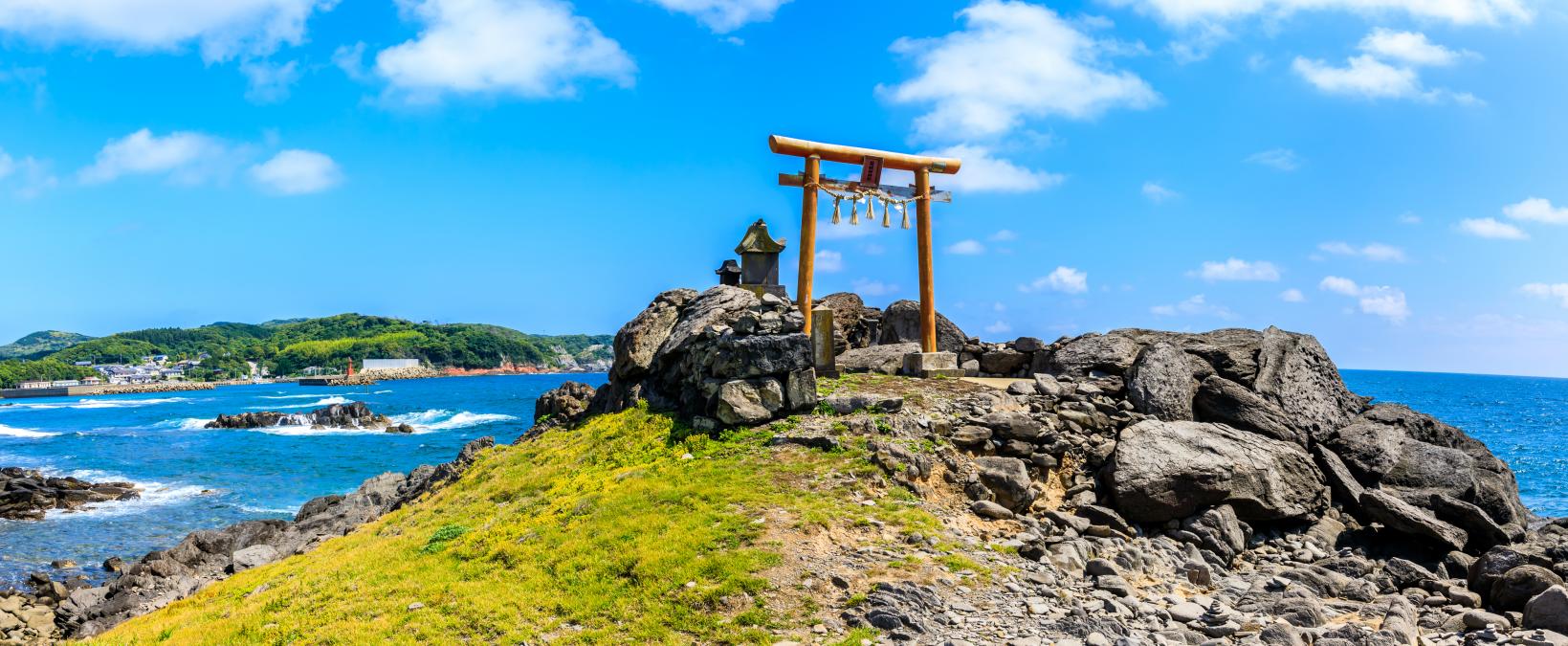 Iki Island is easily accessible from Kyushu. We introduce you here to the charms of the island that has a history of over 2,000 years. These include a crystal clear ocean, famous locations thought to be flowing with mystical energy and recommended scenic spots.
Scenic Beaches Near to Kyushu
Iki Island is an isolated island in Nagasaki Prefecture. The island can be reached in approximately 30 minutes by plane from Nagasaki Airport and in approximately 60 minutes by high-speed boat from Hakata Port in Fukuoka Prefecture. It is popular because it is easily accessible from Kyushu and because you can visit it together with other sightseeing spots!
Many Beautiful Beaches on Iki Island!
There are many natural white sand beaches on Iki Island. Please enjoys swimming in the ocean and marine activities.
Swimming Beaches on Iki Island

There are swimming beaches stationed with lifeguards during the summer on Iki Island. Please have fun on swimming beaches safely with peace of mind.

To a list of swimming beaches

Visit Tatsunoshima

This is the only uninhabited island in the Iki Island area. You must check out the scenery that you can only see from a boat! You can also land by boat depending on the season. This means you can enjoy the beach with its superb views and picturesque spots.

To details on visiting Tatsunoshima

Iki Island: Famous for Fishing

The ocean of Iki Island is famous as a fishing spot that anglers want to visit at least once. There are even accommodation facilities that will arrange a boat for you and cook the fish that you catch!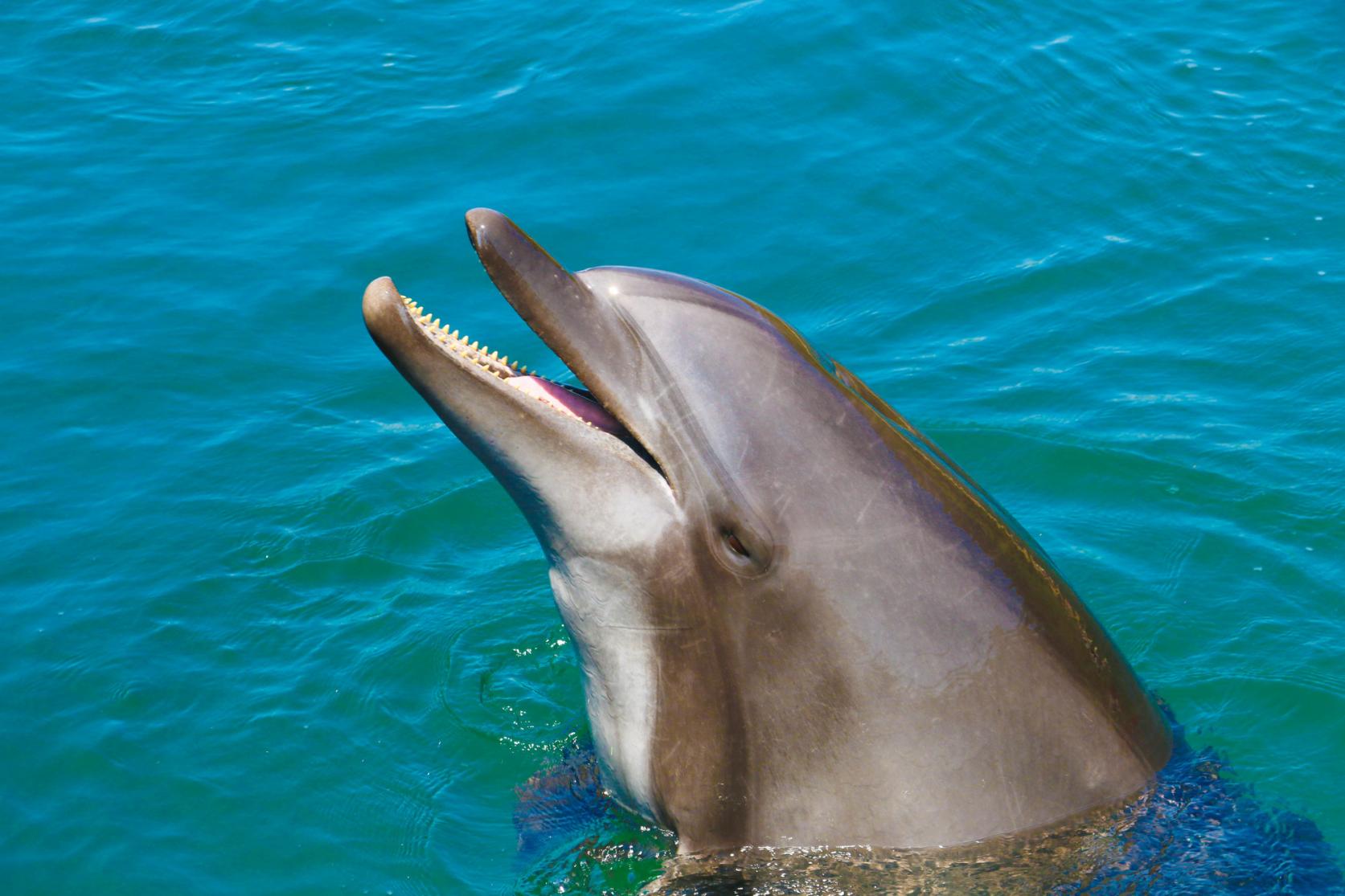 A Park Where You Can Interact with Dolphins
Iki Dolphin Park & Resort has been made by partitioning off a natural inlet. Dolphins are raised here in nature. You can interact with dolphins and experience a soothing time.
View more
A Spot Where You Can Feel the More Than 2,000 Years of History of Iki Island
Iki Island is described in mythology as being the fifth island created in Japan. More than 150 stately shrines are dotted around the island. The entire island is also said to be a location thought to be flowing with mystical energy. Moreover, the island was introduced in Chinese history textbooks nearly 2,000 years ago. It has flourished as a base of trade since ancient times. Learn about the history of Iki Island that developed as an important base in history while visiting shrines, burial mounds and sites of castles!
Harunotsuji Archeological Site

The Harunotsuji Archeological Site is a collection of historic ruins from a kingdom described in an old Chinese history book. Earthenware from various locations and money from China that indicate interaction with a variety of places have been found here. In addition, it has been confirmed that there are dwelling sites from that time and the remains of Japan's oldest port here. The adjacent Harunotsuji Guidance provides experiences of the way of life of ancient Japanese people (e.g., earthenware making, fire starting and magatama jewel making). It has also been designated as a special historic site of Japan.

View more

Soroku Tomb

This is a enormous burial mound located on a hill with an elevation of 100 meters that was built around the mid-sixth century. With a total length of 91 meters, it is the largest burial mound in Nagasaki Prefecture.

Sumiyoshi Shrine

This is a shrine that preserves many important cultural properties from about the 8th to the 16th centuries. You must see the Daidai Kagura finale of the traditional Iki Island Shinto music and dancing performance held every year in December!

Kojima Shrine

Kojima Shrine is located on an island in the sea. The approach road from the sea appears for only a few hours at low tide. Only then can you walk to this shrine. It is a mysterious location thought to be flowing with mystical energy where you can meet the gods due to the gravitational pull of the sun and the moon. This feature means it is also called the "Mont Saint-Michel of Japan." You can see this mysterious space created by nature. This entire island is considered sacred precincts. Therefore, you are not allowed to take even one twig off the island. You can take photographs, so why don't you visit these sacred precincts that remain in modern times protected by nature while checking the time of low tide?

View more

Site of Katsumoto Castle

Katsumoto Castle is located on a hill with a wonderful view of Katsumoto Port and Tsushima Island. It is said that it was completed in just four months in 1591 by Toyotomi Hideyoshi, a military commander who unified Japan, to be a supply base for when he dispatched his troops to Korea. Currently, part of the site of the castle has been turned into a park. The stone wall of the front castle gate, which is all that remains, reminds us of those times. The spectacular views from the observation deck are also a highlight. You will even find the gravesite of Kawai Sora, a pupil of the haiku poet Matsuo Basho and someone who died on Iki Island, near the park. You will be able to experience history even more deeply if you tour the site with a local guide.

View more

Kurosaki Battery Site

The site of the gun battery near Saruiwa (Monkey Rock) is a popular tourist destination on Iki Island. It is a giant gun battery that has been called the largest in Asia. It is said that it was established to attack vessels passing through the strait during WWII. However, the gun battery was dismantled after the end of the war without being used even once. Currently, it is heritage of war with only the site remaining. If you actually visit the gun battery and take a peak through the massive hole, you will be amazed at its size. You can view photographs of those days in a nearby souvenir shop. Directly experience and learn about the history of WWII!

View more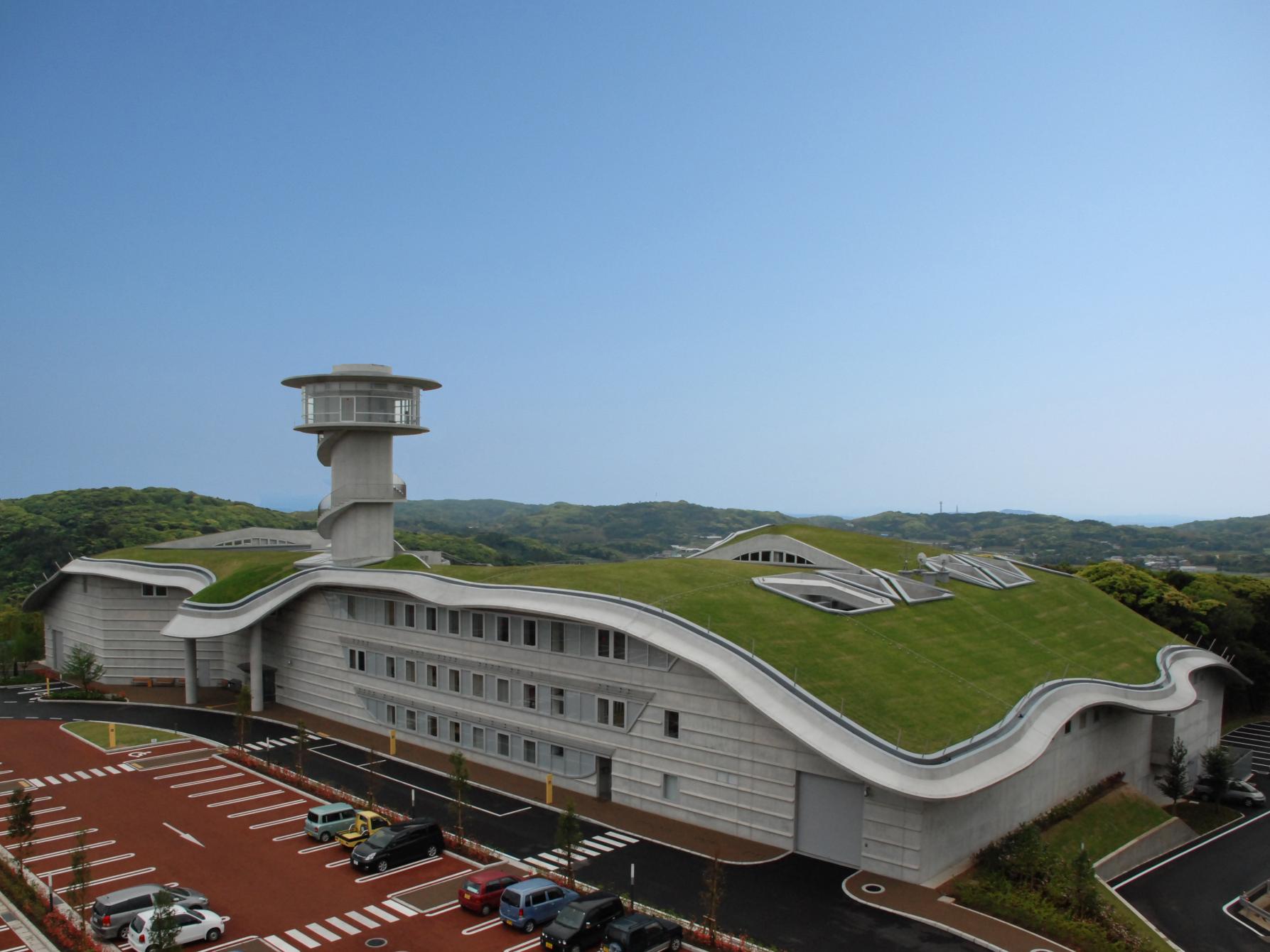 Learn the History of Iki Island at the Ikikoku Museum
Many valuable documents excavated from historic ruins on the island are exhibited in this museum. You will be introduced to the history of trade between Japan and China and Korea. The exhibition where you can actually touch earthenware used more than 2,000 years ago is popular!
View more
Photogenic Spots with Superb Views
Tatsunoshima, which is surrounded by an emerald green sea, is worth visiting just to see it. There are many other spots with super views that you will reflexively want to photograph!
SaruIwa (Monkey Rock)

The Saruiwa (Monkey Rock) created by nature over many years looks just like a monkey facing away! It appears in a legend because it is a mysterious sight. It is also said to be a pillar built by the gods so that Iki-no-shima will not be washed away. In addition to its giant and unique shape, the superb view of the beautiful setting sun you can see over the rock is noteworthy. We recommend enjoying both the land and sea views. There is a shop nearby, so you can buy souvenirs (e.g., T-shirts, original products and marine products) here.

View more

Oni no Ashiato (Ogre's Footprint) (In Makizaki Park)

This is a popular spot with a superb view that is said to be of a footprint made by a demon planting his feet in order to save a whale. This large hole with a circumference of 110 meters was created by nature over many years. It has become a famous fishing spot and many anglers visit. It is said that there are two footprints because the large demon straddled Iki Island. The other footprint is thought to be on Tatsunoshima.

View more

Sakyobana

This extremely steep rising cliff runs for about one kilometer. The view of the waves hitting the cliff and the horizon are stunning. There are rocks like a series of thin pillars protruding out from the ocean here. It is said that these rocks are one of eight pillars built to prevent the island from being washed away when Iki-no-shima was created by the gods. It is also a place where you can catch lots of turban shells and other marine products. Maybe you will see an ama (female fisherman) free diving here?

View more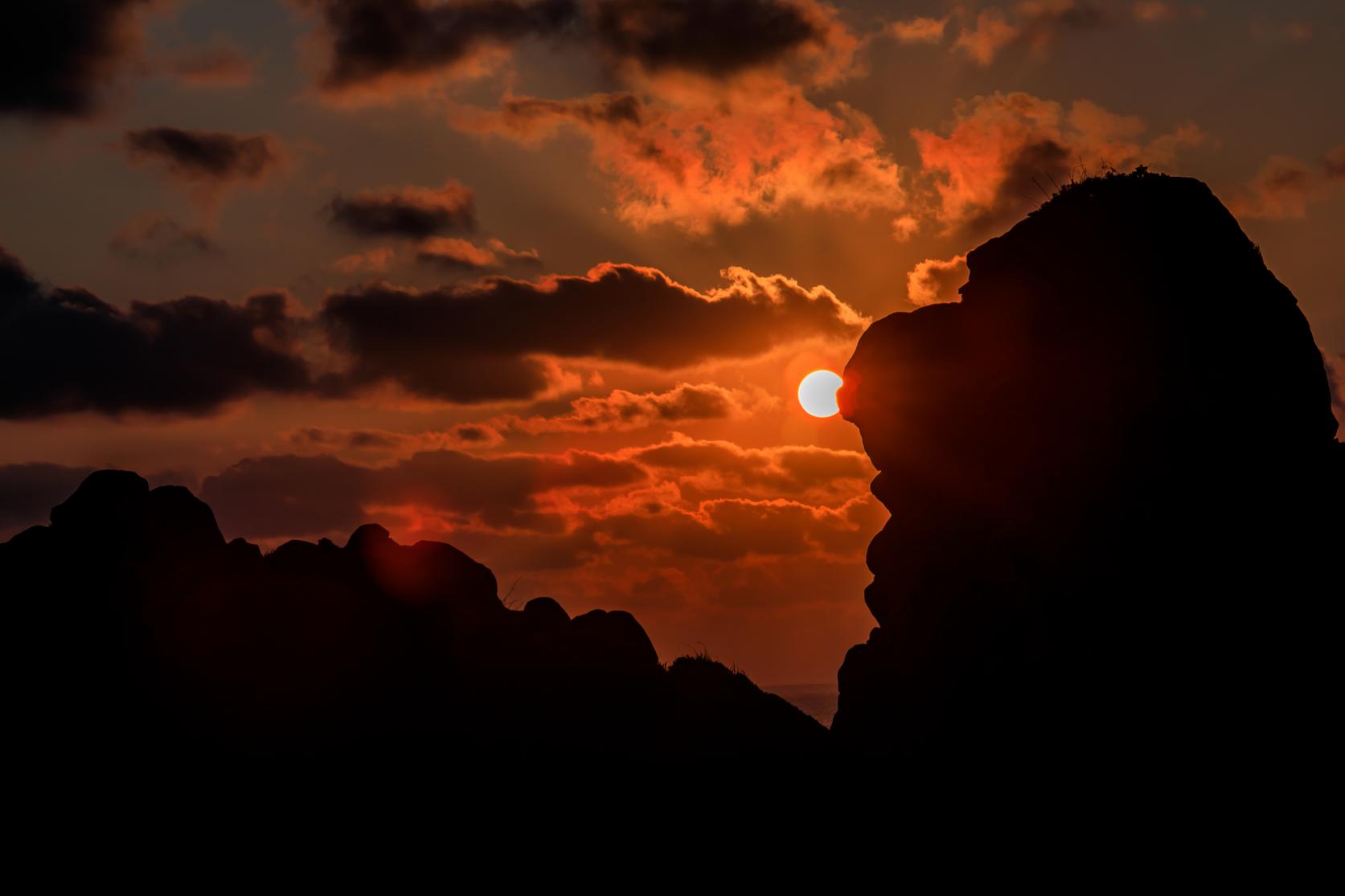 Spectacular View with a Different Appearance by the Morning Sun and the Setting Sun
Saruiwa (Monkey Rock) appears to be lonely looking out at the setting sun. The scenic spots of Iki Island provide different scenery when you visit them at different times (e.g., in the morning or the evening)!
Exquisite Foods and Drinks of Iki Island
In addition to fresh seafood caught in the ocean, you will find plenty of other foods on Iki Island (e.g., rice, vegetables and beef) raised in unspoilt nature. The local specialties of Iki Island, known for its top class ingredients, can be enjoyed at reasonable prices locally.
Sea Urchin

You can taste three types of fresh sea urchin from around April to October on Iki Island.

Iki Beef

The rare Iki Beef, which is shipped only in small quantities, has also be chosen as the tastiest Wagyu beef in Japan.

Shochu Distilled from Barley

With grain making thriving since 400 years ago, shochu distilled from barley unique to Iki Island was created here. It is still brewed by seven breweries on the island.
Iki Island: Packed with Charms Surrounded by Unspolit Nature
Iki Island, which can be reached in about one hour from Kyushu, is packed with charms (e.g., beautiful seas, wonderful views, history, foods and drinks). Why don't you spend a relaxing time on the island? Please make sure to visit Iki Island!
SHARE