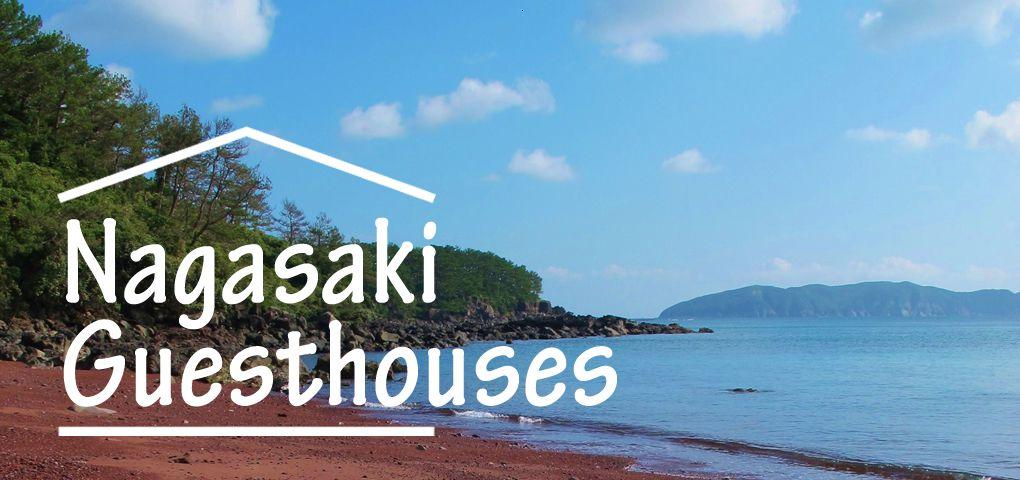 Staying at a guesthouse is not just a good way to save money on traveling, but it is also a fun way to meet local people; experience the traditional culture and food of each area; and to make great connections with fellow travelers.
In this article, we will introduce four guesthouses located in Nagasaki Prefecture. Each guesthouse is run by staffs who are passionate about traveling and enjoy sharing their own culture with other travelers. If you're looking for a warm, friendly and exciting place to spend the night without spending too much money, a guesthouse might just be the perfect place for you!
Shimayado Goen Inn (Ojika Island)
Located north of the Goto Islands, Ojika is a small island with a population of about 2,600 people. This island was created as a result of multiple volcanic eruptions, and overtime the landmass has slowly merged together to form this island. Ojika is relatively flat compared to the neighboring islands, but it has many stunning beaches and mesmerizing sunset views.

Shimayado Goen is a guesthouse that truly wants to share all the treasures that the island has to offer. Goen in Japanese implies that "meeting you is not a coincidence, but fate", which compliments with the owner's belief that "accommodation, sightseeing, culture and people are the pillars of traveling."

Shimayado Goen has 9 private rooms and a capsule style dormitory that can accommodate up to 10 people. The private rooms are traditional Japanese style rooms with tatami mats and futon beds. It is also equipped with a private bath and toilet, cable TV, and your basic amenities such as Wi-Fi, hair dryer, soap and shampoo. The capsule style dormitory is a great alternative for those with a smaller budget. Shared facilities for the dormitory include bathroom, washroom, washing machine, refrigerator and a communal area for everyone to socialize. While there is a microwave, toaster oven, and pot available to make your own food, the owners also offer breakfast and dinner options made from the catch of the day. Located next to the guesthouse is a place called Bar & Karaoke Melody, where they offer local izakaya food and a karaoke room to belt out a few songs. With a friendly atmosphere, Bar & Karaoke Melody is the perfect place to grab a drink and chat up with locals and fellow travelers.
The best way to travel around the island is to rent a bicycle or car, and Shimayado Goen offers free bicycle rentals for its guests. As you explore the island, you'll notice that many of the buildings have an old rustic charm; that is because many of them are over a 100 years old! Inside one of the oldest buildings in town is Ojikappan, a local letterpress that uses traditional methods of making business cards, posters and other printed works. The craft has been handed down for 5 generations, with the most recent owner being Momoko Yokoyama. Stop by and she'll give you a tour of the facilities.

Ojika is full of natural beauty. During the warmer seasons, you can go take a swim in one of the many beautiful beaches around the island. One of the more famous beaches is Akahama Red Beach, where the sand is red due to the fact that Ojika is largely made up of volcanic rocks. Alternatively, take a stroll down Hime no Matsubara; a 450 meter long pine tree grove. There are also many forests, quaint farms, and cows lazily grazing. At the end of the day, make your way towards the coastline; it has the most picturesque view of sunset over the horizon.

If you are planning to stay for a few days, you can take a day trip to the neighboring Nozaki Island. This island has been uninhabited since 2001, and it is now a UNESCO World Heritage Site due to its history on Hidden Christians during the ban on Christianity in Japan from the 16th to 18th century. Day tour activities such as fishing, snorkeling, trekking, and exploring the ruins of Nokubi Settlement are available, but reservation in advance is highly recommended as the island is uninhabited. Travel further south of Nozaki Island and you can visit Okinokojima Shrine, where its stone torii is facing directly at the torii of Jinokojima on Ojika Island. You can ask the owners of Shimayado Goen or contact the Ojika Island Tourism to reserve a boat that will take you to and from Nozaki Island.

Ojika is easily accessible by ferry from Sasebo Ferry Terminal or Fukuoka Port. Sasebo Ferry Terminal also offers the option of going by jetfoil, which gets you to the island in 90 minutes.
Yukinoura Guesthouse Moritaya (Saikai City)
Located in the often overlooked Saikai City, Yukinoura Guesthouse Moritaya is the perfect place to escape from the busy city life and to relax in a quiet rural part of Nagasaki Prefecture. A relative newcomer, this charming guesthouse located in a 90 year old Japanese house has been open since spring 2018.

Moritaya Guesthouse offers two types of dormitory rooms, unisex and women only. The unisex dormitory room can accommodate up to 9 people, and the female-only dormitory can accommodate up to 5 people. There is also a private Japanese style room with space for 3 futon mattresses. In addition, there is a spacious and well equipped kitchen for self-caterers, and a supermarket located nearby.

During the day from 11:30 - 15:00, Moritaya also serves as a café. The thing that sets it apart from other cafes are their homemade herbal tea blends, which will leave you fully recharged!

Finally, the first floor of Moritaya also operates as a communal space for the community. The event room is open to public from 10:00 – 16:00 every day. This is the perfect place to meet local people and other travelers in town. The event room can also be rented for hosting events or activities. Guesthouse Moritaya is perfectly positioned for guests who want to experience what Saikai is most famous for – nature! Head towards the sea for views out towards the Goto islands, which are particularly breathtaking at sunset. Alternatively, head inland along the shores of the Yukinoura River and immerse yourself in the calm beauty of Saikai's forests. For shrine lovers, there are several around the fringes of the forest, providing a cool and sheltered place, even during the scorching summer days. Slightly further afield is Tsugane Otoshi waterfall; a beautiful place to stop off for a picnic.
Moritaya is the prime place to stay for keen audiophiles. Nagasaki's highly unique Sound Museum is just a short drive away. Boasting an almost uncountable number of records and a mountain of high fidelity audio equipment. It's very easy to lose yourself for a day in a world of analogue sonic bliss.

Nagasaki Kagamiya (Nagasaki City)
Looking to escape the busy city, but don't want to stray too far off course? Buried in the quieter streets of Nagasaki City lies a guesthouse that will immerse you in the warmth of tradition. Nagasaki Kagamiya is an inviting guesthouse with friendly staff, traditional Japanese style rooms, and kimono rental services.

Whether you're looking to stay for one night or a few days, Kagamiya has an array of options available for the budget travelers. Japanese-style (washitsu) private rooms are available for up to 4 people. If you're a budget traveler, the shared female dormitory room is equipped with bunk beds and can accommodate up to 4 people. The shared male dormitory room, located in a simple tatami room, fits up to 3 people, and each space has its own partition for privacy.

If you are traveling in small groups or with family, Kagamiya Hanare Annex, located next to the main building, is also available. The two-story building offers three stylish, yet simplistic Japanese-style tatami rooms, allowing you a truly fulfilling and minimalist experience.

Kagamiya also offers a shared public space equipped with free WiFi and sightseeing information for those who wish to explore the depths of Nagasaki city. The hospitable owners are very friendly and can speak English. Perhaps the most enchanting part of the guesthouse is the kimono room. Brimming with hundreds of stylish and antique kimono and yukata, the kimono room offers both men and women an endless amount of choices.

Kagamiya owner Yukari Ichihara has practiced the art of kimono dressing (kitsuke) for 10 years, and dresses both guests and those who want to wear kimono. She is an avid collector of antique kimono and will gladly dress those interested in a more authentic experience. Her method is meticulous and warm, and she eagerly invites anyone to Nagasaki Kagamiya to experience the wonderful art of kimono. What better way to enjoy a day in the city than taking a stroll donned in a stylish, antique kimono? For those who cannot stay at the guesthouse, but are still interested in the kimono experience, Nagasaki Kagamiya offers kimono rental starting at 5000 yen (price varies depending on the kimono style).

Nagasaki Kagamiya is only a short 5-minute walk from Hotarujaya tram stop. From Nagasaki Station, take the No. 3 tram to Hotarujaya. If you're coming by car, get off on Susukizuka I.C. towards Nagasaki City, and head towards Hotarujaya station. As you approach Nagasaki Kagamiya, you'll find a staircase in front of a torii gate. Climb on up, and you'll find the Nagasaki Kagamiya sign. Be sure to visit the Matsushima Shrine located just behind the guesthouse. With its beautiful and inviting fox statues and torii gates, you won't be able to miss it!

Reservations can be made both on the phone, as well as through the website, which has lots of great information in both Japanese and English.
Minatoya Guesthouse (Iki Island)
Iki Island (Iki) is, for many, a perfect image of an island getaway. Located a short walk from the Ashibe Ferry Terminal, Minatoya Guesthouse is the perfect place to base yourself for a weekend (or more!) of island exploration. The 100 year old building has both dormitory style rooms and private rooms. It also has a communal area which is a great place to unwind, meet fellow travelers and make friends over a glass of Iki's famous shochu. Alternatively, you can grab a book off the bookshelf and curl up on the sofa for some quiet time. There is a fully equipped kitchen for everyone to use, but the owners also offer meals at an additional cost (highly recommended!). Hand prepared and locally sourced, the friendly owners really know how to get the best out of Iki's prized local produce. The island is famous for its high quality seafood, beef, vegetables and shochu, so a stay on the island is sure to be a treat for gastronomic enthusiasts.

The best method of traveling on Iki Island is by car. There are several car rental companies on the island, but mostly around the port areas. Reserving a car in advance is highly recommended, especially if visiting on a weekend.

Some of the famous sights on Iki include the giant Saru-Iwa (monkey rock) and Ikikoku Museum, which houses artifacts found on Iki from the Jomon era (around 3000 years ago). Iki is also home to one of the highest densities of Shinto shrines anywhere in Japan, so you are never far from a torii gate. Particular highlights for shrine fans are Kojima Shrine, which is only accessible at low tide.

The biggest draw for most people is undoubtedly the sea, and the beaches of Iki will not leave you disappointed. Tsutsukihama and Nishikihama beaches are both well-known beaches on the island with a range of facilities and activities available if you need a break from sunbathing.

For winter visitors, Iki is also home to a large number of hot spring onsen. In particular, the aptly named town of Yunomoto is home to a huge array of onsen options to warm up and relax from a day out.
Words by Yeti Mallavi (Shimayado Goen Inn), Will Tiley (Moritaya & Minatoya Guesthouse), and Cassandra Fegert (Nagasaki Kagamiya)
Photos of Yukinoura Guesthouse Moritaya and Minatoya Guesthouse provided by Go! Go! Tomocchi!
Photos of Nagasaki Kagamiya provided by Cassandra Fegert and Yukari Ichihara
All other photos by NPTA
------------------------------------------------------------------------------------------------------------------------------------------------
The Nagazasshi is Nagasaki's No. 1 English language magazine. You can read it online at www.nagazasshi.com
The Nagazasshi is also on Facebook! http://www.facebook.com/nagazasshi
Like the page to keep up to date with all the best news and views from the international community in Nagasaki.
SHARE
NEXT
Recommended Articles