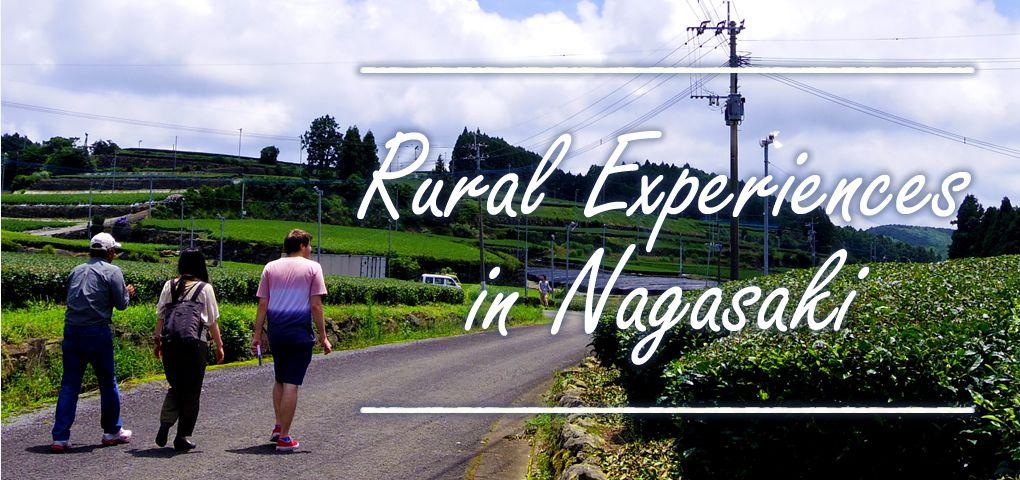 Rural Experience in Nagasaki
Enjoy the slow life and swap a regular hotel for a chance to experience rural life in Japan. These homestay experiences are a chance to see a side of Japan that doesn't get written about in any guidebooks.Spend a night or two living with a local family, help them prepare a traditional home-cooked meal, and take part in farming, fishing, or even tea brewing. It's the perfect chance to experience quintessential Japanese hospitality, or omotenashi, as well as immerse yourself in local life.
Matsuura and Hirado – Matsuura-tou no Sato
Nothing beats catching your own fish and cooking it for dinner in Matsuura and Hirado. In addition to rod-and-line fishing from a boat, you have the chance to go out net-fishing or octopus-fishing with professional Japanese fishermen. Other outdoor experiences include sea kayaking and horseback riding on white sandy beaches, while indoor activities include preparing local food like pressed sushi, champon, or soba noodles from scratch. You will be led by experienced instructors rather than the host family themselves, so it's possible to select the experience of your choice. While in the area, take the time to visit the many historical sites offered in Hirado, including Hirado Castle and the Dutch Trading Post.

My own experience with these homestays took me to the small island of Ikitsuki, just off the coast of Hirado. We were met at the park overlooking Hirado Bridge, and from there, we drove about 30 minutes to the island of Ikitsuki.

First, armed with rods and lines, we hopped into a small boat to catch ourselves something to eat. Despite the inclement weather, our instructor's patience and friendliness was second to none. He demonstrated how to put the bait on the hooks and cast the lines, and time and again helped us when our lines became tangled. At first, none of us caught any fish at all. This is where our instructor's local knowledge came into play. Considering the weather conditions, he steered the boat into calmer waters, and it was then that we finally began to reel the fish in.

Fish in hand, our next stop was the house of the family who would be hosting us that evening. Uniquely part of the homestay experience, we then prepared dinner together with our hosts. We were shown how to clean and prepare fish for sashimi, and we were even able to try our hand at cleaning the fish we had caught ourselves. The dishes served included fresh squid sashimi and various fried dishes. Sitting down to dinner with our hosts and three generations of their extended family was a highlight of the evening. We spent the night in spacious Japanese-style rooms, with traditional futon beds that are laid out on the floor at night and then put away in the morning.
We awoke to find our hosts had already prepared a sumptuous breakfast feast, including fresh vegetables and fruit. Our hosts had even taken the trouble to use the fish that we had caught to make a special miso soup. It really was amazing to be able to taste the fish that we had spent so long catching the previous day.

We finally said goodbye to our hosts, but not before they gave us invaluable local information about what to see and do on Ikitsuki. Getting first-hand information from the locals is something that is really only possible on a homestay. We learned that Ikitsuki is home to the "Sunset Road", a beautiful stretch of road beside the ocean that is regularly featured in car commercials. We also visited the Ikitsuki Island Museum, Shima no Yakata, where we learned about the islands' rich history of Christianity and its traditional whaling past. During Japan's period of national isolation, the island was home to many Hidden Christians who practiced their faith secretly.

Great people, delicious food, unique experiences, and invaluable local knowledge. A homestay truly is a chance to go off the beaten track and take in a side of Japan that you would otherwise never see.


Higashi-Sonogi – Green Tea Tourism
The sparkling waters of Omura Bay and the rising hills covered in tea fields are one of Nagasaki's most beautiful sights. In the last few years, a group of local green tea farmers have been trying to share their customs and culture with the world through amazingly unique and intimate homestay experiences. You too can experience what traditional farming life is like up in the green tea fields of Higashi-Sonogi.

Up in the mountains above the town are miles and miles of vibrant green tea fields. It was here that we met one of the families that have been growing tea for generations, the Oyama family. The green tea they produce is highly sought after and has even won prizes in the prefecture.

My highlight of our time at the farm was the chance to learn how to properly brew green tea from a certified instructor, Oyama Eiko. She taught us how to brew the perfect cup, including the correct temperatures, and how to pour it the correct way. The lesson was a fun mix of what felt like science and tradition. Having learned how to get the best flavor out of the leaves, the local tea tasted even better. It was a treat to get to savor and contrast both the sweetness and bitterness of the tea when brewing a first and second cup from the same batch of leaves.

However, a trip to Higashi-Sonogi can be so much more than a trip to a tea farm. The understated but historic Chiwata Station, a tiny picturesque location, serves as a perfect spot to enjoy the spectacular views across Omura Bay. Thanks to its gorgeous views, the station is a popular location for tourists and is currently part of JR's Kyushu promotional campaign. Sunset here is especially beautiful; spending an evening relaxing as the sun retreats is truly special.

Just a few minutes' drive up the coast is the hidden gem 'Sorrissa Risa'. Saved from demolition in 2015, this 70 year old rice store has been revitalized by young local entrepreneurs and now contains a leather workshop, an eccentric vintage clothes shop (complete with a hidden passageway), and a delicious café where you can sample some of Higashi-Sonogi's famous green tea.
Tucked behind Sorrissa Risa is the recently opened family-run natural bakery Chiwataya. A must try is their popular matcha melon bread, which went through extensive recipe testing to find the perfect green tea color and flavor.

The people are truly what makes staying at a Green Tea Homestay in Higashi-Sonogi unique. Getting far off the beaten track and interacting with locals who live and breathe Nagasaki was inspiring. They welcomed us into their family home as we sat down to prepare and eat lunch together, a truly memorable experience that one will never forget.

My time in the hills of Higashi-Sonogi was amazing: the sense of peace, family atmosphere, and spectacular views over Omura Bay combine to produce a vacation opportunity that is truly special. This homestay experience is one of a kind, and if you want to connect and experience the lives of real local Japanese people, it should absolutely be on your bucket list.


Minami-Shimabara City
Located in southeast Nagasaki on the Shimabara peninsula, more than 170 host families are available, and participants can choose from farming, fishing, or forestry-related families. Experiences will vary by both season and host, but can include vegetable harvesting, fishing, or preparing local food. The host families conduct the experiences themselves, allowing you to spend more time with them and to see what their homes and farms are really like.

The homestay experience in Minami-Shimabara is a great way to see an often unexplored corner of our beautiful prefecture. After a breathtaking drive around Mount Unzen, we met one of our hosts and followed him back to his property. The lodging that awaited us was an impressive, old fashioned Japanese house, which the owner told us was over one hundred years old. Welcoming us with some iced green tea and homemade cakes, our hosts chatted with us and explained their history of involvement in the program, as well as what was planned for the remainder of the afternoon.

A leisurely walk around the small community was punctuated by explanations of the layout of the rice fields and greenhouses below as memories flooded back to our host of his previous guests. Upon entering the greenhouses lined with sunflowers planted yearly by young homestay participants, I was able to get a glimpse into the system of small scale Japanese agriculture that still feeds many parts of the country. The summer crops of cucumbers, green peppers, and Japanese eggplants lined three large green houses operated by our host. Walking among the vines, we were taught to identify the flowers of each vegetable before selecting the finest of specimens to cut and bring back to the house.

As evening rolled into the countryside hills in which our home for the night was nestled, we began the final and arguably best part of our homestay experience. Not afraid to chop a few onions, my fellow traveler and I dove headfirst into the night's meal preparation. The sizzling of Japanese hamburger steaks and chopping of vegetables were drowned out by laughter and conversation as we chatted with our hosts about everything from The Beatles to our meagre understanding of the local dialect. With the four of us working hard, our farm fresh feast was soon ready. Hamburger steaks, chirashizushi, chilled somen (thin wheat noodles) salad, roasted eggplant, and a bountiful amount of other fresh vegetables were displayed on the farmer's table.

Everything was produced locally, with the vegetables and rice from the very farm we were staying at. As farmers are characteristically early risers, our hosts soon retired to bed, but every moment before that was spent laughing together as we learned more and more about the couple and their farm. The next morning, the breakfast we were served was no less impressive. Asparagus wrapped in bacon, eggs, and more fresh veggies complemented the morning staples of rice and miso soup. The meal was closed with a sour umeboshi to clear our sleepy minds before taking a photo with our hosts and setting out on our journey home.
If you decide to stay in Minami-Shimabara, be sure not to miss some of the local attractions! The Shimabara peninsula and Unzen area are a wonder to explore. The Arima Christian Heritage Museum is sure to appeal to history buffs, as the story of Christians in the area goes back centuries. Then, drive further up the coast to Shimabara City and Shimabara Castle, which offers an impressive lookout view from the top floor.

Finally, why not complete your day with a visit to the Unzen Hells? Far from sinister, the Hells are instead a product of the geothermal activity under Mount Unzen. On the way down the mountain, soak your feet in the small town of Obama's footbath. This footbath is also fed by the hot spring, and is the longest of its kind in Japan! There is no better way to relax after a stay in the beautiful southeast region of Nagasaki prefecture.

----------------------------------------------------------------------------------------------------------------------------------------------------------
The Nagazasshi is Nagasaki's No. 1 English language magazine. You can read it online at www.nagazasshi.com
The Nagazasshi is also on Facebook! http://www.facebook.com/nagazasshi
Like the page to keep up to date with all the best news and views from the international community in Nagasaki.
SHARE