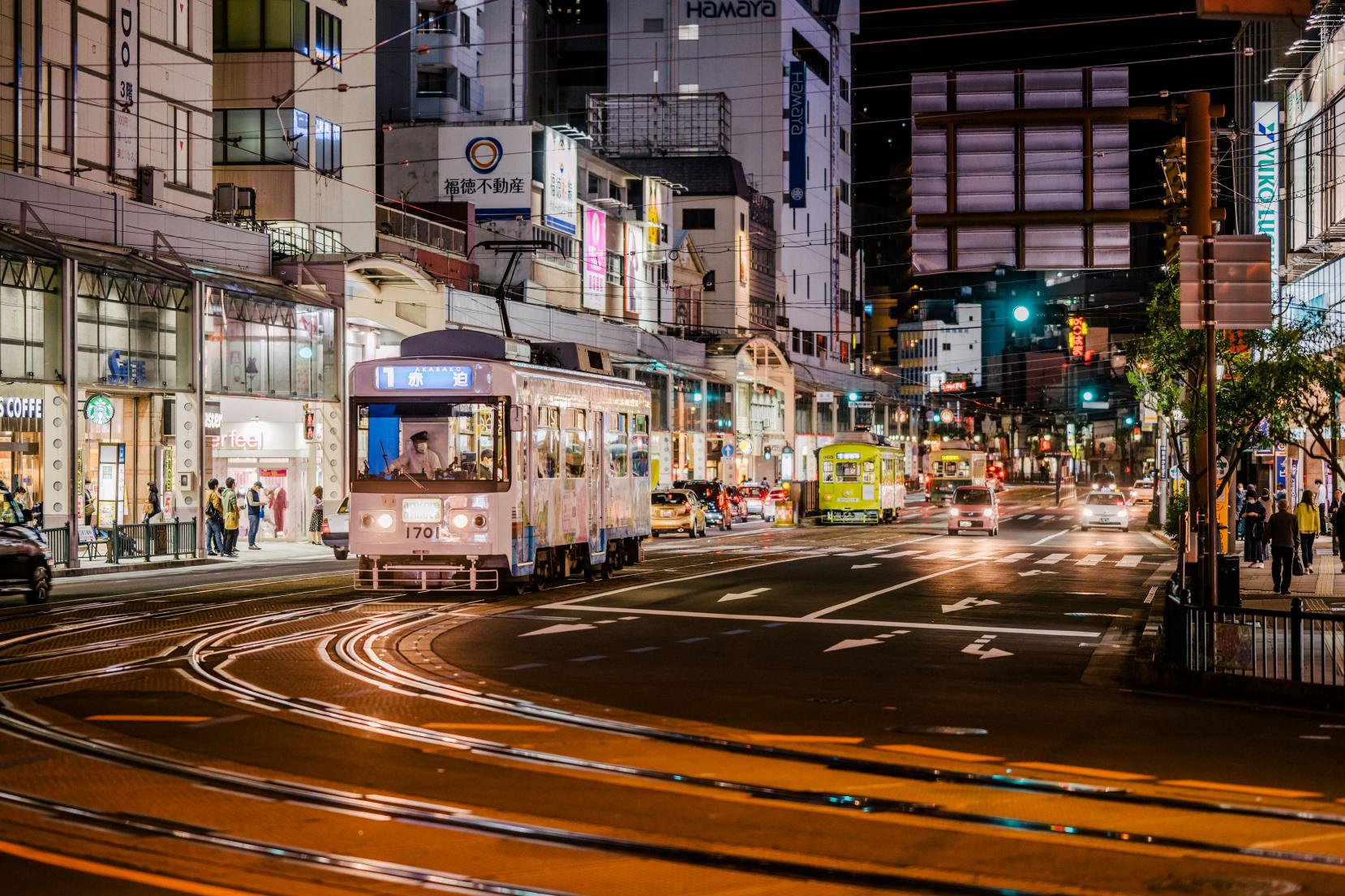 Nagasaki City's Electric Tramway
Trams in Nagasaki
Japan is renowned for its reliable and enjoyable trains, and Nagasaki Prefecture is no exception. Experience the nostalgia of Nagasaki City's electric tramway!

The Nagasaki Electric Tramway provides a convenient and affordable way to travel around the main attractions of Nagasaki City. No matter how far you travel, the adult fare for a single journey is always 130 yen! In addition, starting from March 22, 2020, you can use any of the ten IC cards in Japan on the trams (i.e. Suica, ICOCA, nimoca, pasmo and etc). A one-day pass offering unlimited rides for 500 yen is also available for purchase at major information centers, hotels, and through a smartphone app (but not on board the trams). Announcements and signs both on trams and at the stops are available in English, making it easy to find which tram you need to take and where to get off.

As of January 2018, there are 4 tram routes that traverse Nagasaki City. From JR Nagasaki station you can head north by boarding either a Route 1 (blue) or Route 3 (red) tram to visit sightseeing spots like the Peace Park, Nagasaki Atomic Bomb Museum, Urakami Cathedral and etc.

Heading south, the Route 1 tram line, bound for Shokakuji-shita, is the line to catch if you're heading for Dejima, Nagasaki Shinchi Chinatown and the Hamano-machi Shopping Arcade. The Route 3 tramline head south-east to Hotarujaya, and this is the tramline for those planning to visit Suwa Shrine, Spectacles Bridge (Meganebashi) and the Siebold Memorial Museum.

The Route 5 (Green) tramline travels between Hotarujaya and Ishibashi, making it easy to access the Dutch Slope, Glover Garden, and Oura Catholic Church. It is possible to transfer for free between Route 1 and Route 5 trams at the Shinchi Chinatown stop by asking for a transfer (norikae) ticket when alighting at the stop.

Route 4 (Yellow) trams travel between Sofukuji Temple and Hotarujaya, providing access to the Shinchi Chinatown, Hamano-machi arcade, Spectacles Bridge (Meganebashi), and the Siebold Memorial Museum.

Tram No. 310 – "MINATO"
Tram No. 310 brings a touch of luxury and sophistication to the Nagasaki Tram fleet with an interior and exterior like no other. Named "Minato," this tram was designed by Eiji Mitooka, renowned designer of various trains, including JR Kyushu's "SWEET TRAIN Aru Ressha" and the luxury "Seven Stars in Kyushu" sleeper Cruise Train.
With a bright-blue metallic exterior, beautifully decorated ceiling, and even stained-glass windows, "Minato" is a truly unique tram. Keep an eye out for small details that reflect the uniqueness of Nagasaki, including illustrations of its famous cats and dragon dances.
To get a glimpse of this tram or even ride it yourself, visit their official website for real-time info on exactly where in Nagasaki "Minato" is right now!


Beer and Oden Tram
Eat and drink your way across Nagasaki City on a special seasonal tram journey! For a limited time during the winter months, a special Oden tram service is in operation, while a beer tram runs during the summer months. These services are run using special trams with counters and stools replacing regular seats.
During winter, enjoy oden on your trip! Daikon radish, boiled eggs, fish cakes, and other ingredients are stewed in a light dashi broth, perfect for keeping warm. During summer, relax with a light meal and a refreshing beer or two! Advance reservations are required, with details available on the Nagasaki Electric Tramway Website (details in Japanese only).


Accessible Sightseeing Spots by Tram
There are many sightseeing spots in Nagasaki City that can be easily accessed via trams. Some examples include the Peace Park and Nagasaki Atomic Bomb Museum, World Heritage Sites like Oura Cathedral, historical sites like Dejima (the only place open to foreign during Japan's national isolation period), and many more!
For more information on tram, please check the the link below.

About this article
Words by Dominic Balasuriya, Photos by NPTA
Collaboration Pages: Mar. 2018 issue
----------------------------------------------------------------------------------------------------------------------------------------------------------
The Nagazasshi is Nagasaki's No. 1 English language magazine. You can read it online at www.nagazasshi.com
The Nagazasshi is also on Facebook! http://www.facebook.com/nagazasshi
Like the page to keep up to date with all the best news and views from the international community in Nagasaki
SHARE