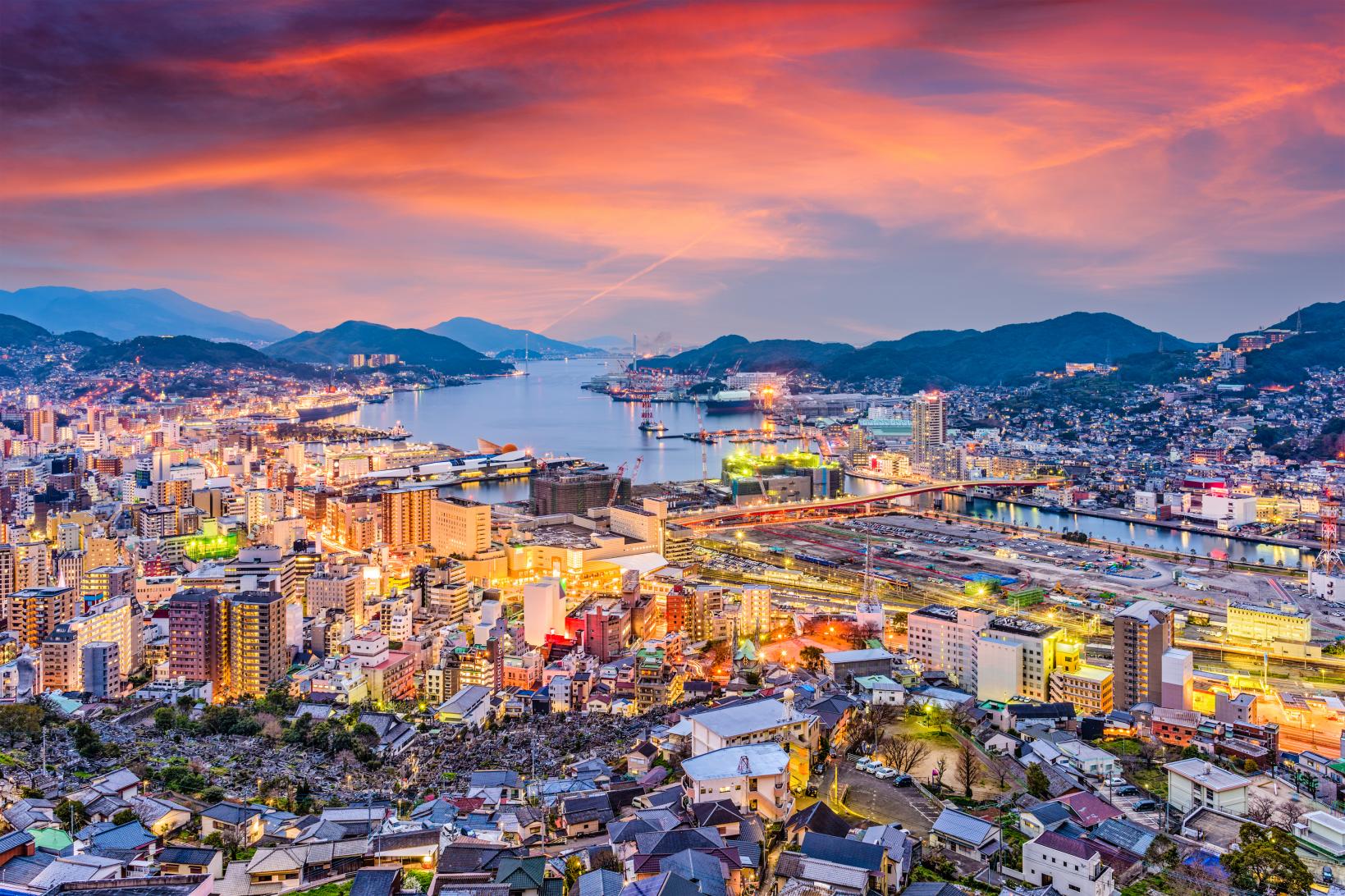 Nagasaki Prefecture is located on the western coast of Japan's Kyushu Island. It has a complex mainland topography, and it also has the most number of islands in all of the prefectures in Japan. Here, the highlights of each area will be briefly introduced.
Nagasaki City
Nagasaki City is the largest city within the prefecture. Since the opening of its port in 1570, it has prospered as a window for trade with the West and with China. As a result, it has built a unique culture in which Japanese and foreign cultures coexist. Nagasaki City has two World Heritage Sites; the "Sites of Japan's Meiji Industrial Revolution (Iron and Steel, Shipbuilding, and Coal Mining Industries)," which includes Hashima, commonly known as Battleship Island; and the "Hidden Christian Sites in the Nagasaki Region," which includes Oura Cathedral, the oldest wooden church of Gothic architeture in Japan.

An atomic bomb was dropped on Nagasaki City in 1945. The city has fully recovered since then, and it is now a thriving international city. Each year, Nagasaki promotes the importance of world peace, and a world without nuclear weapons. Nagasaki Hypocenter Park and The Nagasaki Atomic Bomb Museum are some of the must-visit spots. The scenery of central Nagasaki City, which is surrounded by mountains on three sides, is unique and beautiful. In particular, the night view has been recognized as one of the "The World's New Top Three Night Views" alongside with Hong Kong and Monaco.

Don't forget to check out festivals such as the Nagasaki Lantern Festival, and Nagasaki Kunchi! As for gourmet, Champon, Castella Cake, Omura-sushi, and Toruko Rice (Turkish Rice) are all must-try food!


Northern Area
The northern area includes Sasebo City, the second largest city in Nagasaki Prefecture; and Hirado, a city with a long history of trade with Western Europe, even before Nagasaki City Port.

Kujukushima (also referred to as Ninety-Nine Islands), like Mont-Saint-Michel Bay in France and Ha Long Bay in Vietnam, is a member of the "Club of the Most Beautiful Bays of the World." In addition, the beautiful scenery of Kujukushima appeared in the opening scene of the Hollywood movie "The Last Samurai." You can enjoy the stunning daytime or sunset view from the observatories; alternatively, go on a cruise or try yacht sailing in the area. Other must-see places in Sasebo include "Huis Ten Bosch," Japan's largest theme park for families; and the downtown area where American culture, such as jazz and hamburgers, lives on through the influence of the US Navy Base.

Hirado City is located just across the "Hirado Bridge," which looks similar to the Golden Gate Bridge in San Francisco, and you can go there via a limited express bus from Sasebo City. Some of the highlight attractions include the elegant St. Francis Xavier Memorial Church; A View of a Christian Church and Japanese Temples; and Hirado Castle, where you can stay overnight in a castle tower.


Shimabara Peninsula
Shimabara Peninsula consists of Obama Town, Unzen City, Shimabara City and Minami-Shimabara City. The peninsula is located in the southeastern part of Nagasaki Prefecture that overlooks Kumamoto Prefecture and Fukuoka Prefecture across the sea. Formed through hundreds of thousands of years of volcanic activity, you can enjoy the charms of both the mountains and the sea, centered around Mt. Unzen, the highest peak in Nagasaki Prefecture, with a height of 1,483m.

Unzen Onsen, with its 1300 years of history, is a highland resort that has welcomed many foreign and Japanese travelers since ancient times. It is also a base for attractive hiking and trekking routes.

Shimabara City retains the atmosphere of a castle town, and it also has a unique townscape created by natural cold spring water that bubbles up throughout the town. Places such as Shimeiso (a traditional villa built above natural spring water), and The City of Swimming Carp (streets where carp are swimming in the water canals) are well-known attractions.

Popular activities in Minami-Shimabara City include a tour of the remains of Hara Castle and its lingering history of Christianity; a homestay experience with a Japanese family (farmers or fishermen); and a cruise to go dolphin watching where there's a 99% possibility of seeing dolphins.

There are different natural spring characteristics in each of the hot spring areas of Unzen, Obama, and Shimabara, and there are many inns where you can enjoy hot springs not just in large public baths for a feeling of openness, but also in your own private room. The main spots can be accessed by the Shimabara Railway and by buses. It takes less than an hour by boat from Shimabara Port to Kumamoto City and Omuta City in Fukuoka, and a tour of the wider area is also recommended.


Central Area
The central area of Nagasaki Prefecture revolves around Omura Bay, where the world's first maritime airport, Nagasaki Airport, floats.

Hasami Town is a well-known porcelain producing region with more than 400 years of history. Here, you can enjoy the Japanese countryside in the traditional Nakaoyama District where many kilns are lined up, and in Nishinohara, where pottery factories have been converted into cafes and shops.

There are many photogenic spots throughout the central area of Nagasaki Prefecture; some examples include "Omura Park" and its 2000 cherry trees; the retro wooden building of JR "Chiwata Station" that sits next to the ocean; the "Fruit Bus Stops" scattered throughout Isahaya City, and the "33° North Latitude Observatory" with a view of the vast sunset. Also recommended is the Nagasaki Bio Park, where you can interact and feed animals such as capybaras, squirrel monkeys, kangaraoos and many more.


Outer Islands
Nagasaki Prefecture has the largest number of islands in the island nation of Japan. It goes without saying that the beautiful sea and fresh seafood are attractions for any island, but each of the islands also has its own unique charms.

Iki Island has a variety of shrines all over the island, and its gourmet is represented by Iki wagyu beef, sea urchin, and Iki shochu liquor.
Tsushima (popular as the setting for "Ghost of Tsushima"!) is a border island with a unique, endemic ecosystem, floating between South Korea and Japan's main island of Kyushu.

Nozaki Island has majestic, imposing nature and simple churches counted as world cultural heritage, while the Goto Islands (Goto, Shinkamigoto, Ojika, Uku) are known for producing quality camellia oil and "Goto Udon," one of Japan's three major udon noodles.
SHARE