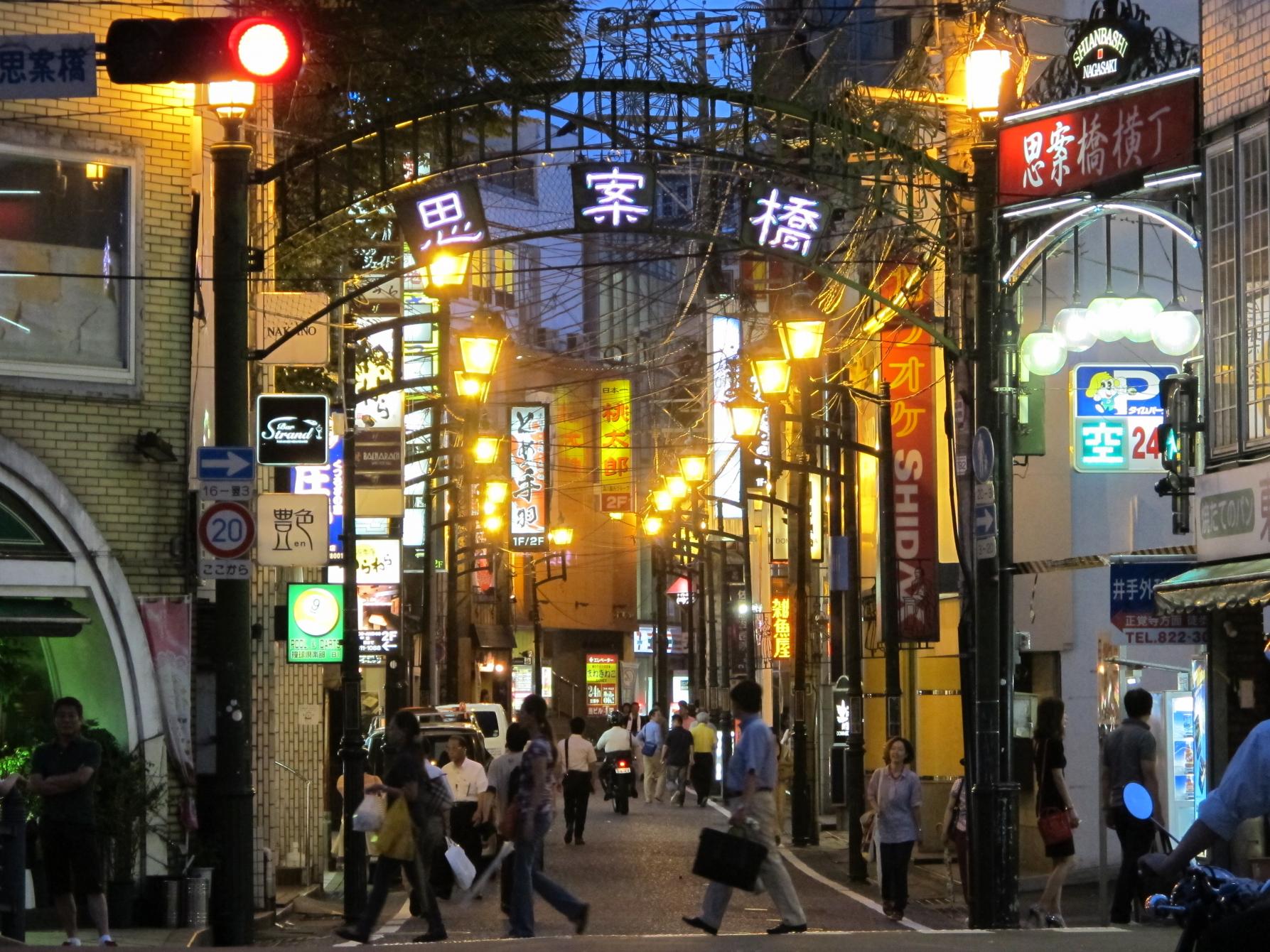 The night life in Nagasaki Prefecture is full of entertainment and savory food. In Nagasaki City, both the Doza-machi and Shianbashi districts are known as the city's preeminent night life areas. In particular, the Shinanbashi area has intricate streets and countless narrow alleys that branch off from the main street; sometimes even the locals may get lost in it.

In Sasebo City, there are many Izakaya and Western-style bars near the Yonkacho Shopping Arcade area, and also at the Tunnel Yokocho Shopping Street area.

This section will introduce some of the local gourmet in these areas!
Homemade Japanese "Oden" at a Long-established Restaurant
At Shianbashi Yokocho, you can enjoy homemade oden simmered in a light yet flavorful dashi soup stock. "Oden" is a type of Japanese "one-pot dish" where many ingredients such as hard-boiled eggs, turnip, various types of Japanese fishcakes, seaweed and etc. are simmered in a dashi broth. Customers can choose the ingredients of their choice by ordering from a menu, or simply by pointing at the selection in the large oden pot (usually the oden pots are at the counter).

At the long-established "Momowaka" restaurant, founded in 1931, you can enjoy "washikan kamaboko" (fishcake made with sardines), and "Ryugan" (which translates to "dragon eyes," as it is made by wrapping a hard-boiled egg inside a round fishcake, thus making it look like dragon's eyes when cut open in half.) The restaurant has a very cozy and welcoming atmosphere, which makes it easy for travelers to drop in for a quick meal, or to relax and chat up with some of the locals. One of the regular customers remarked that "yuzu-kosho" (yuzu pepper seasoning) is a must-have condiment for eating oden at the Momowaka restaurant.
English menus are available at Momowaka, and it is a cash-only restaurant.
Bite-size Gyoza Dumplings -- Soul Food for Nagasaki Citizens
In Dozamachi, you can enjoy "karaage" (fried chicken) and Nagasaki's famous "hitoguchi gyoza" (bite-size meat dumplings). Nagasaki's grilled gyoza are bite-sized and have a thin skin, making it an ideal snack to eat with alcohol. Soup gyoza is another popular dish for those who prefer non-grilled gyoza. The karaage has a slighty spicy flavored batter, but it goes perfectly with beer.

*The menu at "Houuntei Torifuku" has Japanese, English and pictures.
*Credit cards are accepted at this restaurant.
Cheers! A Standing Izakaya Bar where you can Connect with People
Before going out to dinner with friends, or when you think "I'd like to drink a bit more," this standing izakaya bar can be a quick stop, and it is a highly recommended place.

"Tatambaa" has a very welcoming atmosphere, and a very simple system. To pay, you put some cash inside the bowl in front of you, and the money is deducted from your second drink onwards. Tatambaa has more than 100 types of alcohol, and various types of snacks starting at 100 yen. Inside the store, there is also a poster encouraging people to come inside even if it looks full! With the rule that customers have to move further inside the bar (shift to the next table) whenever someone leaves, you'll gradually advance to the rear side of the bar throughout your time there.

The "tomato sour" is a popular drink here, and as recommened by previous foreign travelers, Tabasco sauce goes well together with tomato sour.
*Payment is cash only.

Onigiri Rice Balls after Drinking
In Nagasaki City, there is an interesting culture of "eating onigiri rice balls after drinking alcohol," and its origin is at the "Kaniya Doza" store in Dozamachi. Similar to a high-class sushi restaurant, the chefs craft the onigiri rice balls on the counter right in front of you.
In Nagasaki, a night of drinking ends with onigiri rice balls.
Extra: Nightlife in Sasebo as Well!
Sasebo City is the second largest city in Nagasaki Prefecture, and it too has a fascinating night life. "Tunnel Yokocho Shopping Street," within a 10 minute walk from either Sasebo Station or Sasebo-Chuo Station, is a unique area due to the fact that stores and bars in this area are established in air raid shelters used in WWII. You can enjoy drinks and tasty food at the hideaway atmosphere Izakaya bar called "Tough." The bar is located in a long and narrow air raid shelter that is approximately 15 meters long; ceiling that is approximately 1.8 meters high; and a central walkway that's approximately 1 meter wide. The mixed pizza and chili con carne are highly recommended dishes.

As there is a US Navy Base located in Sasebo City, there are many Western-style/Foreigner's Bars located adjacent to the "Sanka-cho" Shopping District. Of them, "Gramophone" is the oldest bar, having been in business for nearly 40 years. The US $1 bills affixed to the inside of the pub are part of a custom that started when a soldier heading off to war left a dollar bill at the pub with the wish that he will come back here again.

※ In Sasebo City, you can enjoy both Japanese-style Izakaya bars, or Western-style bars within walking distance.
SHARE