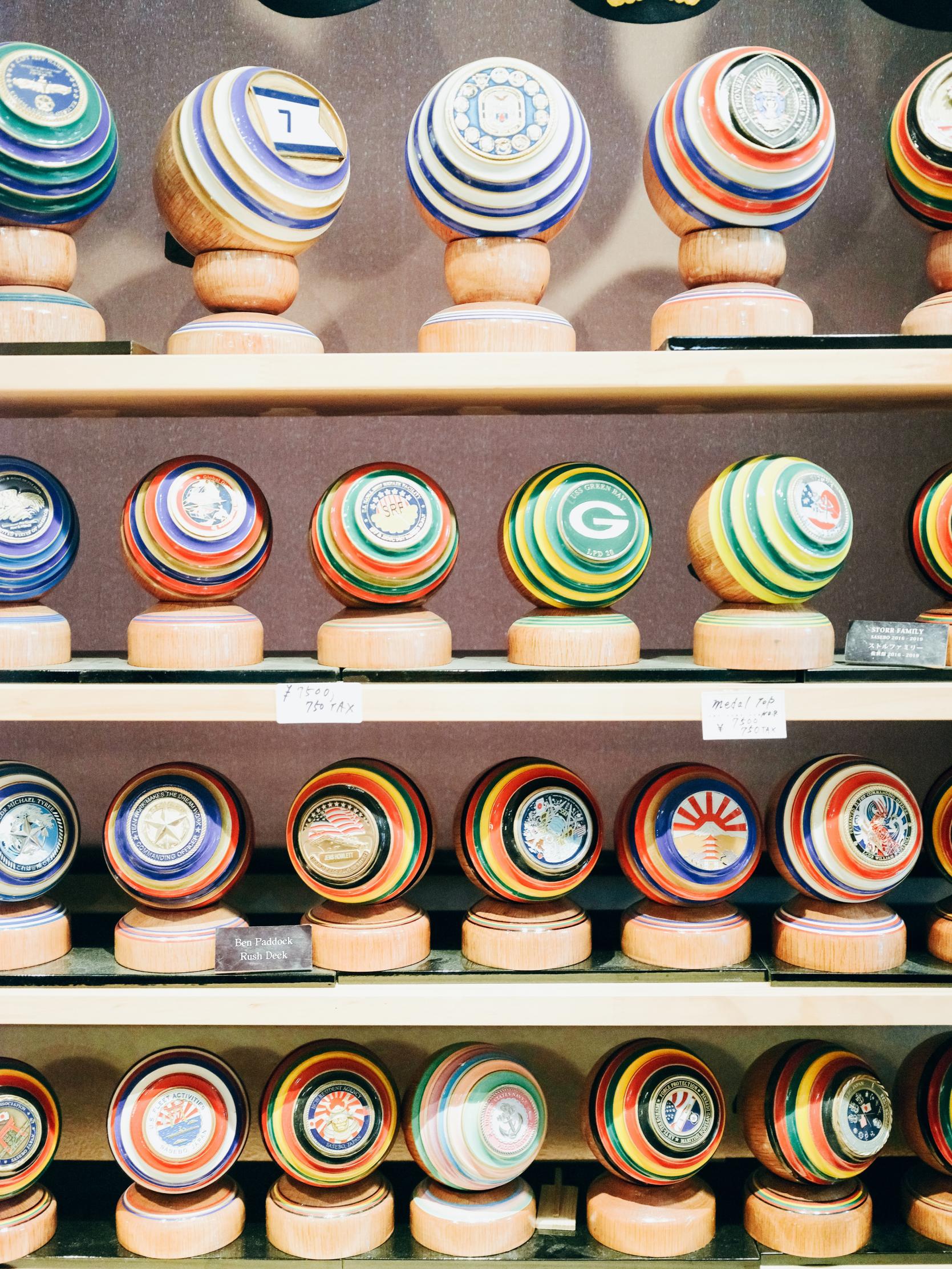 【Experience Sasebo!】 Local Culture & Fun Souvenir Shopping & Cozy Restaurants
Welcome to Sasebo City, Nagasaki Prefecture.
Today, we will take a walking tour of around 2 hours starting out from Sasebo Station and visiting shops redolent of Japanese culture and tradition. Your guide to the stores of Sasebo is Yamamoto-san, the owner of Sasebo Koma Hompo, which makes brilliantly-colored spinning tops.
Yamamoto-san, who loves foreign travelers who visit her shop, will take you on a tour that includes a restaurant and cafe serving fabulous Japanese food in traditional ceramics, a candy store and a general store perfect for finding souvenirs of Japan like chopsticks and tablewares.
A short briefing about Sasebo
Sasebo is a city located in the north of Nagasaki Prefecture. It is the second biggest city in the prefecture after Nagasaki itself. Sasebo is very accessible, taking about 2 hours by train to get there from Fukuoka, Kyushu's main center, or 1h 40 by bus from Fukuoka Airport. It can also be reached by cruise ships that dock at Sasebo Port International Terminal.
Sasebo City is a major tourist destination. Sights include the stunning scenery of the Kujukushima ("Ninety-nine islands"), an intricately carved bay dotted with 208 islands of varying size and one of Japan's largest theme parks, Huis Ten Bosch. Host to a US military base, Sasebo has developed a unique culture influenced by the American presence. Excellent events are also held in every season.
This is a compact city that jams a lot of beauty, flavor and fun into a small area, so you will be able to make the most of a short stay.
Let's go!
So, our first stop is going to be Sasebo Koma Hompo (or Sasebo Tops shop in English).
You are now standing next to a giant spinning top sculpture inside Sasebo Station. Confirm your location with the attached Google Maps. If you can't confirm your location, ask Sasebo Tourist Information Center which is right nearby.
Now, go out of the station via the "Minato" (Port) exit. If you have time, you might like to cross the road and go look at the variety of ships in the port. Perhaps you will see a large cruise ship docked at the quay to your left.
To get to Sasebo Koma Honten, turn right from the Minato exit and walk 5 minutes. Cross at the fourth set of lights and you will see the unique five-color building of Sasebo Tops to your right.
The store famous for the uniquely shape and vibrantly colored spinning tops
Have you ever tried a koma spinning top? It is toy that most children in Japan know how to use.
Three members of Yamamoto-san's family runs the Sasebo Koma Hompo, which has turned the koma from a toy into a work of art that represents Sasebo. Yamamoto-san's husband forms the tops in his workshop, while Yamamoto-san and her daughter paint them in vivid colors for every season.
These tops are unique in their colors and shapes. Each is crafted by hand, with all the warmth of wood. Pick up a koma to touch and take in the aroma.
Any wood shavings created in carving are returned to the soil - these spinning tops sure have a light footprint on the Earth.
Make memories of Japan here unlike anywhere else
If you come to the Sasebo Koma Hompo, you will have to try spinning a top for yourself. There are certain tricks to these spinning tops, and if you'd like to learn some, Yamamoto-san runs classes. Taking a class (for a fee) is highly recommended, as you will receive a certificate and a koma to take home with you.
If you would like more, there is also a painting class where you will create your very own koma, unique in the world. This is a heartwarming program in which you will experience the changing colors and the warming wood while listening to tales of local people.
How about taking a photo in the store with the colorful tops displayed with seasonal flavor, be it Halloween, Christmas or the current season? These are sought-after gifts and the classic Sasebo souvenir: Americans from the nearby base will often come to shop here before leaving for home.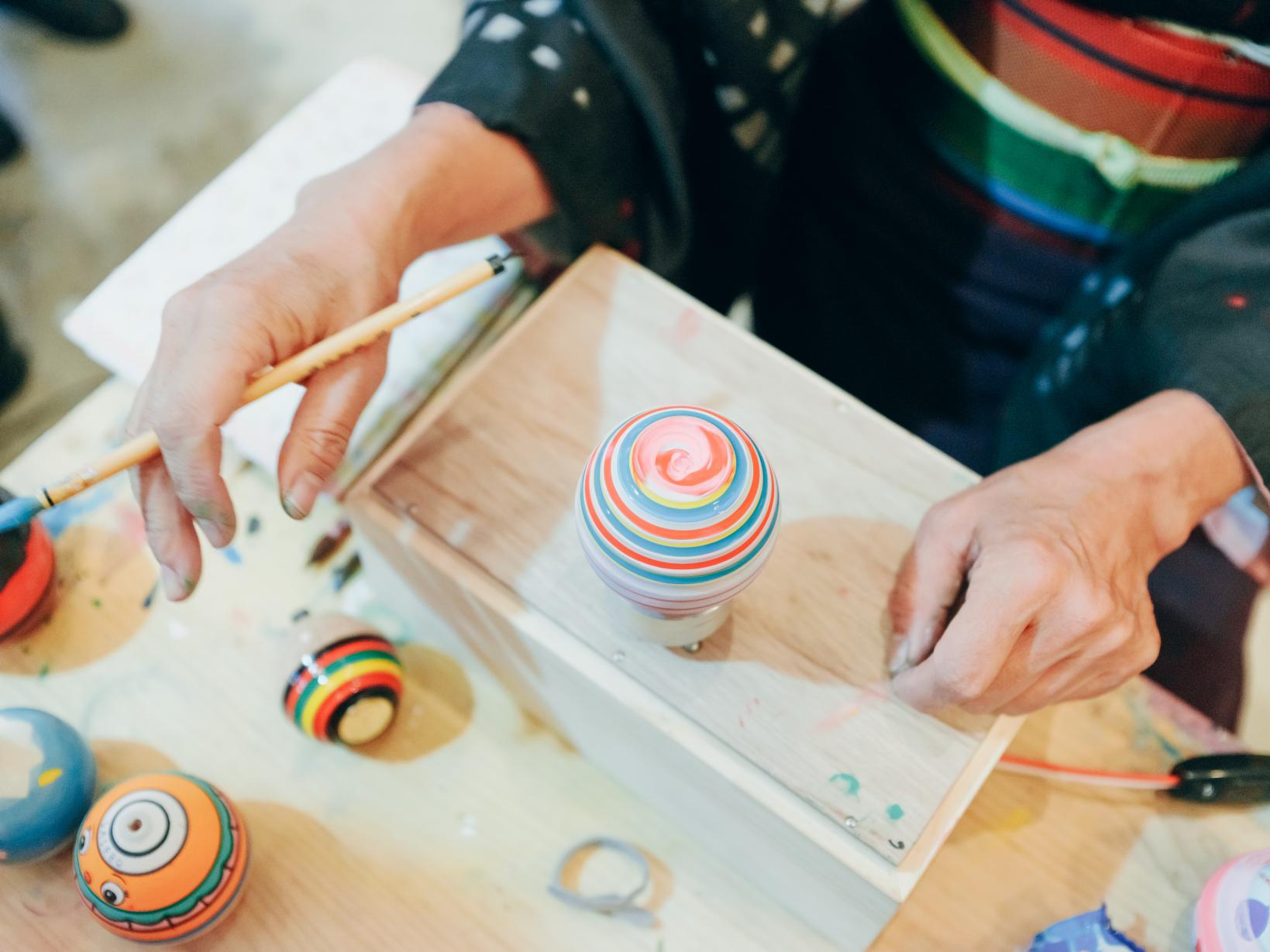 What is a "traditional craft"?
Crafts passed down through the generations using materials or techniques unique to specific regions of Japan are formally recognized as traditional crafts by the Government. One condition of this certification is that the creators are only found in a certain region. However, "Sasebo koma" are recognized not by the central government but by Nagasaki Prefecture. This is because the craft does not meet the government requirement that its creators are found in only one region. You might say this is proof that Sasebo koma is a precious craft found only in this place. 
Issei, a restaurant serving Japanese cuisine in high-end style at a reasonable price
Next, it must be time for lunch.
From Sasebo Koma Hompo, head in the direction of the shopping arcade for about 5 minutes. When you get to the Big Man burger shop, a red-striped landmark with elephant logo famous in Sasebo, go around the corner. Up ahead on the left is Issei, a restaurant serving traditional Japanese fare for lunch at very good prices. Here you will find traditional Japanese flavors, with ingredients sourced from the local farmer's market.
Normally, multi-course meals take a long time to finish because the courses are delivered one by one, making them a poor choice for the busy traveler. But in this restaurant, you can experience the beauty and color of Japanese cuisine in a short time. This is only accentuated by te colorful variety of the tableware.
Private rooms are also available. Check the English picture menu at the entrance.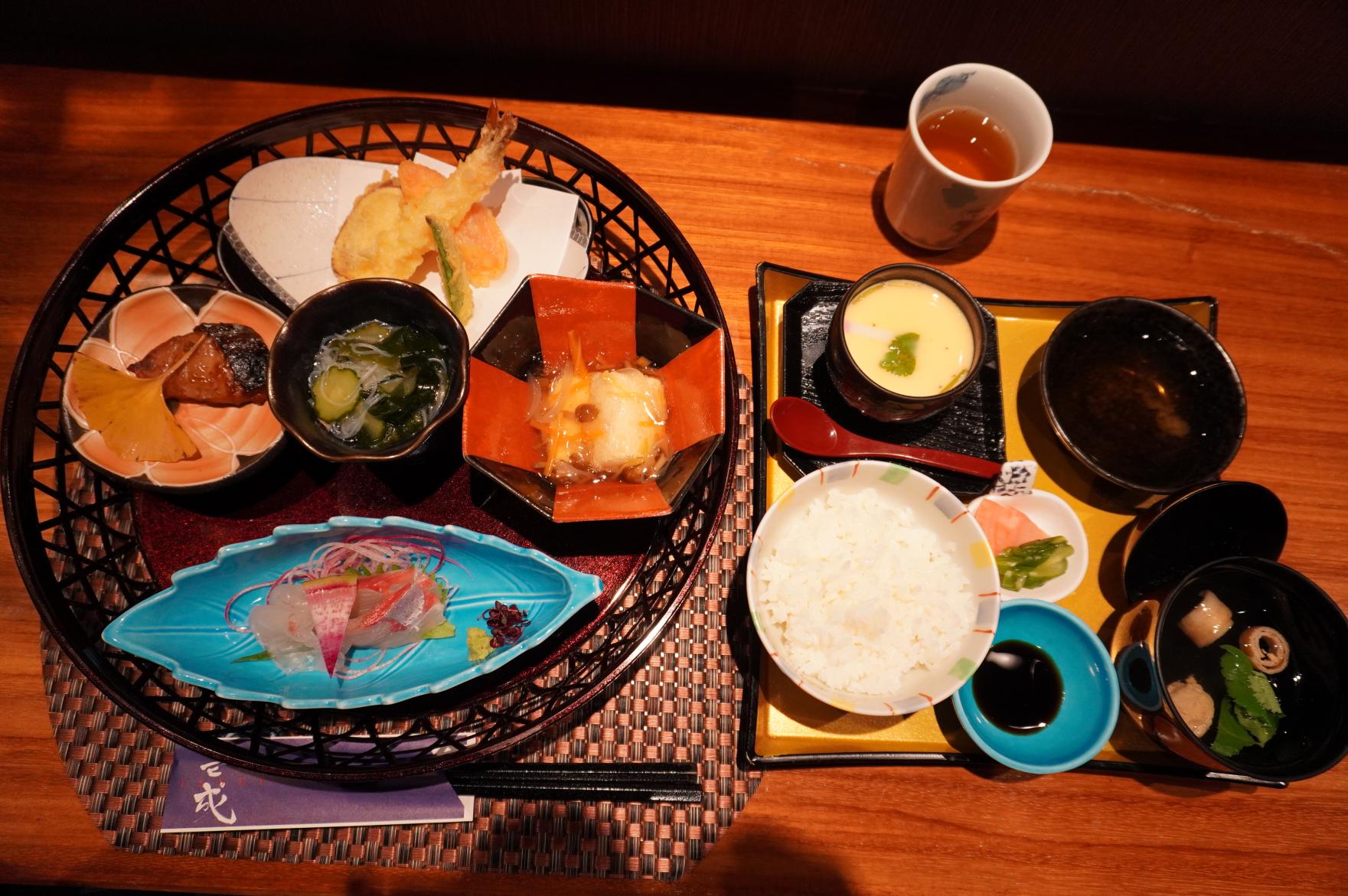 What is "kaiseki"?
This is full-course Japanese dining as seen at banquets or other special occasions. Essentially one dish is served at a time, from appetizer, soup, sashimi, grilled dish, steamed dish, deep-fried dish, rice and pickles. At Issei, authentic cuisine is served in a compact, summarized form.
Mikawachiyaki high-class porcelain and the Mikawachiyaki Musueum
Mikawachiyaki is traditional ware produced in Sasebo and has some four centuries of history. It features elaborate designs in blue on white porcelain. In around the 17th century, highly-skilled craftspeople were granted status and land and their wares were considered the most luxurious gifts. In the 19th century, the porcelain began to be exported to Europe and America. Mikawachi coffee cups, so fine that light would shine through them, were sought after by overseas aristocrats.
The Miwakachiyaki Museum displays the best of the wares right up to the modern day. The exquisite pieces are so beautiful, it is as if Sasebo had gathered all of the top craftspeople, techniques and materials to produce the highest-quality china possible.
At the Museum, you can experience the process of ordering an original Miwakachi piece and taking it out of the kiln. This is the perfect memento of your trip, as you can take the original piece home with you.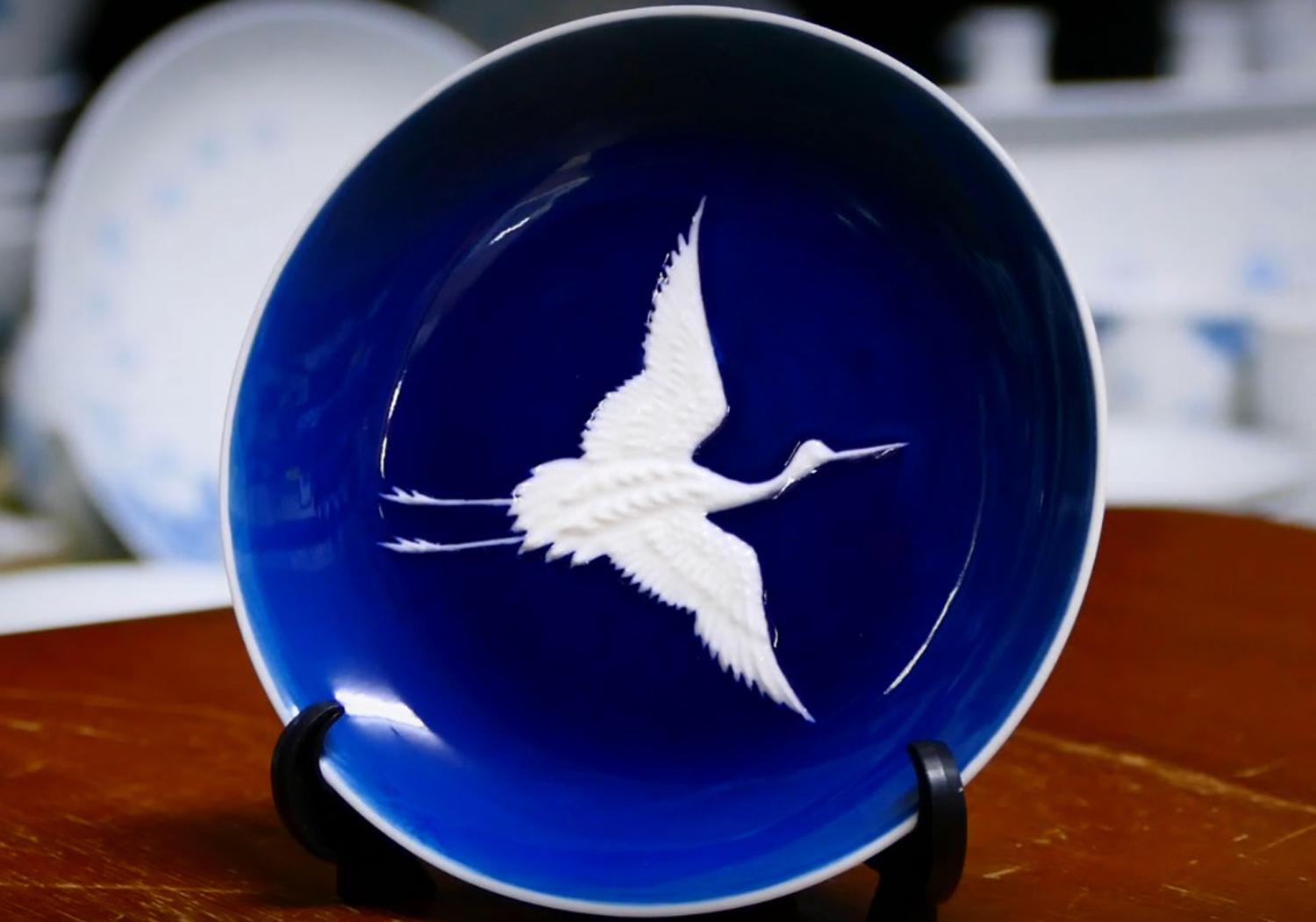 What is "Japanese heritage'?
Regional tangible and intangible cultural properties of historical interest or special character which are part of the story of Japan's culture and traditions are recognized by the Japanese government as "Japanese heritage".
View more
Places to find Mikawachi ware near Sasebo Station
There are several spots around Sasebo where Mikawachi porcelain can be picked up and examined. Restaurants like Issei and RE PORT use it for serving dishes, while chopstick store Rakuzen also offers small Mikawachi dishes coffee cups for sale.
However, not all of the ceramics in the shops above are Mikawachiyaki, so if you do discover any of wares seen in the photo, be glad that you have encountered a treasure of Sasebo.
Longest in Japan! An awesome and retro shopping arcade
Sankacho and Yonkacho, home to 160 specialist stores on a stretch of around 1km, is famed as the longest straight shopping arcade in Japan. The shops offer everything from fashion to food and thanks to the roof, you can enjoy your shopping in all weathers.
Why not time your visit to the matsuri (festival) in October when 7,000 costumed dancers descend on the arcade, or Christmas when the whole street lights up?
Little works of art?! Wagashi no Shogetsudo sells traditional Japanese sweets
This shop, founded in 1905, is the oldest wagashi (Japanese confectionery) shop in the Sasebo area. It sells seasonal and cute snacks and sweets.
The little sweets have seasonal designs with a color and surprising delicateness. Natural ingredients found only in Japan are used, making the confectionary healthy and mildly sweet.
Goods purchased may be eaten together with Japanese tea at the instore teashop. The sweetness of the confections and the gentle bitterness of Japanese tea are a great combination.
Rakuzen, your shop for Japanese chopsticks as a good-luck gift or souvenir
Rakuzen is Sasebo's one and only specialist chopstick purveyor.
Chopsticks are eating utensils but in Japan, they are also thought to be a gift that brings good luck. In a shop fitted with a sophisticated black interior, products range from the simple and reasonable to the exquisite. Make the choice based on your taste and budget. You can also choose to inscribe your chopsticks with your name or a message. You may think it is hard to use chopsticks to eat your meal, but a cute design could make this the ideal gift. Give a present that bestows good fortune on the receiver. Chopsticks are very convenient once mastered, so this may be a great opportunity to learn.
Apart from chopsticks, the shop also offers small dishes, cups, tenugui cloths and towels and other items that would make great souvenirs. If you are interested in the samurai, there is also a Japanese katana sword on display here.
Out of the shopping arcade and on to the station
As you leave Rakuzen, turn right to leave the arcade. Following the avenue, you will see a beautiful Gothic church on the other side of the road. From there it is 2-3 minutes' walk to JR Sasebo Station.
How was your 2-hour walking tour? We hope you will come back to Sasebo again soon to find out what's new in the city.
For more, a stylish cafe
RE PORT is a stylish cafe popular among the younger crowd in Sasebo. The cafe prides itself on its lunches and cakes and has a shop attached. Stepping into the cafe, you must remove your shoes first. It may seem confusing but it is the Japanese way, so how about giving it a try?
Inside, the space has a color scheme that is relaxing for mind and body. The design is all about Sasebo, with blues of the sea, grays of the ship and town, and pine tree motifs reminscent of the Kujuku islands. The lunch dishes use fresh local ingredients and the chiffon cake comes with generous quantities of fruit. The chic and traditional tableware makes it look even more delicious.
Have a look around the cafe while you wait for your food to arrive. You will not be bored with a showcase that displays the ceramics used in the cafe and a place to buy small dishes that would make a great souvenir. The staff are also friendly, so you should definitely stop in here on your shopping trip or walk!
SHARE