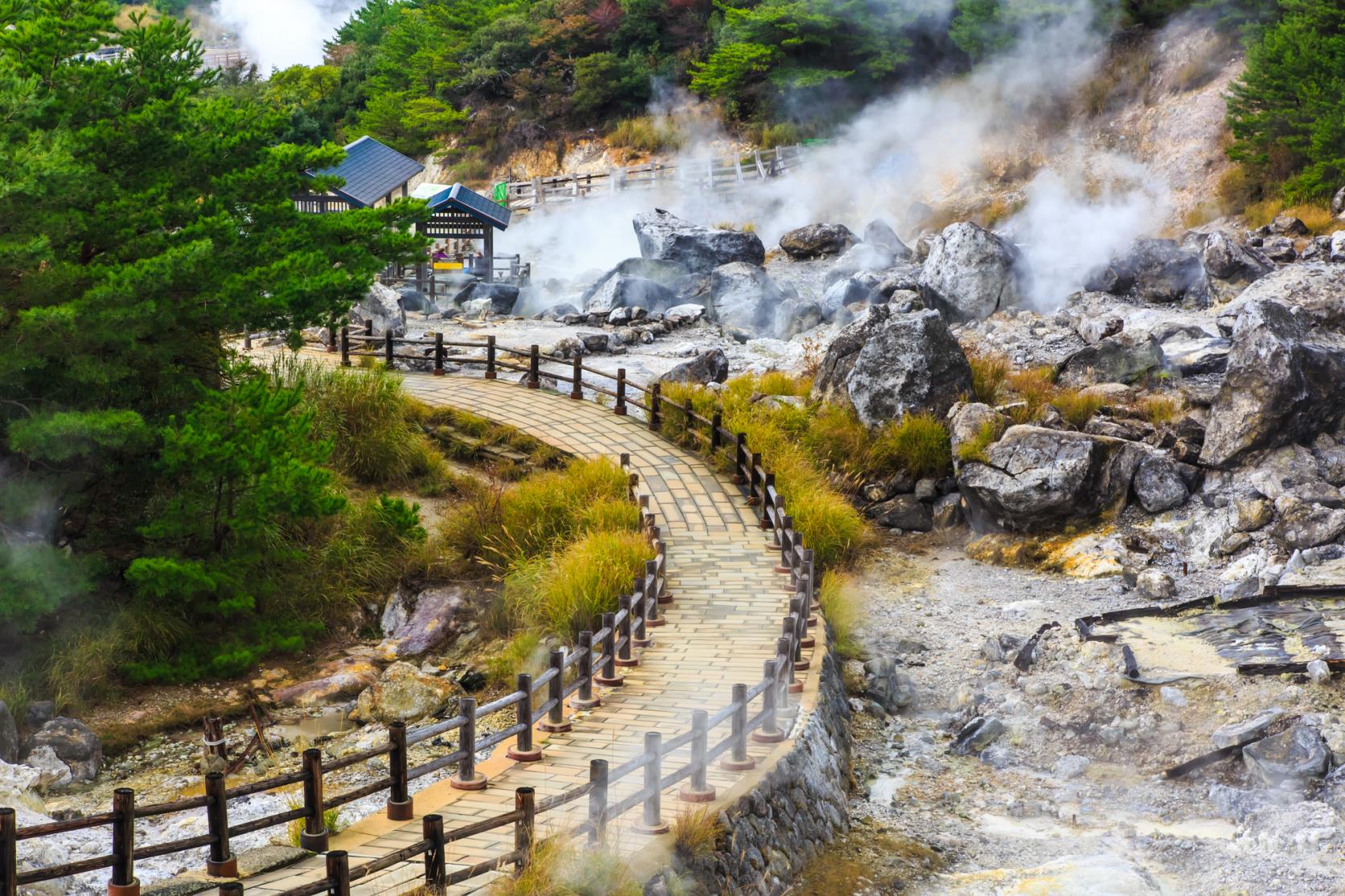 How to enjoy Unzen hot springs
Unzen is surrounded by rich nature. It has prospered as a summer retreat since ancient times. Here we will introduce the charms and best ways to enjoy Unzen hot springs, including Unzen Jigoku, where you can feel the energy of the earth.
Charms of Unzen hot springs
Unzen hot springs is part of the first national park of Japan. It is a historic place that prospered as a summer retreat since ancient times, and became one of the first Japanese resort area. There is lots to enjoy, such as natural hot springs, walking through the towns, and shopping. It is easily accessible, being only an hour and a half or so away from Nagasaki Airport or Nagasaki Station by car. Please enjoy a trip to Unzen.
Walking around Unzen Jigoku
Unzen Jigoku is the highlight of Unzen hot spring town. "Jigoku"means hell in Japanese and, in Buddhism, refers to a place where those who committed sins during their lifetime are punished after death. The sight of extremely hot gas billowing out from the ground is truly a terrifying, hell-like scenery.
Unzen Jigoku is made up of one of 30 gas vents, each named from a term from Buddhism. You can take a comfortable stroll along the well-maintained promenade. In addition, Unzen is also the location where Christians were persecuted during the time when Christianity was banned in Japan, and a martyrdom monument has been erected for those who were martyred at the time.
Things to see at Unzen Jigoku
The white steam gushing out everywhere, and the unique sulfuric smell that lingers in the air, makes this place seem like another world! We will introduce the particularly noteworthy points within Unzen Jigoku. Please feel the awe-inspiring energy that is bursting forth from the ground.
Dai Kyokan Jigoku

This is the site with the most volcanic activity in Unzen Jigoku. The name "Dai Kyokan" comes from the low-pitched sounds coming from the vents that can be heard as screams. The scale of the white steam that billows out with a roaring noise is astonishing!

Seishichi Jigoku

This is the place where a hot spring sprang up from the site where a christian named Seishichi was executed. It is known for the large amount of smoke that rises from the ground. The promenade is often engulfed in smoke, so you can enjoy the energy of nature.

Unzen Jigoku Foot Steaming

This is the spot where you can experience the natural heat of Unzen Jigoku. You sit in a chair and rest your feet on the ground, so the warmth of the earth flows into you. You can use this to warm your whole body from the tips of your toes, so it is perfect for tourism during the cold season.

Unzen Jigoku Workshop

This is a small store selling light meals and souvenirs. The famous hot spring eggs are boiled eggs that have been steamed in the hot springs. The hot spring eggs freshly cooked in the heat of Unzen Jigoku are known for their soft white texture. The lemonade made with natural water, high-quality sugar and lemon juice is also popular.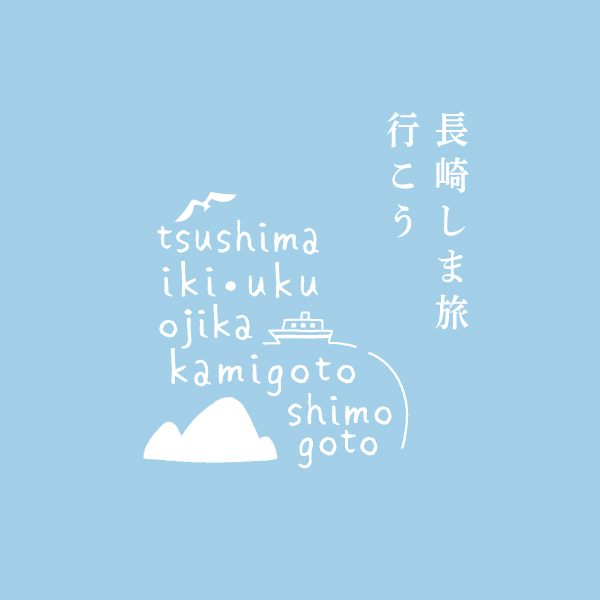 A Cute Cat Kingdom
If you stroll around Unzen Jigoku, you will find many cats there. The sight of these cats enjoying the comfortable heat from the ground and stretching out everywhere is adorable! They are friendly and come up to tourists. It is very soothing.
Enjoy the Local Cuisine of Unzen
You can enjoy a delicious local cuisine in Unzen.
Unzen's famous Yu Senpei are a popular treat for souvenirs. Flour, sugar, eggs and hot spring water are mixed and baked, giving its unique fragrance and gentle sweetness. At the Tohtoumiya Honpo souvenir shop, they make each individual Yu Senpei by hand, and you can even enjoy fresh baked ones.
In addition, if you plan to have lunch at a restaurant in the Unzen area, we recommend the delicious Unzen Hayashi, that includes demiglace sauce and is topped with an egg.
Enjoy a Walk around the Hot Spring Town
There are lots of fun places for a walk in the hot spring town.
You can see the "Meoto Gaki" (couples' persimmon tree), a persimmons tree that has been growing for 200 years at Unzen Jinja. This tree is famous for blessing people with fulfilling love. Let's pray for marital harmony and finding your special someone.
The Dagashiya Museum (Unzen Toy Museum) is a place where you can experience traditional Japan. You can buy "Dagashi," cheap Japanese traditional sweet, in the shop.
Spend a Healing Time Soaking in a Hot Spring with a History of over 1300 Years
The waters of Unzen hot spring are known for their unique sulfuric fragrance and high acidity. They are said to help with relaxation, killing bacteria, and helping with beautiful skin. As it is a natural hot spring, you can also enjoy two types of hot water, cloudy or clear, depending on the day. Please unwind and remove the stress of the day in the hot springs of Unzen.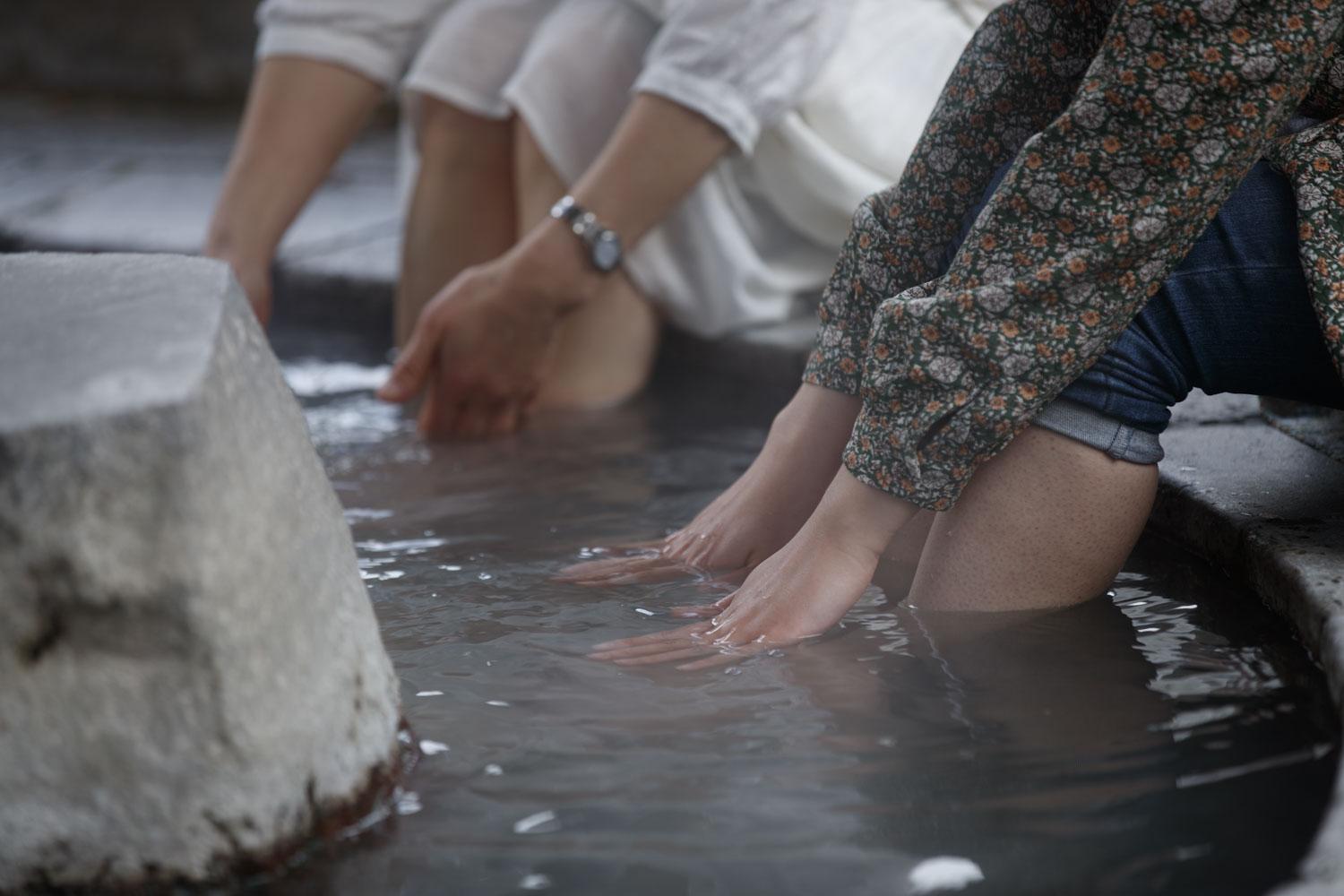 There are Foot Baths in the Town too
"Ashi-yu" are hot springs for your feet. In the Unzen hot spring town, there are multiple foot baths, and you can use them freely. The foot bath square next to Unzen Jigoku is a wide foot bathing area that has room for about 10 people. There is also a roof, so you can even enjoy the foot baths on a rainy day. They help relieve tiredness, so it is the perfect place to go after walking around Unzen Jigoku or the hot spring town.
[Try walking further afield] Feel the Four Seasons of Japan at the Nita Pass Ropeway
Nita Pass is a great place to enjoy the beautiful changing seasons, from the azaleas in spring, fresh green in summer, red leaves in autumn, and hoarfrost in winter. If you use the Nita Pass Ropeway and go to the viewing platform at the top of the mountain, a panoramic 360 degree view stretches out before you. In addition, Nita Pass is normally closed to traffic at night, but if you join a limited-time only bus tour, the Nita Pass Premium Night Tour, you can visit the pass after dark.
SHARE