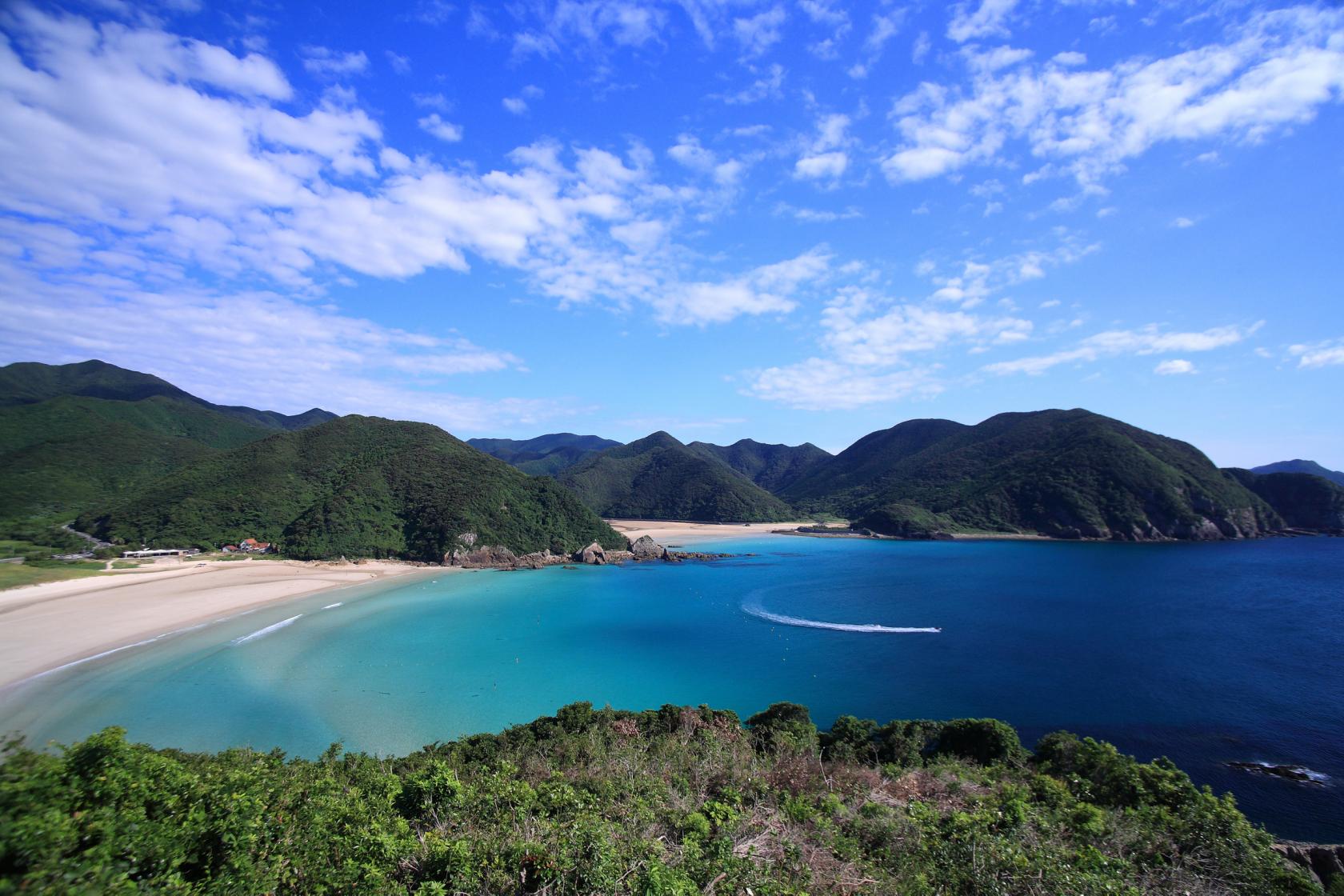 Top 5 Things to Do in Goto Islands (Shimogoto)
If you have your life mapped out before visiting Nagasaki Prefecture's westernmost Goto Islands, you might be in for a rethink. "Why did you bring me here? You've changed my life plans," our usually reticent photographer said to the local guide as soon as we emerged from the last leg of a winding trail to be greeted by an imposing view of Osezaki Lighthouse on Goto's main Fukue Island.

Although made in jest, his comments couldn't have captured Goto's charm in a better way. There's plenty in Goto to make you want to stay. Following three days of exploration, we narrow down the top five things for an authentic experience.
1. Osezaki Lighthouse
Osezaki Lighthouse epitomizes the evocative appeal of Goto. Set against a dramatic backdrop of wave-worn cliffs as steep as 150m, the sight of the stoic white structure is nothing short of awe-inspiring. Standing on the viewing platform surrounding the lighthouse and looking out to the East China Sea, it's easy to imagine a time when the island was used as a stopover location for travelers to ancient China.

Although the current lighthouse was built in 1971, the original structure was designed by an Englishman and erected in 1879. A part of it has been turned into a permanent exhibit at the Museum of Maritime Science in Tokyo.

This spot is known as the place for watching the last sunset in Kyushu. Locals gather here every year to watch the final sundown while slurping traditional soba on December 31. It's never too early to start planning if you're looking for a unique way to spend the year-end. Getting to the lighthouse requires a 2.4km hike (round-trip of about an hour), but intermittent green tunnels created by camellia trees lining both sides of the paved trail make it a pleasant trek.


2. Takahama Beach
Goto has many unspoiled beaches and natural wonders, but Takahama Beach (about 45 minutes' drive from Fukue Port) shimmers in a class of its own. Seen from the Gyoran Kannon (a guardian diety for fishermen) observation deck, the almost 1km-long beach in the western coast of Fukue looks postcard-perfect. Its sandy white shore, sloping into gradations of emerald and cobalt blue waters extending into the horizon, has officially been voted as one of Japan's top 100 beaches.

Come July 2020, a new facility with showers, equipment rental shops and restaurants is set to open and welcome swimmers to the shallow and calm waters here. Nevertheless, a handful of people, including a couple building sandcastles, prove there's no need to wait till summer to enjoy a stroll on the pristine beach.


3. Nordisk Village Goto Islands
Adorning the entrance of Nordisk Village's building is a stopped clock. It's an apt representation of how it feels to be here—time literally fades away, replaced with the sounds of birds chirping and evening light streaking across its grounds. Opened in September 2018, Nordisk Village is a collaboration between major hotel operator Fujita Kanko and Danish outdoor equipment maker Nordisk. It is the first Scandinavian-style glamping facility in Asia and the second Nordisk Village in the world (the first is located in Italy).

The facility is set up on the grounds of a former primary school (closed in 2001) surrounded by bucolic rice fields, verdant hills and an unspoiled beach nearby. The wooden school building has been given a new lease of life. It houses a front desk, accommodation, kitchen and restaurant. Meanwhile, Nordisk tents on the former school ground outside are comfortably furbished with two beds, heaters, refrigerators, Wi-fi, bluetooth speakers and other creature comforts.

Dinner was a communal affair at Taoflat Foundation, a restaurant that specializes in crafting meals using locally sourced ingredients, including delicious Goto pork, beef and chicken, vegetables, rice (harvested from the field right in front of the school) and even wine made from a winery on the island. After dinner, it was time to gather around a bonfire, listen to fire crackle and stare at a star-filled sky. Silence completed the day.


4. Lord Goto's Residence and Gardens
Explore a slice of Goto's history by visiting the residence of the former feudal lord of Goto, built on the grounds of the Fukue Castle less than 10 minutes away from the port. Our visit in March was made more special by the 35th-generation head of the clan, Noriaki Goto, who turned out to be the most genial guide, peppering our tour with fascinating nuggets of information (including the apparent fact that Louis Vuitton's trademark monogram was inspired by Japanese family crests).

Inside the almost 160-year-old residence, movable door frames, turtle-shaped nail coverings (the 30th-generation Goto lord who built the villa had a particular fondness for turtles) and unique shoji (Japanese paper screens) pay homage to the skills and artistry of traditional Japanese craftsmen. At the same time, hidden rooms and secret passageways leading to (and out of) the castle show the perils that came with the feudal lord's role of spotting foreign intruders for the shogunate.

Beside the villa is a garden modeled after that of Kyoto's famous Kinkaku-ji (Golden Pavilion), including a pond called Shinji-ga-ike, shaped as the kanji character for "heart."

Designed by Zensho, a priest who was exiled from his hometown in Kyoto (apparently for his lascivious ways), it is an exquisite example of Japanese landscaping with unique details and turtle-shaped rocks are scattered around the garden, according to Goto-san. Meanwhile, a giant 840-year-old camphor tree provides a fitting backdrop for tea ceremonies during mid-Autumn when one can see the full moon's reflection in the pond.


5. Tsubaki Chaya
This Japanese grill restaurant is tucked away on top of a hill on the secluded Kojushi Beach about 10 kilometers south of Fukue Port. It offers a visual and culinary feast so unique that it has become a highly popular stopover for visitors to Goto.

Started about 40 years ago, Tsubaki Chaya began operations in a traditional house of over 100 years old. However, it underwent a revamp in 2019 after the previous building became a struggle to maintain. The new building has a traditional yet contemporary vibe with all-wood interiors, exposed beams and cozy tables fitted with iroris (Japanese sunken hearths). The most striking feature of all, though, is the stunning panoramic view of the deep-blue waters in the distance, thanks to clear glass-pane windows lining the restaurant's ocean-facing side.

Lunch was nothing short of outstanding, consisting of locally grown vegetables (cabbage, broccoli and bell peppers), fresh seafood such as scallops, thick slices of Aori-ika (squid), skewered Isaki fish, and locally bred Goto Biton pork and Kankoro-mochi (sweet made of rice mixed with sun-dried sweet potatoes). Everything was simply grilled (accompanied by soy sauce, salt or yuzu-kosho), allowing their natural taste to take centerstage. Camellia oil-coated Goto Udon, a hand-stretched thin (and deliciously firm) noodle that Goto is known for, served in ago-dashi (flying fish broth), wrapped up the epic meal. Tsubaki Chaya is a must on every visitor's itinerary.
SHARE