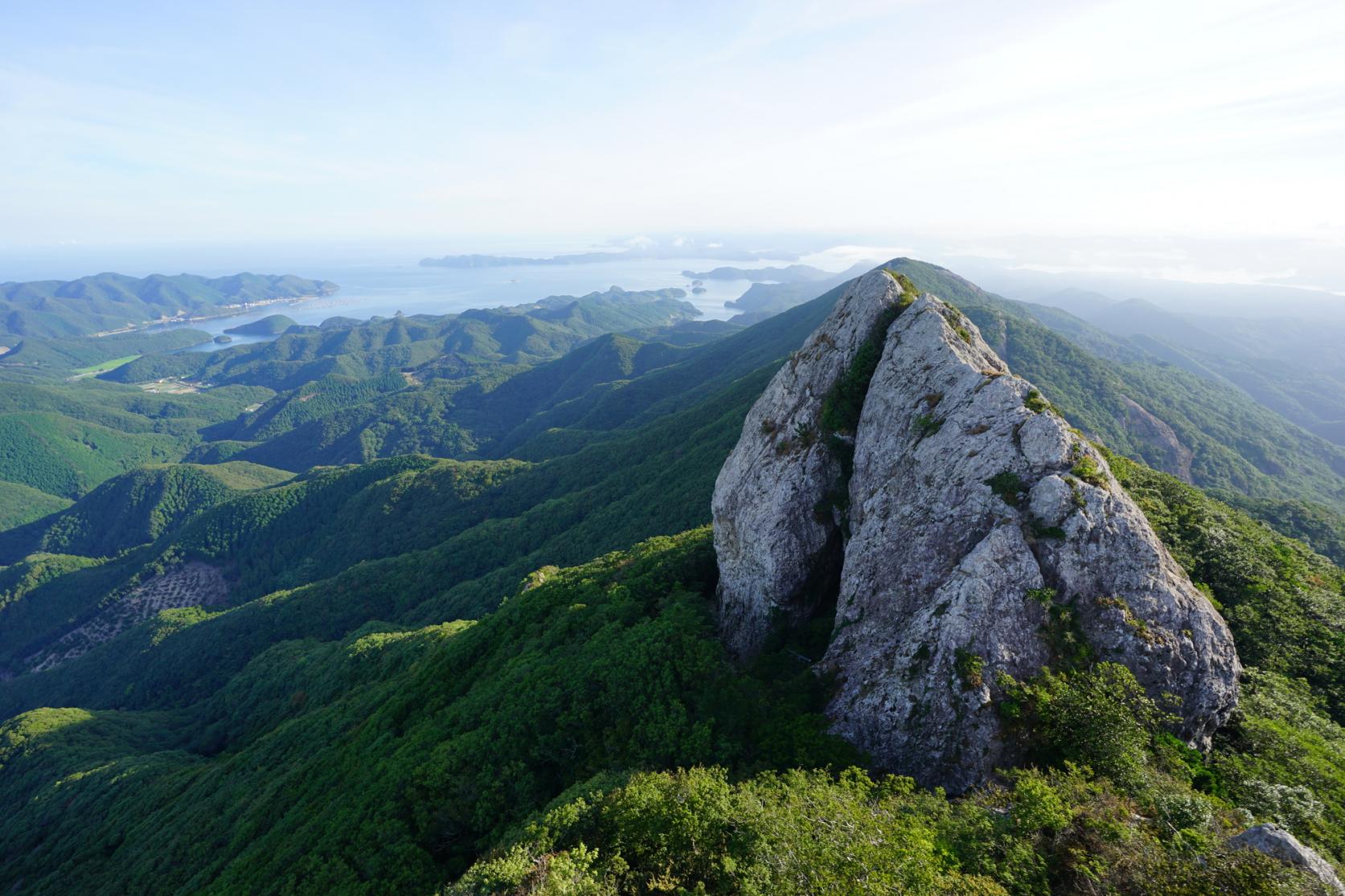 Learn about Tsushima Island!
Tsushima, the island closest to the Korean Peninsula, is a gateway island that has accepted various cultures and people from mainland Asia to the island nation of Japan.
While Tsushima is part of Japan, it has its own unique culture through integrating cultures from Asia, and has also been the stage for various battles throughout history.
The stories of the island found all over are sure to increase your curiosity.
The unique nature and history of the border island of Tsushima is fascinating!
Tsushima is a large island of about 82 km from north to south that rests between the northern end of Nagasaki Prefecture and Korea.
90% of the island is mountainous, covered with primeval forests.
The views from the peaks of these mountains are wonderous, especially the astounding views from the Eboshidake Observatory in the middle of the island!
The sight of Aso Bay (Asowan), a ria coast with interweaving islands, is like a painting.
In addition, Tsushima has its own unique ecosystem.
Flora and fauna native to continental Asia and to Japan coexist on the island, including the Tsushima Yamaneko, which is originally from continental Asia.
Furthermore, there are endemic species that only exist on Tsushima, so being able to enjoy the diverse wildlife with varying roots is one of the charms of the island.
Also, as an island on the nation's border, Tsushima has become a stage for reconciliation and conflict with other countries.
You can feel the remnants of this history from the ruins of castles, batteries, and festivals left throughout the island.
How to get there and how to get around? Accessing Tsushima and maps of the island.
Tsushima can be accessed by boat or by plane!

Boat
A boat sails from Hakata Port in Fukuoka Prefecture to Tsushima.
You can make landfall at either Izuhara Port on the southern end or Hitakatsu Port on the northern end.

For Izuhara Port [south end of the island]:
Around 4 hours 30 minutes by ferry from Hakata Port.
Around 2 hours 15 minutes by high-speed boat.
Around 2 hours 15 minutes by high-speed boat from Korea (Busan)

For Hitakatsu Port [north end of the island]:
Around 6 hours by ferry from Hakata Port.
Around 1 hour 15 minutes by high-speed boat from Korea (Busan)

Plane
You can travel by plane from Nagasaki Airport or Fukuoka Airport to Tsushima Yamaneko Airport.
From Nagasaki Airport: around 35 minutes
From Fukuoka Airport: around 30 minutes



Traveling within Tsushima

Tsushima is a large island at 82 km from its northern to southern ends.
When touring around the island, public transportation is unreliable, so using a taxi is better.
The history of Japan's relations with other countries remains on the island.
As Tsushima is located at a transport hub connecting mainland Asia with Japan, it acts as a gateway to other countries, both hostile and friendly.
There are many places on the island where you can see traces of this history.

In the later half of the 13th century, the Yuan Empire, which covered close to 30% of the globe including Mongolia and China, invaded Japan (this event is known as the "Mongol invasions of Japan"), and Tsushima was attacked as a stepping stone for these invasions.
The warriors who did not back down from the overwhelming force of the empire, and who were annihilated in defense of their country, are still enshrined at Komodahama Shrine.
In addition, the traditional summer event of Tsushima, the Tsushima Izuhara Port Festival, is one such event that conveys the history of the island.
Inhabitants of mainland China and the Korean Peninsula were enemies during the Yuan invasions, but around 300 years later, when Japan did not have contact with other countries, a large delegation of 500 people from overseas was welcomed.

Mr. Sou, who was overseeing Tsushima, became their host, and organized a large group trip to take them to the metropolis of Edo (Tokyo) (this event is known as the "Korean delegation to Japan").
The parade held during the Tsushima Izuhara Port Festival replicates the procession of the Korean delegation to Japan.

Other events that happened on Tsushima include the Battle of Tsushima in the early 19th century, where Japan defeated the Baltic Fleet, which was said to be the strongest in the world at the time, during the Russo-Japanese War.
The Mount Himekami gun battery remains in good condition and can be visited easily.

From the history left throughout Tsushima, you may be able to get a glimpse of how Japan, an island nation, has interacted with other countries.
Historical spots / Places to see
90% of Tsushima is mountainous, making it perfect for trekking.
Along the trail, you are greeted by a unique ecosystem unlike anywhere else in the world.
The historical remains that are left behind everywhere you go will surely satisfy your curiosity.
Here, we will introduce recommended spots when going around Tsushima.
Tsushima Cuisine
If you are traveling to Tsushima, having knowledge of the local cuisine is a must!
In Tsushima, which is separated from the mainland by the strait, you can enjoy local cuisine that is a little different from that of the mainland.
There are unique meals that can only be eaten here, and special soba and honey foods that you could not find on mainland Japan.
Taisyu Soba

Soba noodles with a strong scent, which are said to have been introduced to Tsushima 4,000 to 3,000 years ago.
Since the soba that is generally available on the mainland is made from improved varieties, Tsushima is the only place where you can eat rare soba that even Japanese people cannot easily obtain.

Iriyaki

A traditional hot pot meal that is eaten during the year-end and New Year holidays, local festivals, and when entertaining guests.
It is made by stewing vegetables with fresh fish caught in the surrounding sea or local chicken.
After you finish eating the contents, you can finish the delicious soup by adding Taisyu soba or udon noodles.

Japanese honey bee honey

Here you can enjoy honey made by Japanese honey bees, which are rare even in Japan.
The honey made by Japanese honey bees, which collects the nectar of multiple types of flowers while flying around the hills and fields, is called "hundred flower nectar" and lets you enjoy a complex flavor.

Tonchan

BBQ pork soaked in a special sweet and salty sauce made from soy sauce and miso. It goes great with rice!
It is the soul food of this border island and is said to have come from Korea.

Ishiyaki Cuisine

Traditional cooking made with vegetables and fish on a hot stone.
The sizzling sound of fresh fish cooking is enough to wet one's appetite.
It is thanks to this simple cooking method that this cuisine makes the most of Tsushima's fresh ingredients.

Anago Nigiri

Many foreigners think "I want to try sushi since I've come to Japan, but I'm still not sure about raw fish…." If you are one of those people, why not try Anago Nigiri?
Depending on the restaurant, the anago (conger eel) is either boiled or fried, but the cooked anago is still soft and juicy.
The sweet and salty sauce is irresistible.
Tsushima has the largest amount of conger eels in Japan, so you can always enjoy fresh anago.
Activities to make the most of Tsushima
Here, we will introduce the activities you can enjoy that make the most of the charms of Tsushima, from its history to culture and nature.
Guided tours

We recommend a guided tour to make the most of Tsushima's history and nature.
The guide will be sure to explain about places you might have walked past on your own.

View more

Kayaking / Standup Paddle Boarding

The complex ria sea is calm and ideal for activities such as kayaking.
Enjoy the beauty of the clear sea and the mountains you can see from it.

View more
Sea fishing

The seas surrounding Tsushima are kept at a stable heat by warm ocean currents all year round, so you can fish no matter the season.
There are many inns that rent out fishing rods, so even beginners can easily go fishing.

View more

Workshops

Workshops where you can make things using local materials.
Kill two birds with one stone by experiencing the island and creating your own souvenir.
Pearl accessories, woodwork, leather craft, etc. Make your own original item the way you want it!

View more
SHARE