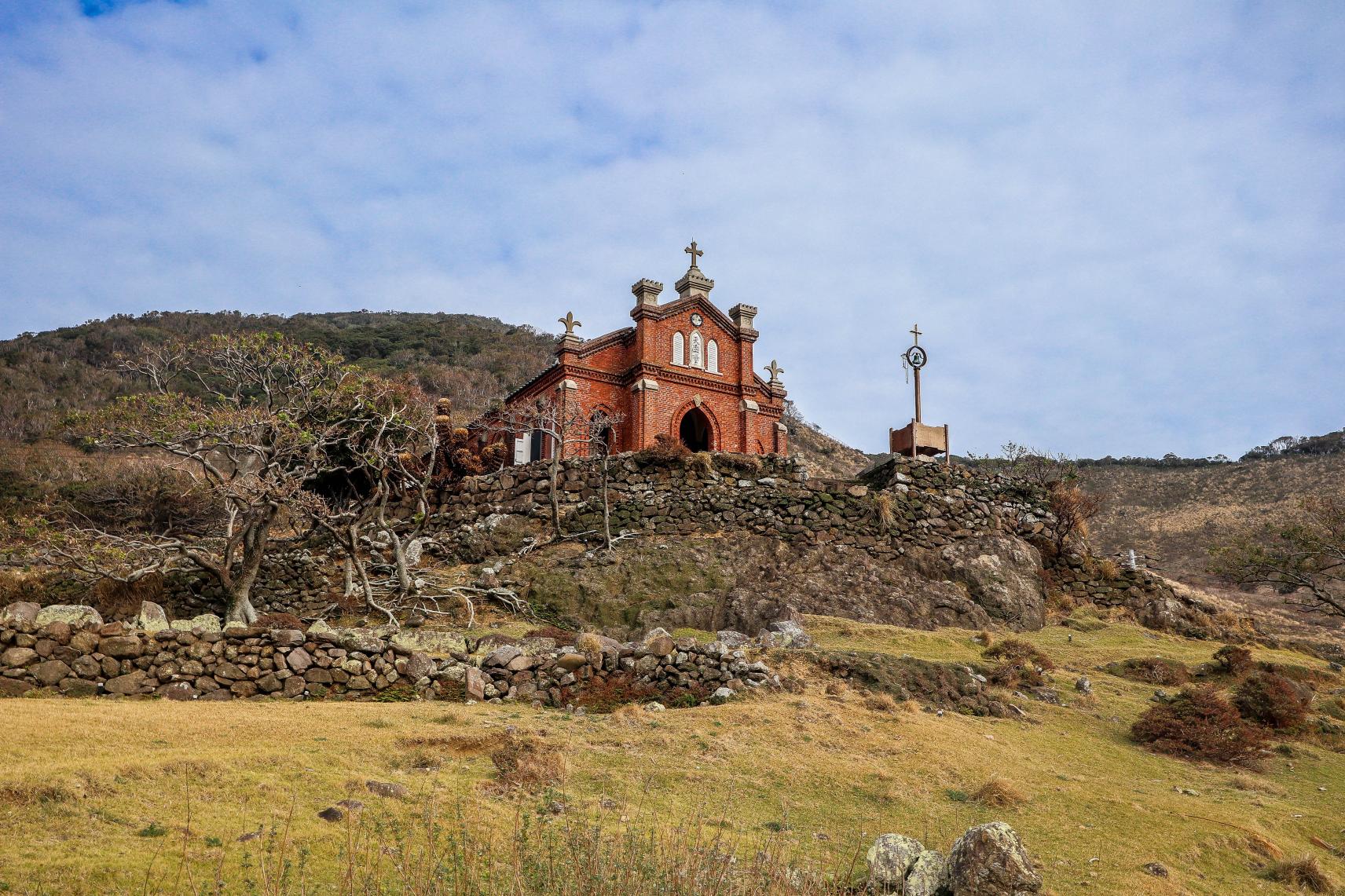 Feel nature, feel local at OJIKA
Ojika Island is located north of the Goto Archipelago, with about 2400 inhabitants. The island is just like a village, where everyone seems to know each other more or less. It abounds beautiful landscapes and also has local products such as peanuts and smoked bonito. During three days and two nights, we went across the island and its surroundings, enough to discover the place as it should be.
We first started by exploring the quiet port village called "Fuefuki". Walking around was very pleasant and it allowed us to understand the day-to-day island life, and we could feel the atmosphere of the fishing area through narrow streets and beautiful wooden houses of former rich salesmen. We quickly noticed the presence of small statues called "Jizo" alongside the streets. It is believed that these Jizo prevent fires, and protect fishermen and children on the island. At the feet of the Jizo, there were small stamps that one could collect on a card, and the card is available at the tourist office. We also visited "Ojikappan", a local printing house, established on Ojika for four generations, and today, it has orders from all over Japan. Run by a father and his daughter, we felt an incredible passion for the printing work as they showed us how to use their traditional printing machine - you can experiment the printing by booking in advance! A few minutes away from the downtown area, the temple Amida-ji is a must see for its size and its unusual red color. As we walked around Ojika town, we felt the peacefulness of living on this island!

Cycling around Ojika
Ojika's nature is one of the main assets of the island, with its rocky coast and beach, it seems to have everything to satisfy everyone who would come visit. As the island is rather small, all nature spots are accessible by bicycle. We recommend doing a two-day trip so you can travel at a relaxing pace. Riding a bicycle is highly recommended as it gives one the feeling of freedom, especially since they are almost no cars on the road. Ojika Island has several magical beaches where you can swim in turquoise water such as the Kakinohama Beach. The most astonishing one is Akahama ("the red beach"), a beach with scarlet and purple stones, which contrast strongly with the blueness of the sea and the greenness of the environment.
Ojika is one of the islands on the most western side of Japan, so you can see beautiful sunsets if the weather allows. The most wonderful view is at Madara's lighthouse where the view of the horizon is unblocked.
As we were going around the island, we often came across Shinto shrines like the one located on the famous Hime-matsubara (Avenue of Pines). The Chino-kojima Shrine is surely the most iconic one. It was built at first to enshrine the spirit of the blade of a lord but then aimed to protect fishermen and travelers sailing between Ojika and Nozaki Islands (a major former trading route of the Goto Islands area). It is mainly well known for its three torii (Shinto shrine gates) which seems to be leading to a secret place across the sea.
With much more spots to discover, the whole journey on Ojika turns into a big treasure hunt.

Sleeping on the island, in the heart of the local life
We had two choice for accommodations: sleep in a "Kominka" (traditional Japanese folk house), or in a homestay with a local family. The first evening, we spent the night in a wonderful Kominka recently renovated. It marvelously combined the traditional side (tatami, sliding doors, ink paintings) with a modern touch of furniture and amenities. Some of the Ojika's kominka are former samurai houses, so it is pretty easy to let your imagination run wild while enjoying your stay.
The second evening, our hosts Hashi and Yami welcomed us into their home "YASA". An adorable and very friendly young couple who will let you discover their incredible adventure with their renovated house (a Kominka too). We ate dinner and breakfast together, and had some very fun and entertaining discussions while comfortably drinking a glass of beer. With our hosts, we learned how to fish (a part of our evening meal), and lit a traditional Japanese bath with wood called "maki-buro." It was an authentic experience that let us understand and give us a feel of what life was like in the past in these one-hundred-year-old houses.

Nozaki Island a land multifaceted
About twenty-five minutes away by boat from the main island of Ojika, you can visit Nozaki Island, that is to us a must-see. No one has been living there since 2001, making this island a deserted one where the nature is slowly taking back its place. We noticed as we were wandering around that many shrubs growing on the walls and inside houses. The only ones living there on the island are essentially deer (about 400 of them). In order to protect the wildlife of Nozaki, it is forbidden to leave any waste and to bring anything back from the island. A few steps away from the port village is the the "savannah", a huge space which indeed looks like a savannah in autumn and winter, and where we had fun trying to find deer hiding within this amazing landscape.
What it seems to us as remarkable on the island is its diversity of landscape with its rocky cliffs, beaches with white sand, emerald blue sea and mountains covered up with forest. Each glance was like traveling in different places, and this probably was the best part of discovering this island. Initially Nozaki was made up of three hamlets, but only Nokubi's church is still standing up today. Since 2018, it is listed as a world heritage site by UNESCO. The church was entirely financed by the locals during its forty years of service, and now, the building seems to be the only witness of the forgotten past.
Ojika is indeed a peaceful spot for holidays, and we are convinced that it is the perfect nature getaway while on a trip in Japan.

SHARE