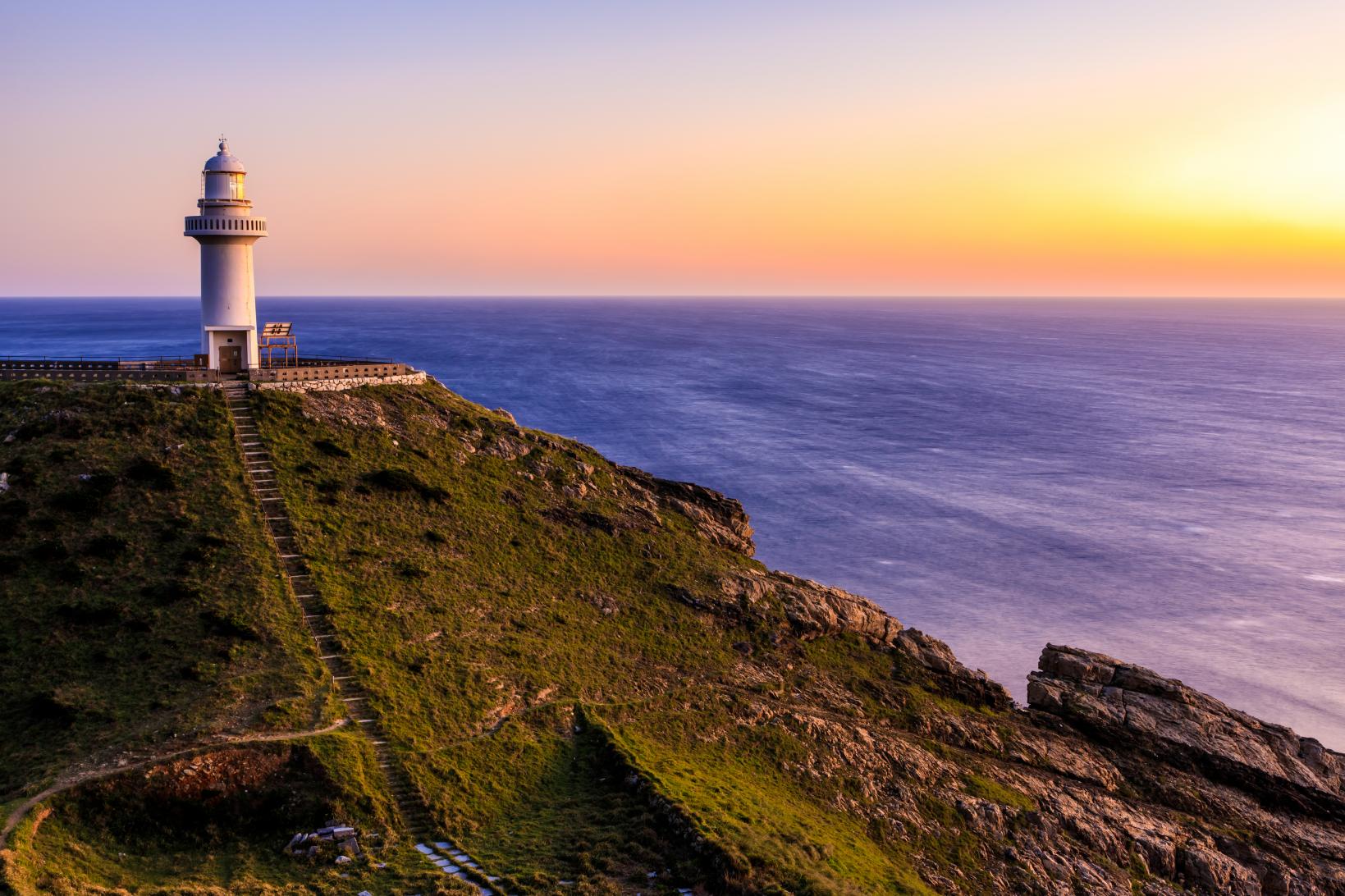 Learn about Goto Islands!
Home to world-heritage churches, some of Japan's most beautiful beaches, and pristine nature, Goto is a great destination for history, good food, and picturesque views! Here, we showcase some of the many wonders of Goto, which developed its own unique culture over time.
Scenic Views, Local Cuisine, Fun Activities and More!
Goto Islands, located in western Nagasaki Prefecture, is made up of around 140 islands, both large and small. Particularly accessible and most popular for sightseeing are Shinkamigoto and Goto City.

With white sand and emerald green waters, the beaches here rank among Japan's best 100 and their beauty changes with the seasons and even the time of day. Goto is also home to historical churches that have been designated as world heritage sites and tell the story of the past generations of inhabitants who shaped Goto's unique culture.

The local cuisine is just as special. Make sure to try the bountiful marine produce, carried in on the nutrient-rich sea currents, as well as Goto udon noodles, a local specialty.
Getting There & Getting Around
For Goto Islands sightseeing, it's best to start with mainstays Shinkamigoto or Goto City! Both are easily accessible from Nagasaki City.
・ Shinkamigoto (Arikawa Port): As little as 1 hr 40 min on high-speed ferry from Nagasaki Port
・ Goto City (Fukue Port): As little as 30 minutes by plane from Nagasaki Airport

The easiest way to get around on the islands is to rent a car. There are many electric cars available for a fun and eco-friendly drive! The number of ferries running between the islands is limited, but taking a water taxi will let you plan out your schedule more freely.
Nagasaki's Hidden Christian Sites
In the 18th and 19th centuries, when Christianity was outlawed in Japan, many Christians were persecuted and fled to Goto Islands. There, they built a village and pretended to be Buddhists while secretly maintaining their Christian faith. They also ended up creating their own unique Christian culture.

These sites tell the story of these hidden Christians, who maintained their faith in secret, for around 250 years despite the absence of any foreign missionaries. For that, they were designated as world heritage sites in 2018.

Come and take a trip off the beaten path and learn more about the unique story of Japan's hidden Christians at these lesser known sites.
Churches and Scenic Views
Goto is famous not only for its natural scenery, such as the vast ocean and beautiful nature, but also its historical churches. Learn about the secret stories of Japan's hidden Christians inside these simple yet refined buildings.
*These churches are sacred sites. Please be respectful when visiting them.
Churches in Goto City

Direct Access from Nagasaki Port!
Goto City has several notable churches, including Dozaki Church, which also serves as a museum, Mizunoura Church, whose white exterior makes for great photos set against vast blue skies, as well as Imochiura Church, which is the site of the first Lourdes grotto in Japan.

Churches in Shinkamigoto

Direct Access from Nagasaki Port!
Shinkamigoto is home to several distinctive churches built in different architectural styles, including Kashiragashima Church, with its striking blue dome-shaped roof, and the fairytale-like Nakanoura Church.
Churches on Smaller Islands

There are also several churches on smaller islands. Compared to those on the two main islands, they are a lot less accessible, but isn't there something appealing about visiting a small, somewhat isolated church? If you're up to the task, Egami Church, built in a forest, and the former Gorin Church, which is only accessible by foot or by boat, are especially worth visiting.

Stunning Scenery

Goto Islands and its natural scenery offer many picture-perfect sightseeing spots, including Mt. Onidake, a symbol of Goto City, Osezaki Lighthouse next to a dramatic sheer cliff face, and Hamagurihama Beach with its crystal-clear waters and beautiful white sand, just to name a few!

View more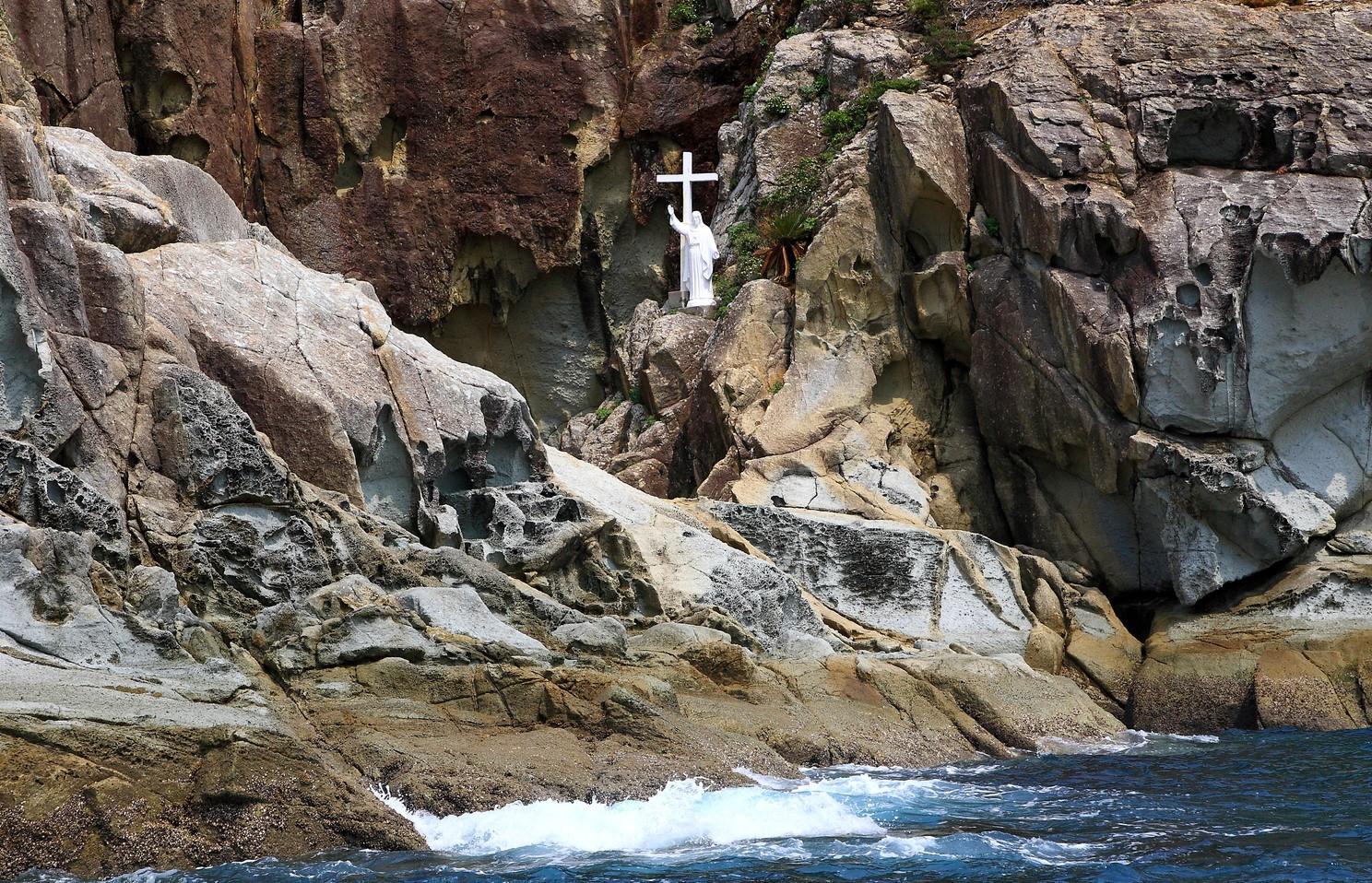 Mysterious Christian Cave
This small cave, carved out of the cliff face by the rough waves, was the secret hiding place of Christians who fled from persecution. Today, it can't be accessed from land, only by boat. It serves as a reminder of a cruel history of oppression.
Only accessible as part of a sanctioned tour. Please apply in advance.
Unique Local Cuisine
The warm sea currents around Goto Islands are home to many highly nutritious fish and other seafood! There's so much to try, from classic local dishes, to more surprising delicacies. Here are some of our recommendations.
Izakaya

Try one of the izakaya for a rich offering of delicious seafood in a warm and homely atmosphere! Local food and local liquor – a classic combination!

Imojochu

The Goto variety of imojochu is made with sweet potatoes that are all grown locally. Because so many people pre-order it, bottles sell out fast and hardly any make it off the islands. The best way to enjoy this lovingly made local liquor is to enjoy it here, in its home.
Goto Beef

Outside of Goto Islands, Goto beef is expensive and hard to find, but locally, you can enjoy it at much more reasonable prices. This delicious beef is tender and juicy!

Goto Udon

Wrap up any good meal with some delicious Goto udon! This variety of udon has a 1000-year history and is known for being smooth and thin, while still offering good bite. Even after a full meal, these noodles go down easy!
Kattoppo

Astonishing Delicacies
The upturned fish is quite a sight! This is kattoppo, a rustic local dish of grilled boxfish stuffed with miso and scallion. It goes great with rice and saké, and makes for a great photo, too!

Kibinago

Astonishing Delicacies
Kibinago or silver-striped herring served fresh as sashimi is just the right kind of fatty and nice and tender. The shiny slices of sashimi make for a pretty picture, too! If you're not into raw fish, maybe try some kibinago tempura. You can eat the whole thing, from head to tail.
Fun Activities for All
Goto Islands is packed with fun things to do! Enjoy the outdoors with marine sports and cycling, or learn something new with a cultural experience.
Cycling

A great and easy way to enjoy Goto's beauty is on a bike. Even if you're not the most confident cyclist, there are few hills to worry about and also plenty of electric bikes available. Relax, enjoy the island breeze, and take in the beautiful sights!

Glamping

Camp out in the great outdoors! Relax in a comfortable tent, with everything taken care of for you, and look up at beautiful starry skies.
Enjoy the Sea

Goto is full of beautiful uncrowded beaches with crystal clear waters and lovely white sand. Go stand up paddleboarding, take a ride in a banana boat, or enjoy a good old-fashioned walk along the beach.

Cultural Experiences

You can learn how to make local food and treats such as Goto udon or kankoro-mochi, a sweet, old-timey confectionary. Friendly instructors will give you easy-to-follow guidance through all the delicate, almost artisanal techniques. You can also learn how to extract camellia oil, a local specialty product prized for its beauty effects, and take a bottle home as a souvenir!
SHARE