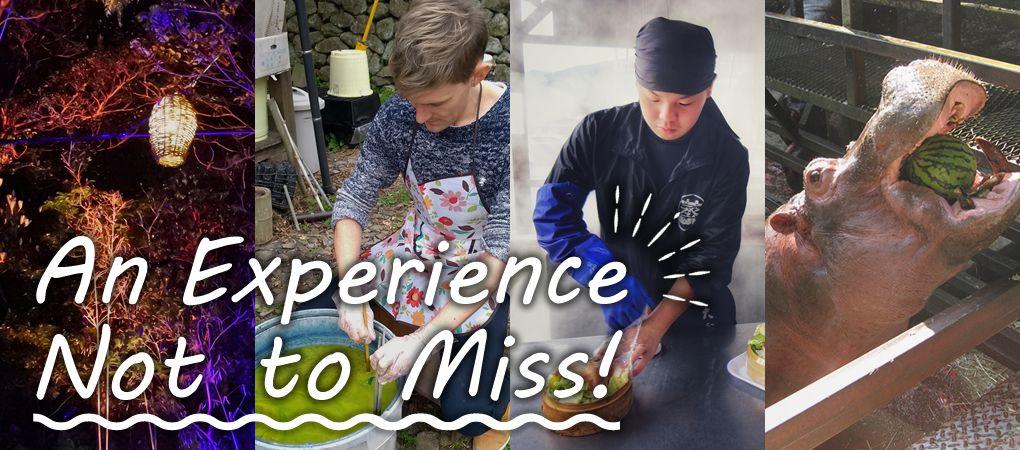 An Experience Not to Miss!
Nagasaki Prefecture offers many fun and interactive activities that will make your trip even more memorable! Here are some examples of the activities that you can go and experience while in the prefecture!
Experiencing Nagasaki is not only about exploring its history, basking in its beauty, and enjoying its gastronomic diversity. In Saikai City, Nagasaki Prefecture, another distinctive experience awaits: a zoo where you can interact with animals.
The Nagasaki Bio Park : A Zoo Without Borders
Nagasaki Bio Park was established in 2004. On their website, they explain that the animals in their care are "not 'on display,' but are instead living as close as possible as they would in the wild." They call this an 'ecological display' instead.

Upon arriving at the park, one cannot help but notice that the entrance seems more like a natural forest than a zoo with cages. It is a long walk adorned with plants, trees and flowers, as the flora is as much a part of the ecological display as the fauna. Inside the park, you can see different animals freely roaming around, or are at most fenced and not caged. It is common for people to see a meerkat or lemur popping out from the bushes or hanging off from the tree branches.

The Nagasaki Bio Park also offers specific animal interaction experiences; among them is the opportunity to pet and feed capybaras. Capybaras are considered the largest rodents in the world. Despite its large size, its appearance is incredibly adorable, and it is a very popular animal in Japan. The Bio Park's annual Capybara Citrus Bath Ceremony on winter solstice has become a famous broadcast tradition. On warmer days, the capybaras will be roaming around the park, and you can pet them or feed them as well. Please note that only designated food for the animals can be used to feed them.

Aside from the capybaras, the Nagasaki Bio Park also allows its guests to interact with goats, flamingos, kangaroos, and even hippopotamuses. Guests can feed the hippos with an entire watermelon, and enjoy seeing them eating their treat. Another popular area is the hill of squirrel monkeys, where visitors are surrounded by these playful creatures. They love climbing onto people's shoulders, pulling pranks and snatching items if you're not careful!

A visit to the Nagasaki Bio Park is considered incomplete without a visit to the Pet Animal World (aka PAW). This is where visitors get to play with dogs, cats, guinea pigs and other small pets! It can be a fitting end to a whole day of interacting with nature's adorable gifts.

The Nagasaki Bio Park is not your regular zoo; with its unique setup, visitors not only enjoy animal interaction, but also learn the value of letting animals live in their natural habitat.

Aiakane Kobo : The Traditional Indigo Dyeing Experience
Obama Town in Nagasaki Prefecture is known for its 105-meter-long hot foot bath, stunning sunset view, and fresh seafood. However, tucked away in the streets of Obama Town is a small workshop called Aiakane Kobo that lets you take part of the traditional indigo dyeing experience. Materials such as t-shirts, canvas bags, scarves, and bandanas (plus many more!) are available to choose from based on the price range you select. Alternatively, you can bring your own cotton material too!

There are three types of experiences that one can choose from; seasonal plant dyeing, indigo leaf dyeing, and precipitate indigo dyeing. Precipitate indigo is available all year round, whereas the other two are only available during certain times of the year.

When you enter into the grounds of Aiakane Kobo, you'll immediately find the garden where they grow their indigo plants, fruit trees that they use for dyeing various colors, and even cotton plants. The exterior of the workshop has an old rustic feel to it, but the interior is refined and cozy. They also have a display of their indigo merchandise including clothes, accessories and even food products like indigo tea and indigo salt. If you're not into the DIY process, but are interested in their products, they also have items available for sale in the workshop.

There are multiple steps involved in the dyeing process, and it will take about 2 hours in total. We decided to try our hand at the indigo dyeing experience; with t-shirts being our chosen cotton material. To start, the staff at Aiakane Kobo will show you the different patterns that you can create with just a few simple accessories like beads, elastic bands and cones; and then creativity is in your hands! One of the fun things about this experience is the excitement of seeing the final product of your own creation.

The second step is the actual dyeing process, where the dye has been prepared for you in advance. To our surprise, the liquid dye was a greenish-yellow color, which looked nothing like the denim blue color that we had envisioned. The dyeing process takes about 15 – 20 minutes, and it is important to make sure that all parts of the material is covered in the dye, as being exposed to oxygen for even a minute will result in the area being a slightly lighter color than the rest. The third step is to hang the t-shirt in an open area and wait for it to oxidize (the material will slowly turn into a denim blue color), which can take up to 10 minutes. Once done, you remove all the accessories used to create the patterns, and then rinse the material until the water runs clean.

Finally, you hang it up to dry! You will notice that the color becomes lighter when it is fully dried, and that will be the permanent color of your material. For those that prefer a darker blue color, you can choose to re-dye your material after Step #3 as mentioned above.

While waiting for our material to dry, the staff prepared some indigo tea for us. The scent of the indigo tea was soft and elegant, unlike the indigo dye which had a strong earthy smell. In addition, the tea had a delicate sweet aftertaste that remained in your mouth after each sip. A cup of indigo tea was the perfect way to end this extraordinary experience. Before you head out, the staff will prepare and pack your material for you to bring home. Please note that the item will still be damp, so it is important to hang it dry when you get home. Once it is dried, you can wear it and show it off!

Just a 2-minute walk from Aiakane Kobo is a charming café called Karimizuan. The building is an old traditional Japanese house that has been refurbished, and turned into a store on the first floor, and a café on the second floor. Grab a drink with some sweets, and enjoy the afternoon in the relaxing and quiet town of Obama.

If you like being creative and don't mind getting some dye on your hands, Aiakane Kobo would be the perfect place for a fun afternoon!

Mushigamaya : Choose It and Steam It!
The seaside town of Obama has the hottest hot spring water in the Shimabara Peninsula, with water welling out of the ground at temperatures of over 100 degrees Celsius! At those temperatures, the water is accompanied by an impressive quantity of steam, and the people of Obama Town have long made use of this to create all-natural steamers for food. That makes the Mushigamaya restaurant in Obama Town the perfect place to experience this local tradition for yourself. Arrive at Mushigamaya, and you can't miss the outdoor food steamers. Watch out! There is always hot steam pouring out from the steamers, ready and waiting to be used. The wooden lids are attached to long ropes that let the staff open and close them from a distance.

Walk inside, and you'll be greeted by a wonderful array of seafood, vegetables, meat and other delights ready to be steamed! The best part of this experience is piling your tray with exactly what you want to eat. There are various options to suit every budget, and depending on the season there may even be fresh crabs or shellfish on offer.

Once you've made your choice, it's time to steam! With the high temperatures involved, it's a good thing that the staff operates the steamers for you. Of course, you can watch from a safe distance as they load your food into designated baskets and lower them into the steamers. They'll give you a timer that tells you how long your food will take. Go back to your table, relax, and when the timer goes off, return to collect your food; steamed to perfection every time! The experienced staff knows exactly how long it takes to steam each dish, so you might receive 2 or 3 timers depending on what you've chosen.

Seafood is king here at Mushigamaya, and the menu is not just limited to steamed goods. Mix-and-match, and try ordering from their wide range of set meals and dishes such as fresh seafood rice bowls, tempura and many more. For those that don't eat seafood, there are plenty of meat options, as well as a vegetarian set.

Once you've had your fill, the "Hot Foot 105" foot bath is just a few steps away from the restaurant. The naturally hot onsen is gently cooled to a temperature that's just perfect for soaking your feet after a long day on the go. The best part? It's completely free! Just don't forget to bring a towel to wipe your feet afterwards. Why not end the day with a stay at one of the great accommodation options available along the main street of Obama Town, and enjoy the great onsen on offer?

Island Lumina : An Enchanting Island Walk
Iōjima is a small island southwest of Nagasaki City. Historically, it was known for its ties to the Hidden Christians of Nagasaki back in the 16th – 18th century. These days it is known as a popular tourist resort with access to hot springs, spas, and local delicacies such as fugu (puffer fish) and olives.

One of the newer attractions to the area is Island Lumina. It was created by Moment Factory; a Canadian company. Island Lumina is a night walk that combines multimedia technology with the peaceful nature of the island. You follow Yura, a young girl on an adventure to save her village from darkness by 􀃝nding an enchanted jewel that
was stolen by a dragon long ago. As you walk through the illuminated paths, you get to watch her travel through the many di􀃜erent trials of the island and on occaision, help her along with her journey through solving simple puzzles. The entire walk takes about 45-60 minutes, depending on your pace.

After completing the walk, you can visit the gift shop which offers merchandise for Island Lumina as well as an array of local island products such as sea shells and produce. There are also Canadian products like maple syrup and tea. If you're feeling a little peckish, there is also a food truck offering a variety of drinks and food including miso/fugu soup!

There are a variety of ways to get to Island Lumina. By car, it is about a 45-minute drive from the city central. You can also grab a free shuttle from Nagasaki Station to Shimakaze no Yu (reservation required), and from there take the Island Lumina free shuttle. There is also the option of taking a high-speed boat from Nagasaki Port to Iōjima Port, and from there it is a 10-minute walk to the Island Lumina shuttle bus stop.
Island Lumina is the perfect evening activity for families, friends and couples. It is open year-round (weather permitting). Tickets are available on site, or you can book in advance through either Lawson Ticket or the PIA service. Come and experience one of the most enchanting walks in Nagasaki!

Words by: Emmanuel M. Feliciano (Nagasaki Bio Park), Winnie Chiang (Aiakane Kōbō), Dominic Balasuriya (Mushigamaya), and Yeti Mallavi (Island Lumina)
Photos by: NPTA
----------------------------------------------------------------------------------------------------------------------------------------------------------
The Nagazasshi is Nagasaki's No. 1 English language magazine. You can read it online at www.nagazasshi.com
The Nagazasshi is also on Facebook! http://www.facebook.com/nagazasshi
Like the page to keep up to date with all the best news and views from the international community in Nagasaki.

SHARE