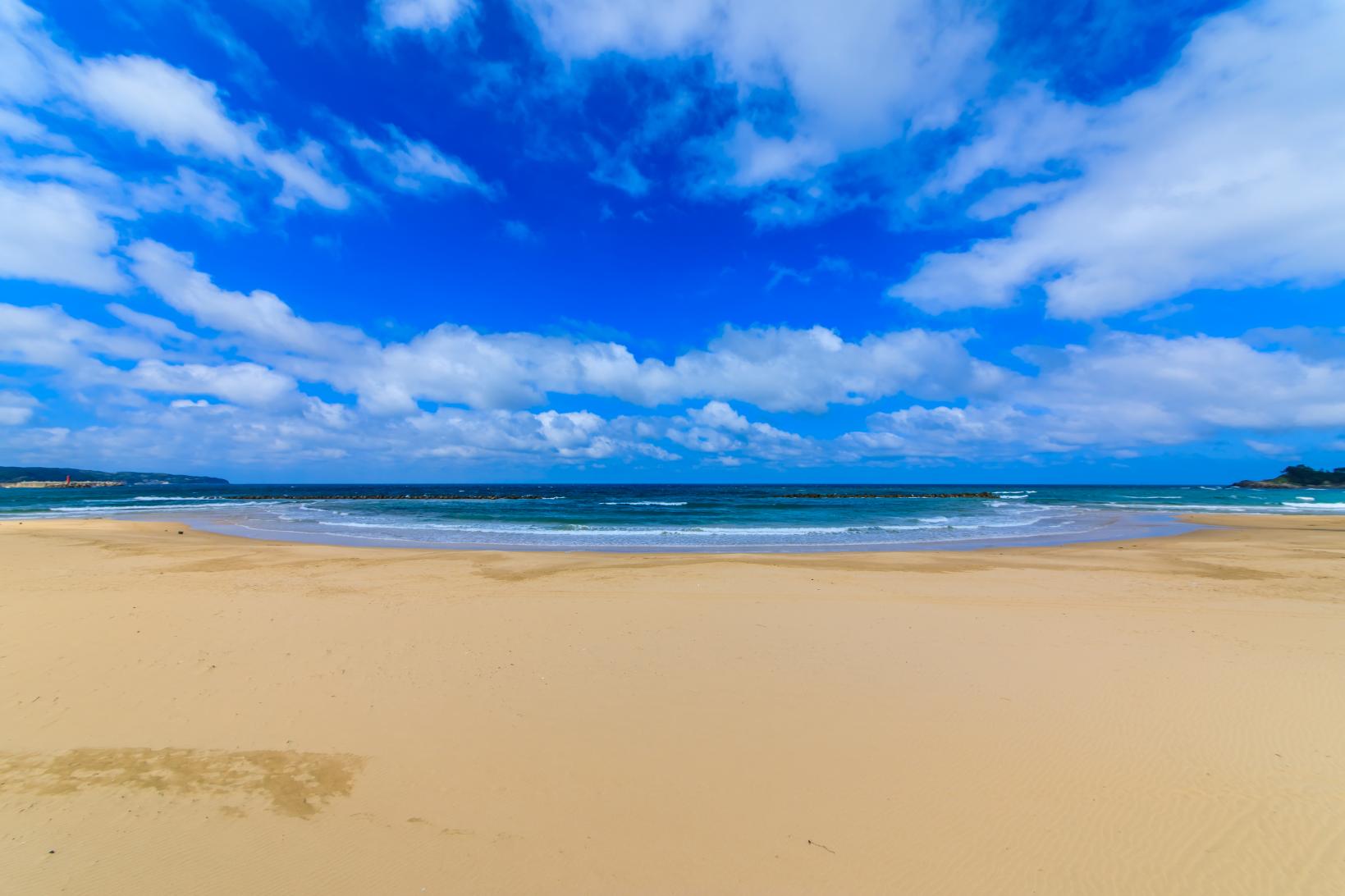 Enjoy the Beautiful Beaches of Iki Island!
Leading Beach Resort of Japan
It is approximately 65 minutes to Iki Island from Hakata by jet boat. Although not that far from Hakata, once you land on Iki Island, you will find unspoilt nature extend out in front of you. The beaches of Iki Island are mainly made up of white sand - something that is rare for Kyushu. We introduce you to three beaches that are popular with tourists from the more than 30 beaches dotted around this small island.
Beaches of Iki Island
Enjoy Natural White Sand Beaches
The beaches of Iki Island feature natural white sand. Iki Island belongs to Nagasaki Prefecture in Kyushu. Nevertheless, natural white sand beaches are rarely seen in Kyushu. The white sand of Iki Island has been formed by seashells. This means it is smooth to the extent it does not hurt even if you walk on it barefoot. There are more than 30 beaches dotted around the island. Please enjoy swimming in the ocean in a different atmosphere at each.
Tsutsukihama Swimming Beach
Beautiful White Sand Beach with a Total Length of Approximately 600 Meters
This is a popular swimming beach located approximately three minutes by car from Iki Airport. It bustles with many tourists during the sea swimming season. The lovely white beach that stretches out over approximately 600 meters is one of the most beautiful on Iki Island. You will find a campsite, barbecue area and tennis court in the adjacent facilities.
How to Enjoy the Tsutsukihama Swimming Beach
Use a Beach Hut to Enjoy Swimming in the Sea!
There are three beach huts with different atmospheres at the Tsutsukihama Swimming Beach that is visited by the most tourists on Iki Island: Umibozu that will pick you up and return you to ports and accommodation facilities for free, BANZAI that allows you to enjoy the latest marine sports (e.g., flyboards) and Beach Boy that has been popular with locals since long ago. They each have their different charms. Fully enjoy swimming in the sea here by using a beach hut replete with food, rental equipment and showers.
Nishikihama Swimming Beach
A Swimming Beach Also Popular with Adults
You can enjoy many marine activities at this beach. Therefore, this is a swimming beach that is popular with adults. It is located approximately three minutes by car from Iki Airport. The sandy beach, which contains many fragments of seashells, has a pale pink color that gives it a romantic atmosphere. There is also an authentic bar with a focus on cocktails here. This means that you can enjoy alcohol while looking out over the beautiful sea.
How to Enjoy Nishikihama Swimming Beach
Enjoy Drinking at a Relaxed Pace after Marine Sports
The only diving shop on the island is found at Nishikihama Swimming Beach. You can choose a diving experience you can take part in even without a license and a course to acquire a license. There are also many other bargain plans that allow you to have fun with various activities (e.g., sea kayaking and jet skiing). After fully enjoying these activities, we recommend you pass your time at a relaxed pace while drinking cocktails at the adjacent bar.
Ohama Swimming Beach
A Swimming Beach That Has a Relaxed Atmosphere with Magnificent Views
This is a swimming beach surrounded by nature that has a relaxed atmosphere. This beach, which is close to Iki Airport, has few artificial objects. This means it is popular with local families. It is a shallow beach. Therefore, it also features scenery that changes greatly between low tide and high tide. Please spend a relaxing time here while admiring the beautiful views and listening to the sounds of the waves.
How to Enjoy Ohama Swimming Beach
You Must See the Phantom Beach That Appears at Low Tide
Ohama Swimming Beach is a shallow beach. Therefore, you can see scenery that is completely different at low tide and at high tide. We recommend spending your time at a relaxed pace looking out at the gentle sea while listening to the sounds of the waves and getting a tan. There are approximately 300 types of beautiful seashell found ashore on the beach. This means you can also see people having fun collecting them. We also recommend walking along the small path leading to the beautiful beach. You can also take part in an experience walking on the sandy beach with a guide.
Enjoy Beaches to Suit Your Preferences
These three swimming beaches are found very close to each other. Accordingly, you can come and go between them on foot. They each have different characteristics, so discover your favorite beach to suit your purpose and mood. Fully enjoy the beaches of Iki Island that boasts some of the most beautiful beaches in Japan!
SHARE