Silence: Exploring the Christian history of the Goto Islands in 5 days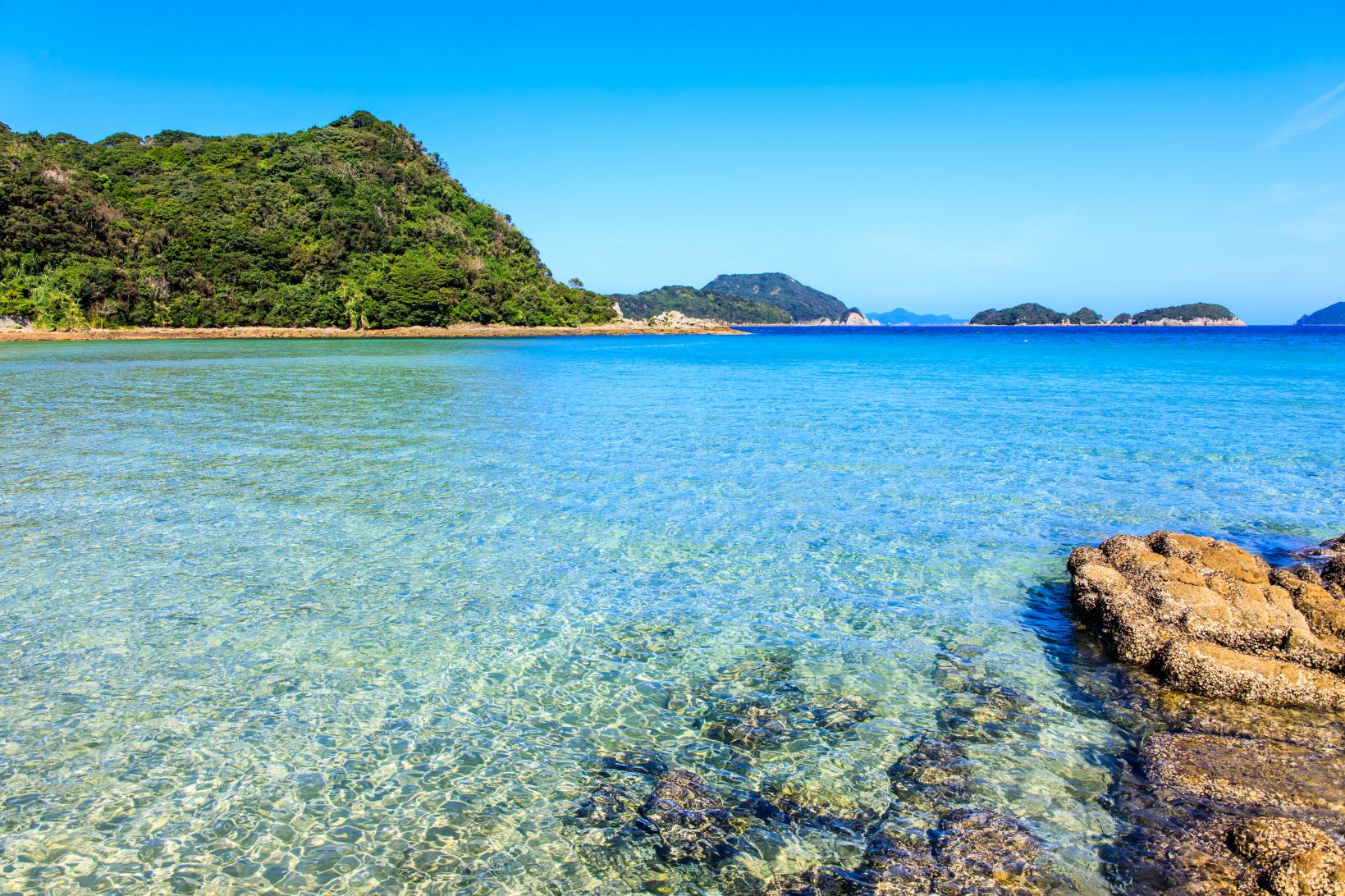 Endo Shusaku's critically acclaimed novel Silence, takes readers across the sea to the Goto Islands. These idyllic islands are known for their beautiful beaches with crystal clear waters, scenic mountain-top views, camellia oil products, Goto Udon, and over 50 churches and Christian-related sites. Goto, meaning "five islands", refers to Nakadori, Wakamatsu, Naru, Hisaka and Fukue Islands. Fly to Goto City (Fukue) or board the various boats that depart daily from Nagasaki City, Sasebo, or Hakata (Fukuoka Prefecture).
Required Time:5days
Means of Transportation:by ferry or fast boat, and car, bus
Print
START
Nagasaki Port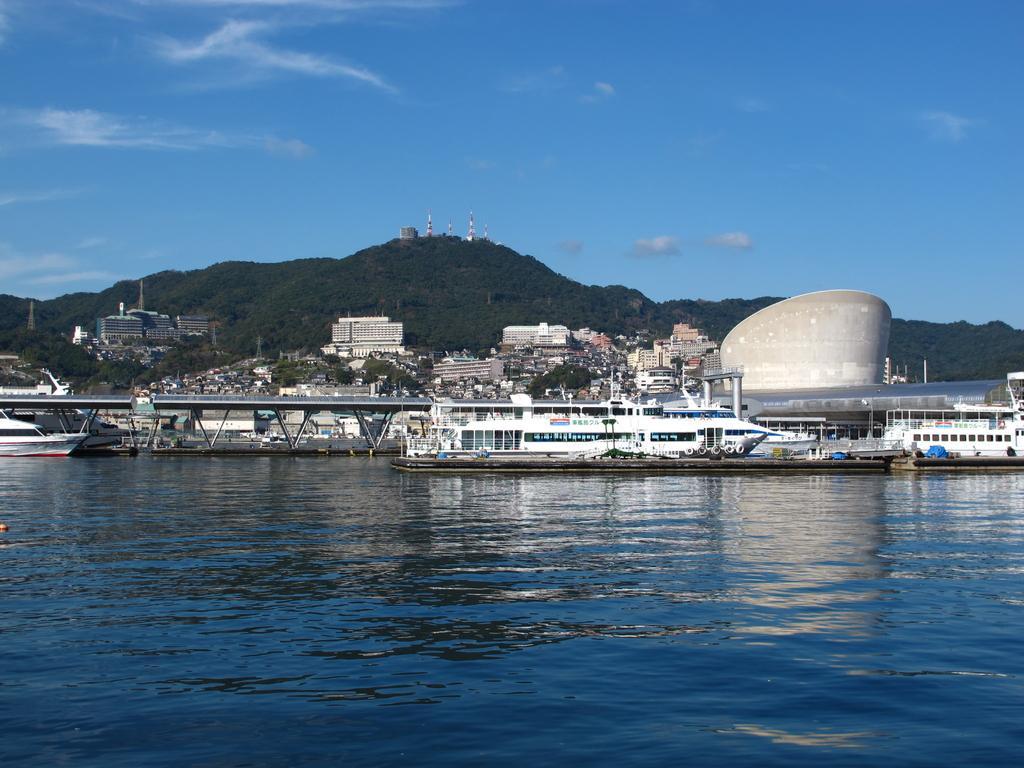 At this terminal, you can catch a ferry or fast boat to Fukue, Naru or Shinkamigoto (Wakamatsu and Nakadori). Ferries take 2.5hrs (Narao, Shinkamigoto) to 3hrs (Fukue, Goto City), while fast boats take about 1.5hrs. Click here for Nagasaki Port Terminal's official page with links to the various ferry companies.


SUGGESTED ROUTE: Take the 8:05am ferry to Fukue (福江). Out on the deck, look out for Megami Bridge (Venus Wing), the 6th longest cable bridge in Japan, when leaving the city. You might even spot flying fish!

*there is an earlier boat (the Jetfoil) that leaves at 7:40am which gets you to Fukue at 9:05am; flights from Nagasaki Airport or Fukuoka Airport are also available

★ Travel Tips ★
As buses run infrequently to sightseeing spots on all islands, the islands are best toured by car. You can rent from the various rental car services near the port.
【DAY 1】 FUKUE ISLAND (GOTO CITY)
Dozaki Church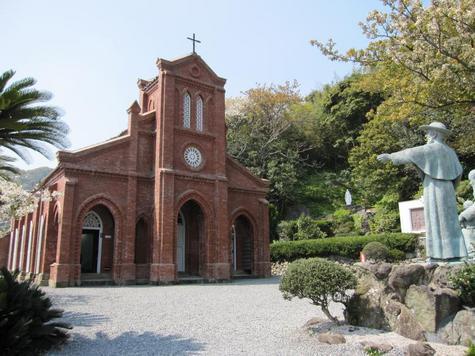 This is the oldest church in the Goto islands, and it was built by French missionaries. It now serves a museum displaying historical documents relating to Christians and the 300-year period of suppression of Christianity. It was designated as a Tangible Cultural Asset of Nagasaki Prefecture in 1974.
Information

| | | |
| --- | --- | --- |
| Address | | 853-0053 長崎県五島市奥浦町堂崎2019 |
| TEL | | 0959-73-0705 |
| Closed | | *Due to Coronavirus situation, the facility is temporary closed. |
| | | |
| --- | --- | --- |
| Address | | 853-0053 長崎県五島市奥浦町堂崎2019 |
| TEL | | 0959-73-0705 |
| Closed | | *Due to Coronavirus situation, the facility is temporary closed. |
Mukata Beach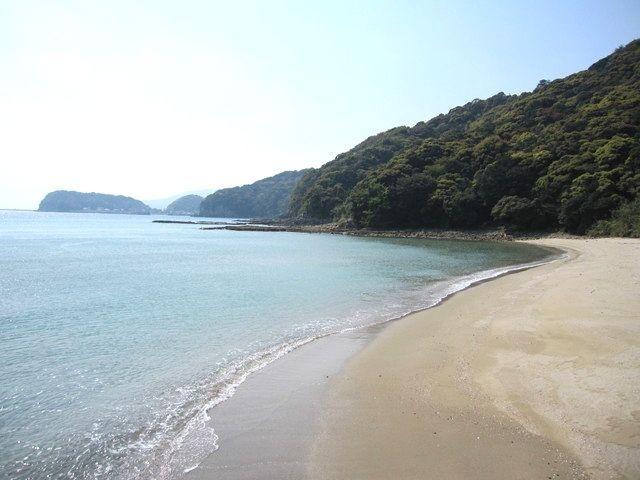 During the transfer of residents between Omura Domain and Goto Domain in 1797, 108 Christian residents from Sotome moved and settled in Mukata. One can easily visualise Rodrigues' landing on Goto at this beach.

Although not as famous as Goto's more popular Takahama Swimming Beach, the beauty of Mukata does not pale in comparison. Nearest to the main streets of Goto City, this easy-to-access beach boasts clear waters and a quiet, serene setting - a fantastic reprieve from the hustle and bustle of city life. For a small fee, beach-goers may use the rental lockers and showers at the beach.
LUNCHTIME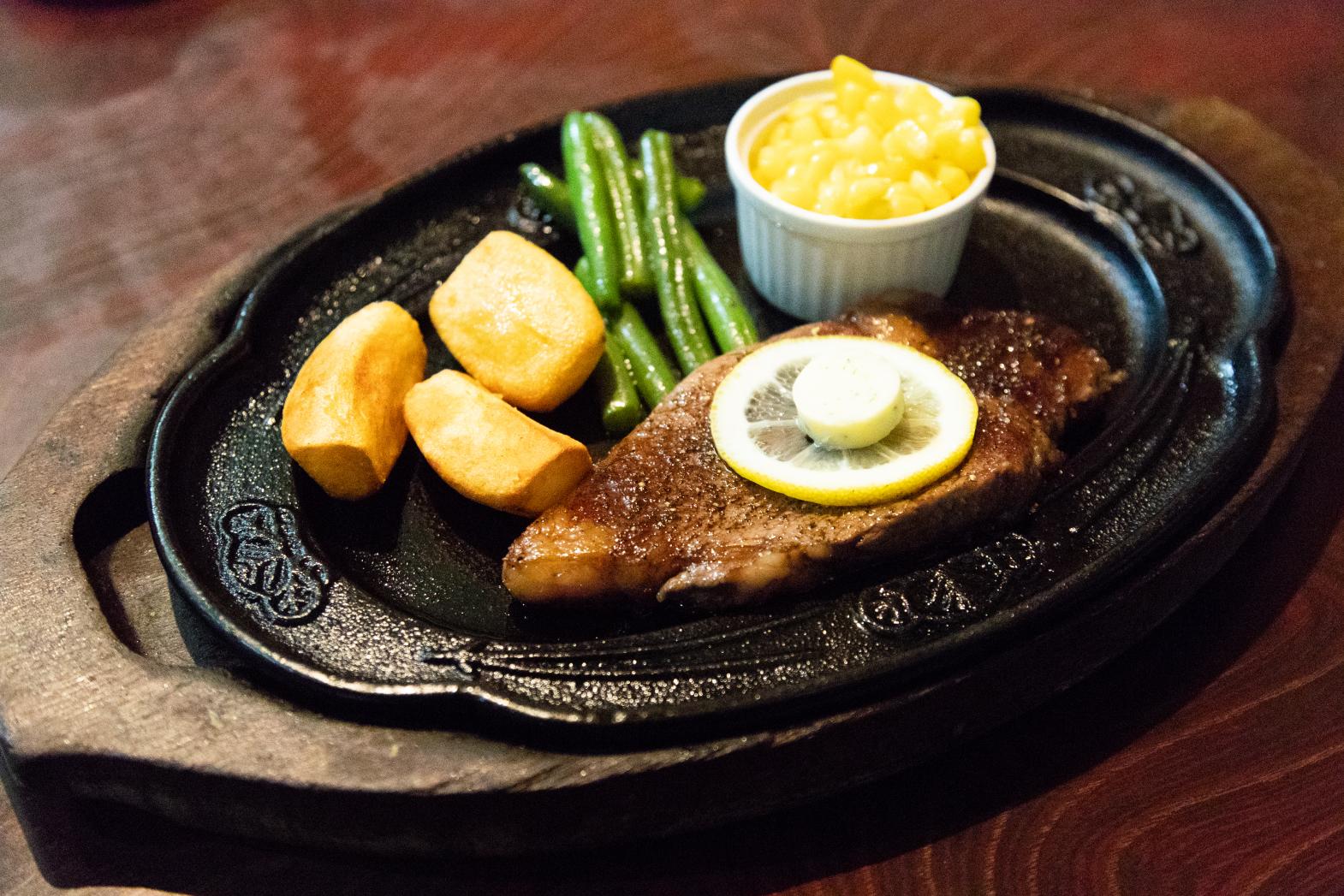 Return to the city area for lunch.
How about a delectable Goto Beef Steak?
OTHER SIGHTSEEING SPOTS & ACTIVITIES
Climb a mountain (enjoy the panoramic view!), take a dip in the sea (bring your snorkelling gear!) or go for a drive (see the countryside!).
Takahama Beach
Named one of Japan's Top 100 Beaches!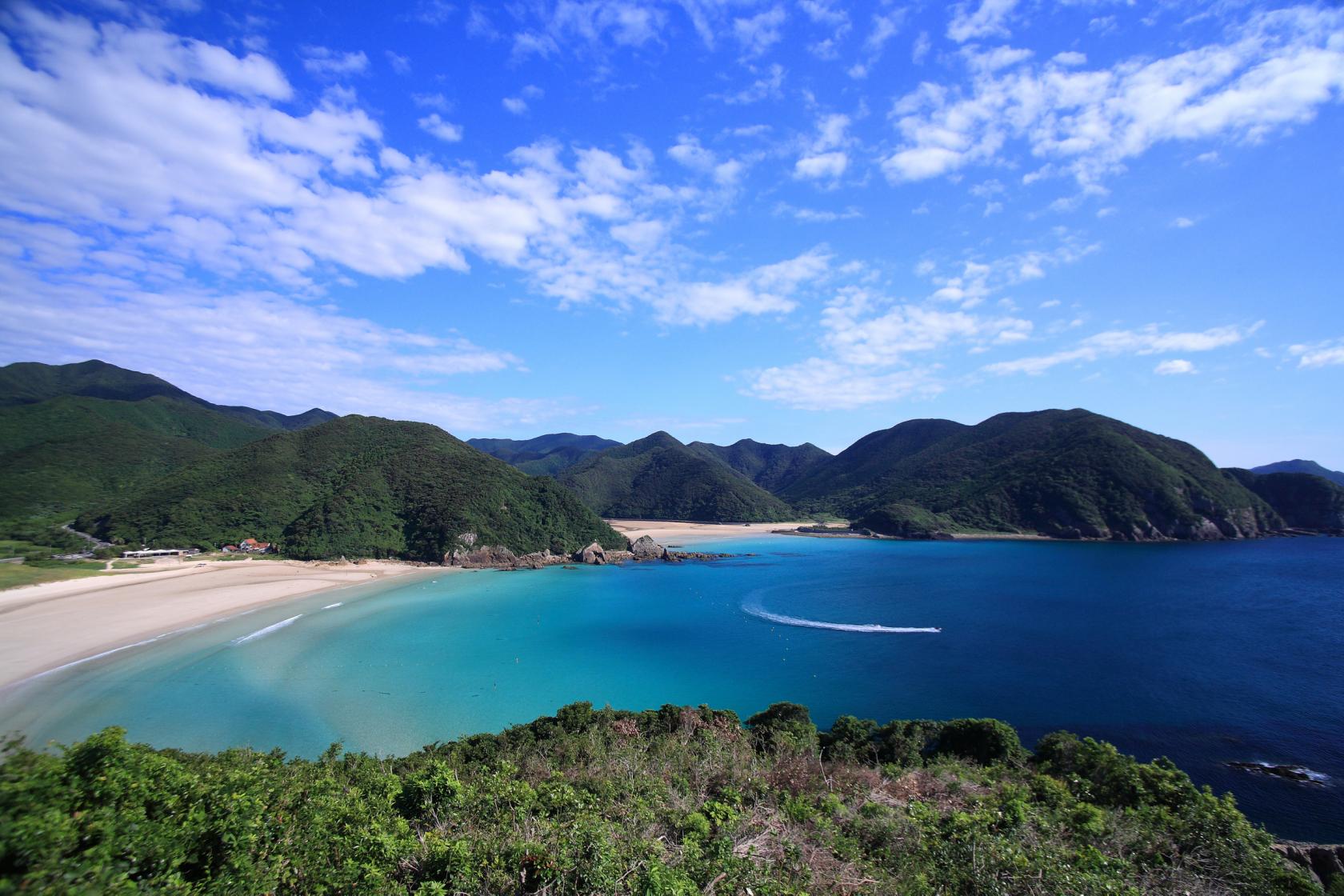 Takahama Beach boasts some of the whitest sand and clearest water in Japan. It is not only one of the best-known beaches on the Goto Islands, but also listed as one of Japan's Top 100 Beaches, and Top 88 Swimming Beaches! This beautiful beach is popular with locals and tourists alike, attracting holidaymakers from all over the country.

The west-facing beach overlooks the Sagano Island and has a wide sandbar that provides a calm shallow swimming area. Silver sand sparkles through the clear water, and the surrounding greenery completes the perfect coastal escape.

For a view of the beach in its entirety, head to "Gyoran Kannon Observatory" (a three-minute drive from the beach) where you can catch a glimpse of the brilliant shades of blue as they change and deepen throughout the day.
Information

| | | |
| --- | --- | --- |
| Address | | 853-0604 長崎県五島市三井楽町貝津1054-1 |
| TEL | | 0959-84-3162(五島市三井楽支所) |
| Hours of Operation | | 9:00-18:00 (summer holidays - dates vary) |
| | | |
| --- | --- | --- |
| Address | | 853-0604 長崎県五島市三井楽町貝津1054-1 |
| TEL | | 0959-84-3162(五島市三井楽支所) |
| Hours of Operation | | 9:00-18:00 (summer holidays - dates vary) |
Osezaki Lighthouse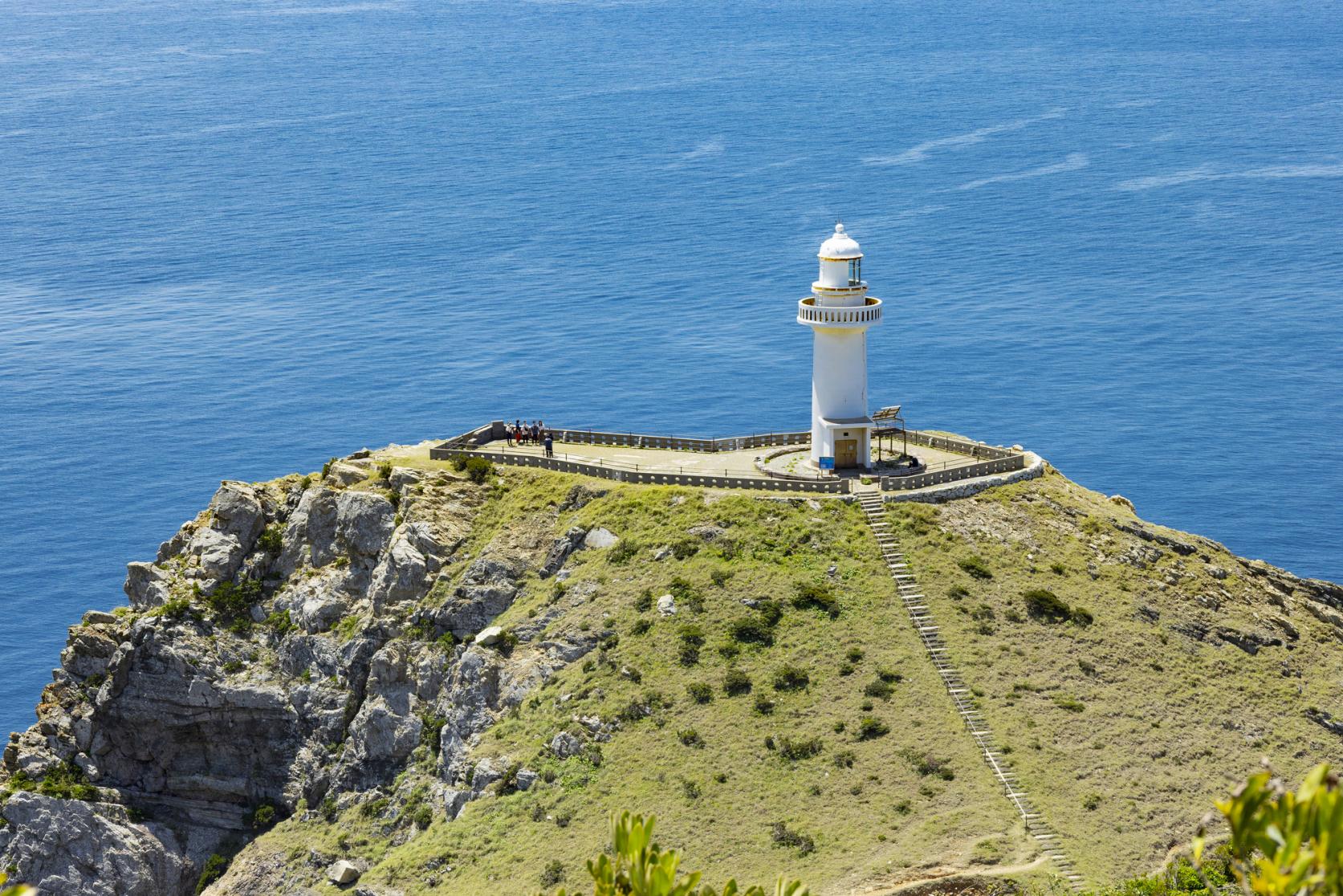 The Osezaki Lighthouse is set against a dramatic backdrop of wave-worn cliffs as steep as 150 meters. Although the current lighthouse was built in 1971, the original structure was designed by an Englishman and erected in 1879. A part of it has been turned into a permanent exhibit at the Museum of Maritime Science in Tokyo.

The nearby observatory is a popular spot for both visitors and locals to enjoy the sunset view. For adventurers, you can also walk to the lighthouse. Getting to the lighthouse requires a 2.4km hike (round-trip of about an hour), but intermittent green tunnels created by camellia trees lining both sides of the paved trail make it a pleasant trek. Once at the lighthouse platform, the sight of the stoic white structure combined with the cliffs and surrounding ocean makes it a spectacular and an unforgettable view.

Access: Roughly 1 hour by car from Fukue Ferry Terminal
| | | |
| --- | --- | --- |
| Address | | 853-0411 長崎県五島市玉之浦町玉之浦 |
| TEL | | 0959-87-2216(五島市役所 玉之浦支所) |
Goto Diving Experiences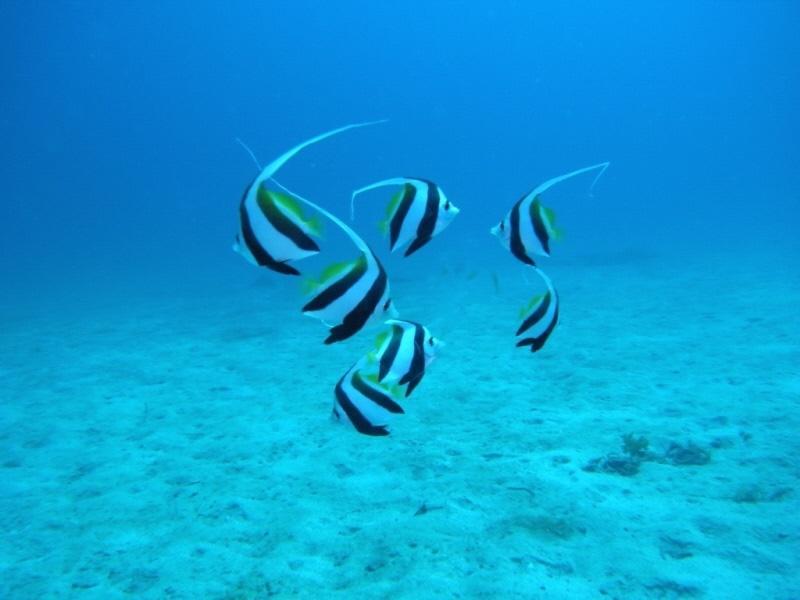 The stunning white sand and multicoloured coral reefs of the Goto Islands provide the perfect place to explore some of the best marine environments Nagasaki has to offer. The complex makeup of the islets ensures a variety of diving spots, no matter which island you depart from.

Thanks to currents that flow toward Tsushima island in the north, an array of sea animals come and go freely. Local diving companies provide diving packages that cater for beginner to intermediate divers, but, if you're not keen on taking the plunge, snorkelling and fish-feeding activities are also available. Advanced divers can explore the mystic depths of a 100m shipwreck, the most popular dive in Goto.

The sea surrounding the Goto Islands is home to octopodes, lionfish, anemone and much more.

Goto Diving Lagoon is Fukue Island's main diving organization, while Nice Buddy operates on Shinkamigoto. Swimmers and divers of all skill levels have an opportunity to experience the underwater world. During the summer season, prior reservations are strongly encouraged, as diving can be very popular. The staff have lived on the islands for many years, and are well attuned to all of its lagoons, coves and other great diving spots. The staff of Goto Diving Lagoon include native English speakers providing hassle-free diving experiences for Japanese and English speakers alike.
★ Travel Tips ★
Naru is a small island in the middle of the Goto Archipelago. A documentary of Naru's Hidden Christian practices can be viewed at the 26 Martyrs Museum.
SUGGESTED ROUTE : Take the 8:05am boat (Ferry Ocean) from Fukue (福江) to Naru (奈留). The ride takes 45mins.
Egami Church
Registered as UNESCO World Heritage as part of "Egami Village on Naru Island". Important cultural property of Japan.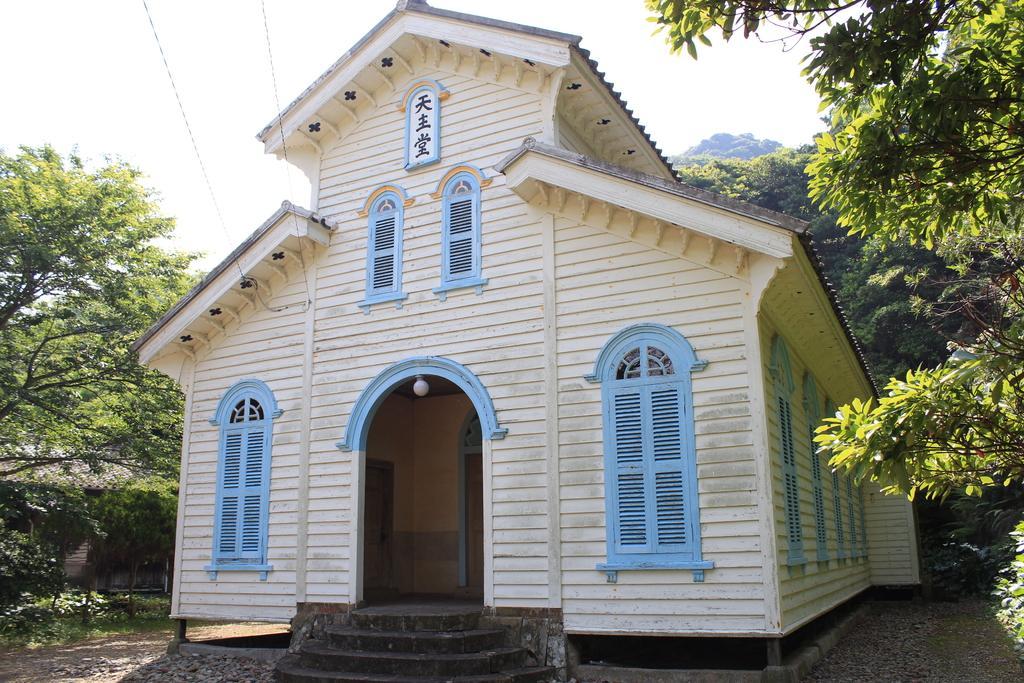 Facing the Naru Strait, Egami Church stands on the coast surrounded by a grove of trees. In 1918, the descendants of settlers cooperated to build the church, under the design and surveillance of Tetsukawa Yosuke.
Thanks to funds raised by that year's abundant fish haul, the construction reached a level of perfection rarely seen among wooden churches in Japan.
Information

| | | |
| --- | --- | --- |
| Address | | 853-2201 長崎県五島市奈留町大串1131 |
| Closed | | *Due to Coronavirus situation, the facility is temporary closed. |
| | | |
| --- | --- | --- |
| Address | | 853-2201 長崎県五島市奈留町大串1131 |
| Closed | | *Due to Coronavirus situation, the facility is temporary closed. |
Sankyodai Kobo (Sankyodai Workshop)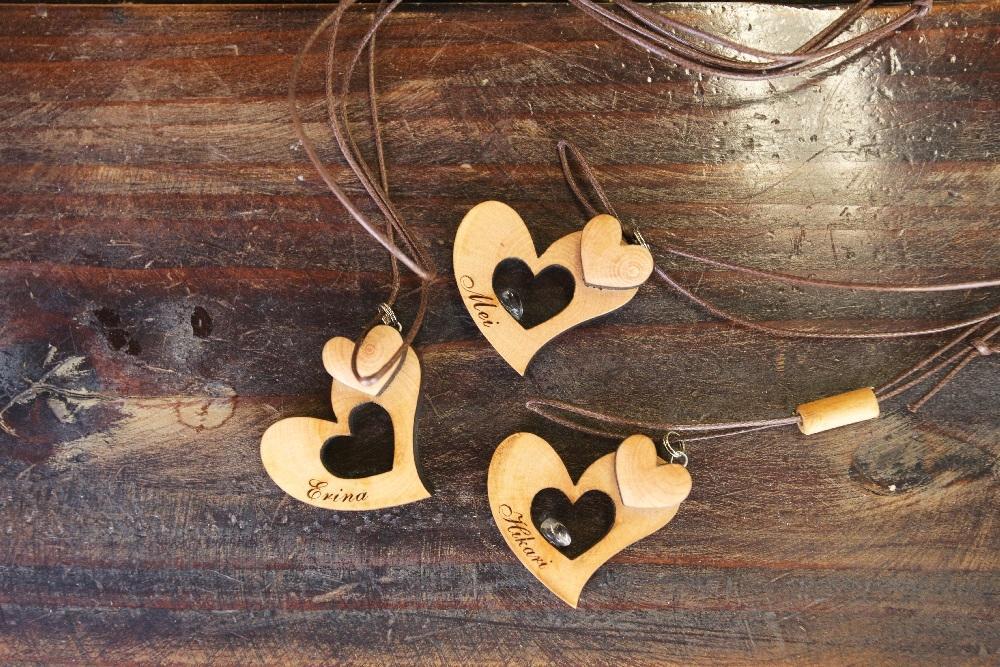 Create you own wooden trinkets at this small but unique woodwork shop! Woodburning classes are available and participants can try their hand at burning designs on pre-carved wood. Japanese is the main language used here, so be sure to come with an interpreter if you do not speak the language. Sankyodai Kobo's original designs of boxed fugu, churches and Goto Islands trinkets are sold at souvenir shops on the Islands. Here, you'll discover more designs like the horse mackerel with knife amongst other new designs! Please make reservations to visit the workshop.
【EVENING OF DAY 2】 SHINKAMIGOTO TOWN
★ Travel Tips ★
Shinkamigoto Town comprises two islands - Wakamatsu and Nakadori. Steeped in Hidden Christian history, the town has a total of 29 Catholic churches on top of other related Christian sites! Coincidentally, Nakadori Island is shaped like a cross.

SUGGESTED ROUTE:
Take the 4:30pm boat (New Taiyou) from Naru (奈留). Unlike the previous two islands, there are many ports for passenger boats on Shinkamigoto. We recommend visitors stay the night on Wakamatsu Island - alight at either Doinoura Port or Wakamatsu Port. Please check with your accomodation facility to see if there is a pick up service. This boat docks at Doinoura Port (土井ノ浦港) at 4:55pm. The boat goes to Gonokubi (郷ノ首) on Nakadori Island before coming to its last stop, Wakamatsu Port (若松港).

For other boats, refer to this site (Japanese only)
Relax at your accomodation facility or drive out to the west facing road for the sunset.

Important note: If driving after dusk, watch out for deer and wild boar!
【DAY 3】 SHINKAMIGOTO TOWN
★ Travel Tips ★
Begin your tour on Wakamatsu Island before crossing the bridge to Nakadori Island. We recommend changing to a hotel near the central or eastern part of Nakadori as the next day's boat is about an hour's drive from Wakamatsu.
Christians' Cave at Wakamatsu Island
Hiding in a cave at the foot of a sea cliff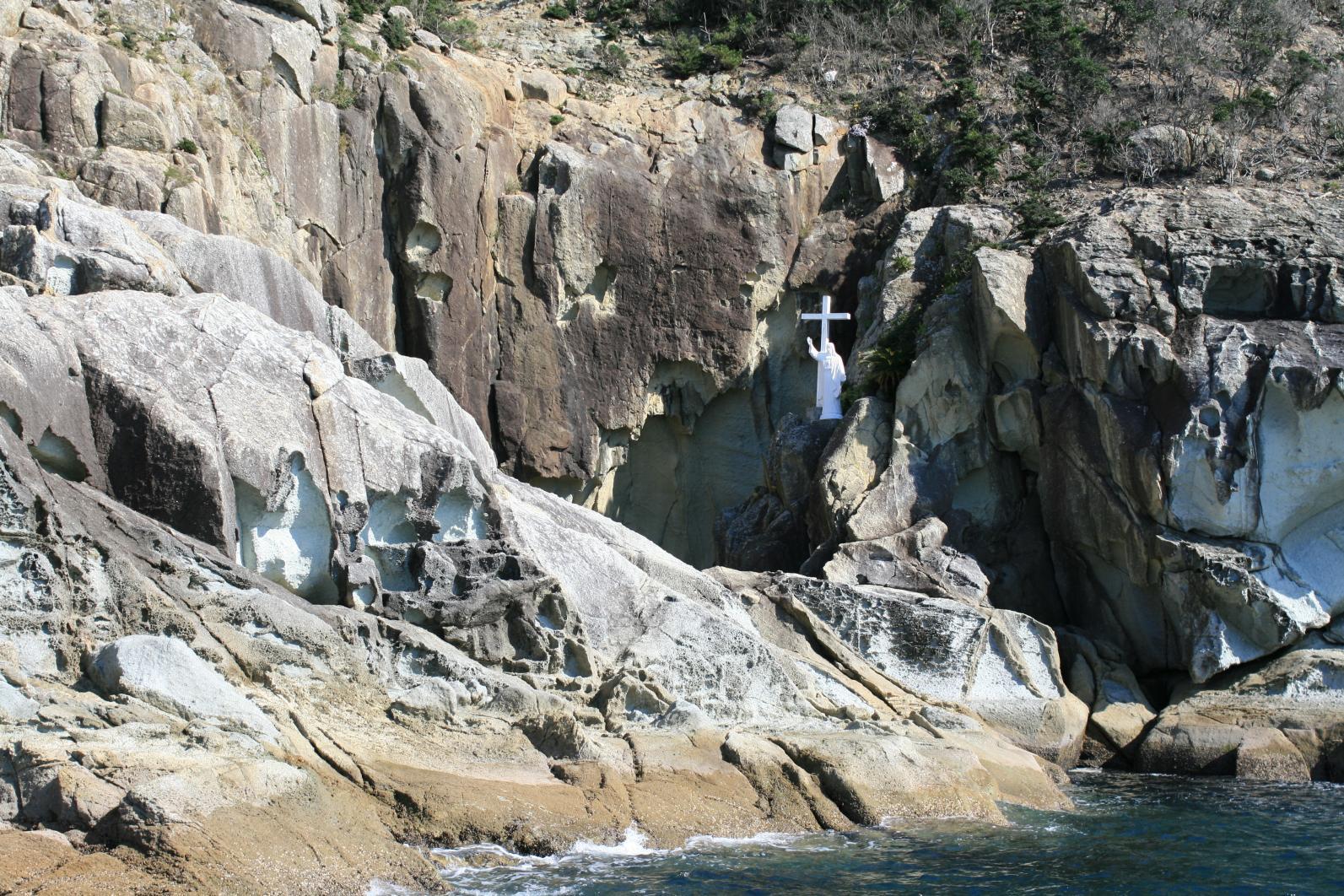 To evade the persecution of the Goto Kuzure, Christians hid themselves in a 50m-deep cave only accessible by boat. They were discovered when a passing boat saw smoke from their cooking fire, arrested and tortured.
Later, this place came to be known as Christians' Cave, and a 3m statue of Christ was erected at the cave entrance in 1967. Around All Souls' Day (November 2), the Christians of the nearby parish hold a memorial service here and console the spirits of the ancestors by cooking a meal. Even now, this holy site can only be visited by boat.
Wakamatsu Bridge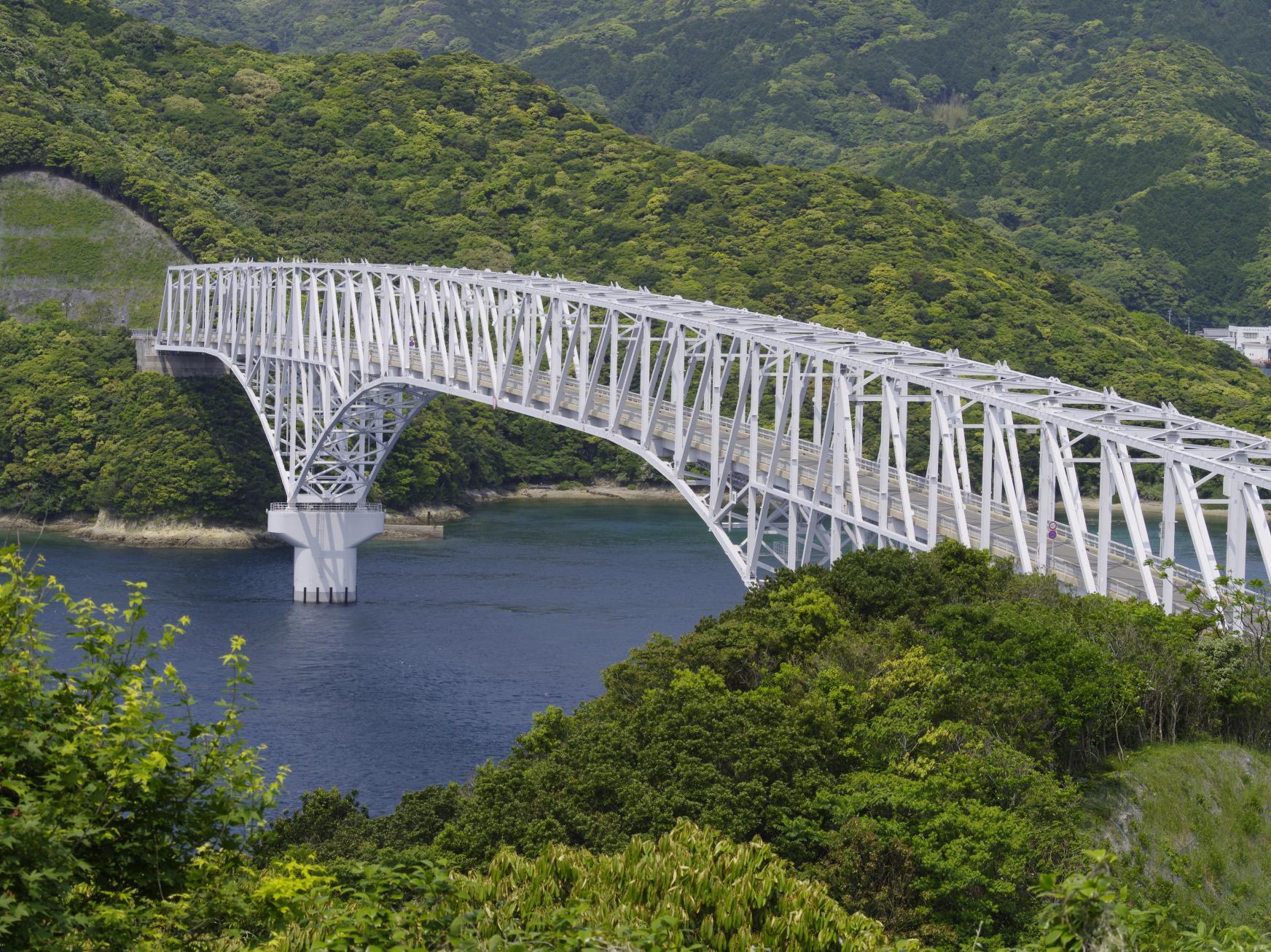 The white truss bridge which joins Shinkamigoto's Nakadori Island and Wakamatsu Island interweaves with the blue ocean, azure sky and the green mountains to create a splendid view over the Wakamatsu Strait. A popular viewing spot for this bridge is Mt. Ryukan (Ryukansan). You can also get a closer look at the nearby shore below the bridge.
LUNCHTIME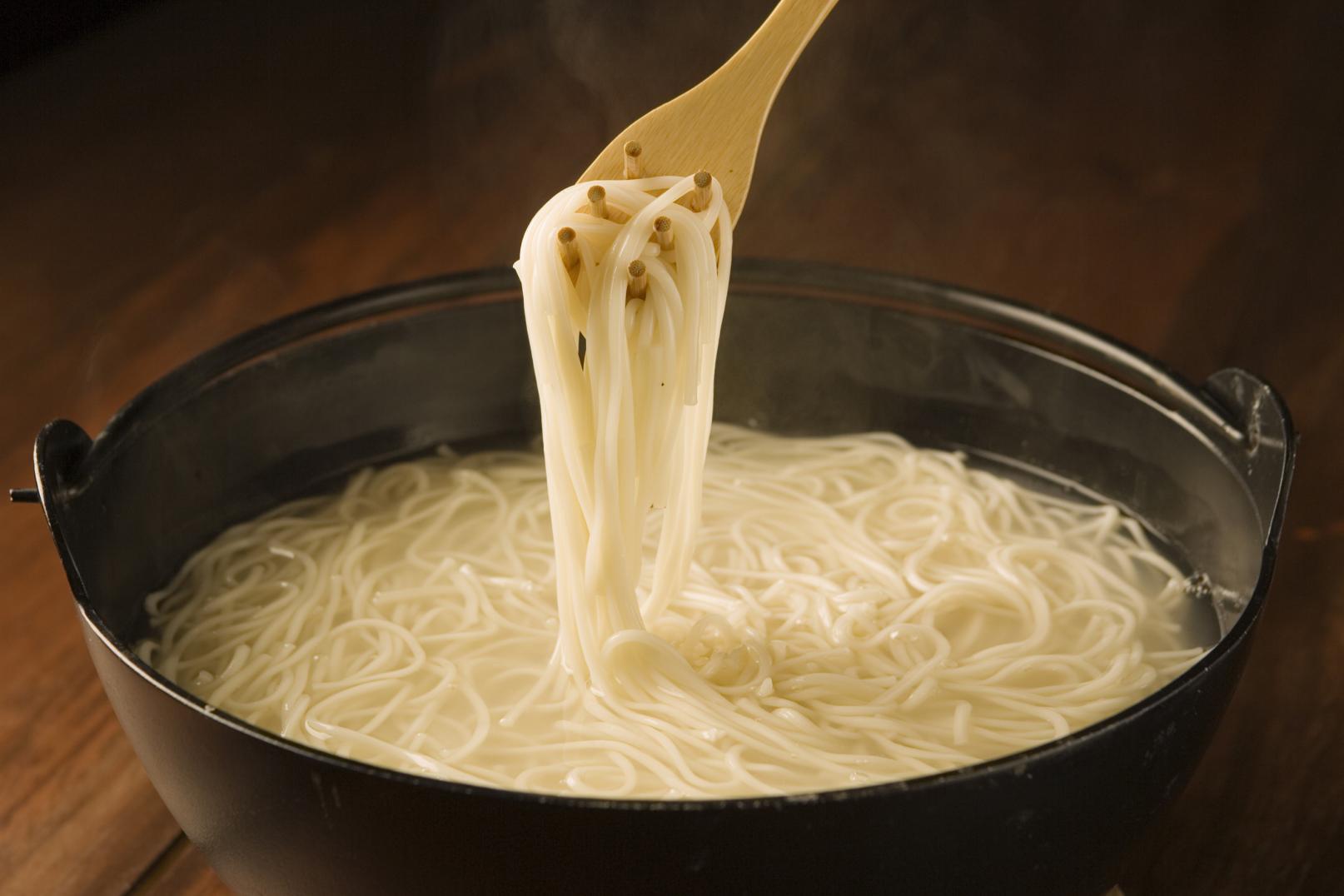 Have lunch in Arikawa-go (Arikawa Town) before making the drive to your next stop. Near the port, you can try out Goto Udon. Exclusively produced in Shinkamigoto, these udon noodles are slippery smooth as camellia oil is used in their making process. A popular way of eating it is Jigokudaki where the noodles are served in a pot of boiling water. The udon is scooped out and dipped into ago (the local dialect for flying fish) broths or eggs.
Kashiragashima Church
Located on the World Heritage site, "Hidden Christian Sites in the Nagasaki Region - Villages in Kashiragashima Island".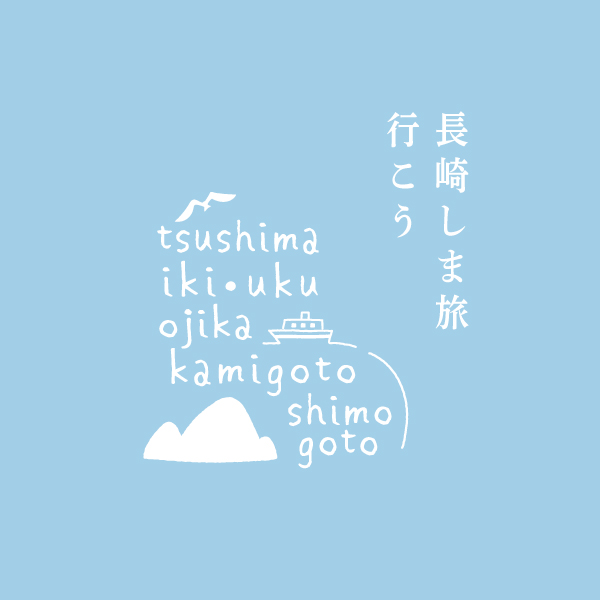 Kashiragashima ChurchThis sandstone church, a rare sight in Japan, was built by Christians returning to the islands after the period of persecution, from stones they quarried themselves. The church is designated as an Important Cultural Property of Japan and is part of the "Churches and Christian Sites in Nagasaki" bid for designation as a World Heritage Site.
Information

| | | |
| --- | --- | --- |
| Address | | 857-4102 長崎県南松浦郡新上五島町友住郷頭ヶ島638 |
| TEL | | 0959-42-0964(新上五島町観光物産協会) |
| Closed | | *Due to Coronavirus situation, the facility is temporary closed from July 19, 2020. |
| | | |
| --- | --- | --- |
| Address | | 857-4102 長崎県南松浦郡新上五島町友住郷頭ヶ島638 |
| TEL | | 0959-42-0964(新上五島町観光物産協会) |
| Closed | | *Due to Coronavirus situation, the facility is temporary closed from July 19, 2020. |
Aosagaura Church
The Aosagaura area was settled by Christians from Sotome, who battled harsh living conditions and severe oppression.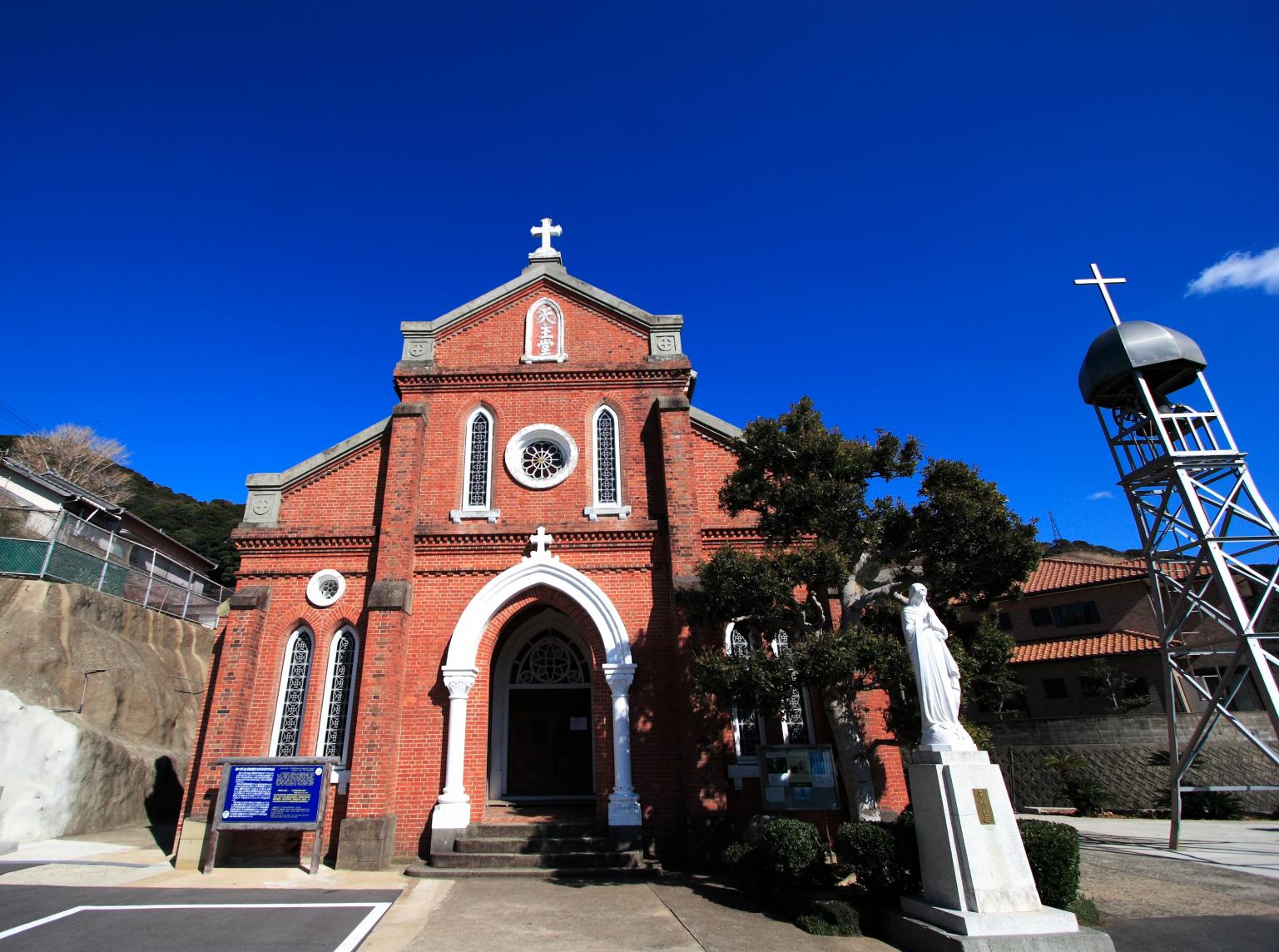 The Aosagaura area was settled by Christians from Sotome, who battled harsh living conditions and severe oppression until the ban on Christianity was lifted in 1873. In 1878, they were finally able to build their church, taking charge of missionary work in the whole upper-Goto region. In 1910, a third church building, designed by Tetsukawa Yosuke, reached completion thanks to the hard work of the parishioners, young and old, male and female, who dedicated themselves to tasks such as carrying bricks from boats on the shore uphill to the construction site.
Tetsukawa Yosuke had taken part in the construction of Dozaki Church as an apprentice.
In 2001, Aosagaura Church was designated a national cultural asset.
Information

| | | |
| --- | --- | --- |
| Address | | 857-4402 長崎県南松浦郡新上五島町奈摩郷1241 |
| Closed | | *Due to Coronavirus situation, the facility is temporary closed from July 19, 2020. |
| | | |
| --- | --- | --- |
| Address | | 857-4402 長崎県南松浦郡新上五島町奈摩郷1241 |
| Closed | | *Due to Coronavirus situation, the facility is temporary closed from July 19, 2020. |
Yagatame Park
Catch the sunset at Yagatame!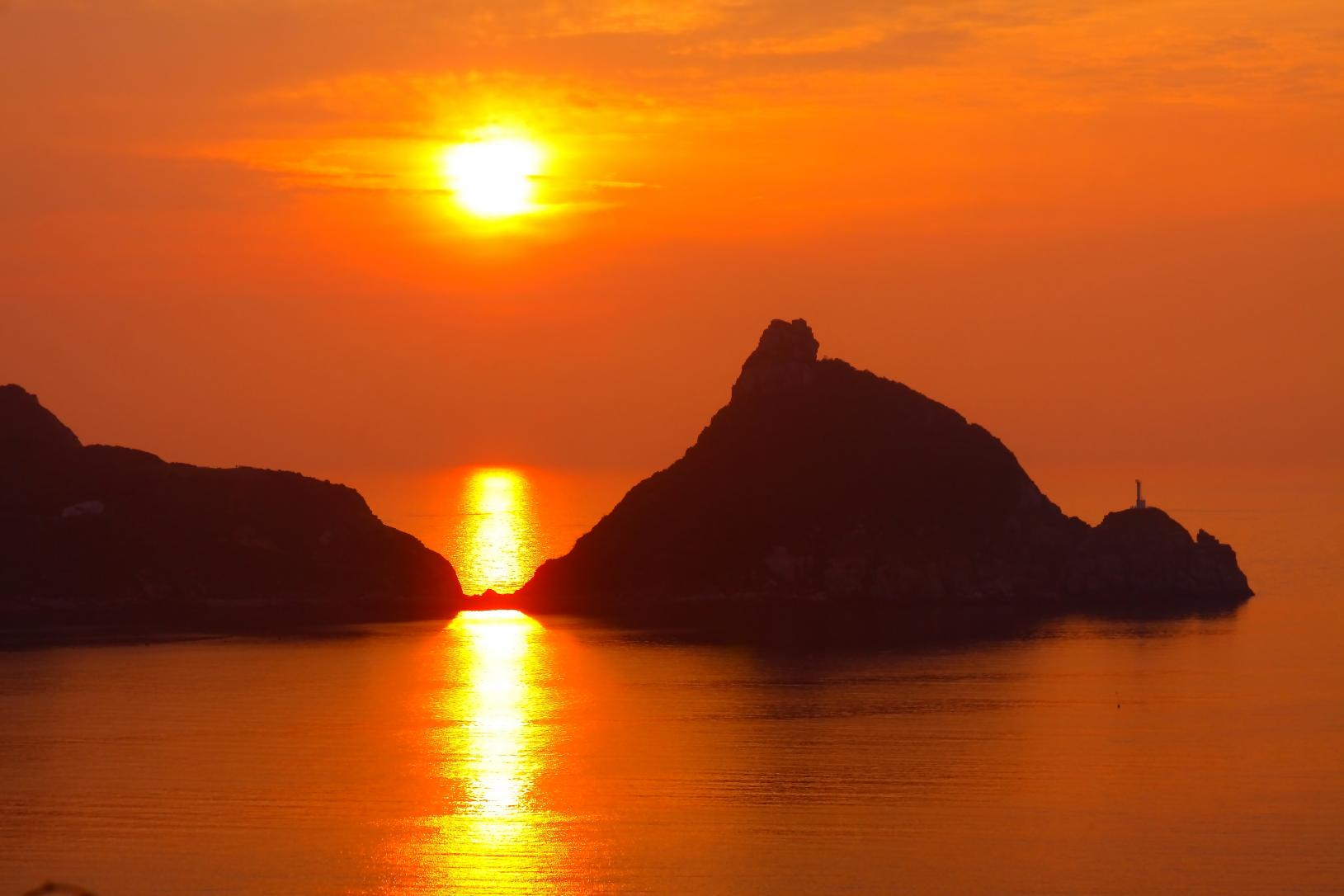 Approaching the peaceful town of Nama from Aosagaura, Yagatame Park's unique rock formation is hard to miss. Dubbed Nagasaki's Totoro Rock, one can make out Ghibli's famed character gazing out towards the East China Sea. Come summer, vibrant orange tiger lilies come to bloom, further enhancing the majestic view of the sun setting over the East China Sea. The sunset can be viewed from either the observation grounds of Yagatame Park that brings you closer to the cone-shaped rock, or Shirakusa Park near Goto's resort hotel, Margherita.

Nearby is a souvenir shop selling Goto's unique products, most notable of which are varied flavours of Yagatame's sea salt, made in the same area, as well as sea salt ice cream in the summer.
| | | |
| --- | --- | --- |
| Address | | 857-4401 長崎県南松浦郡新上五島町網上郷 |
DINNERTIME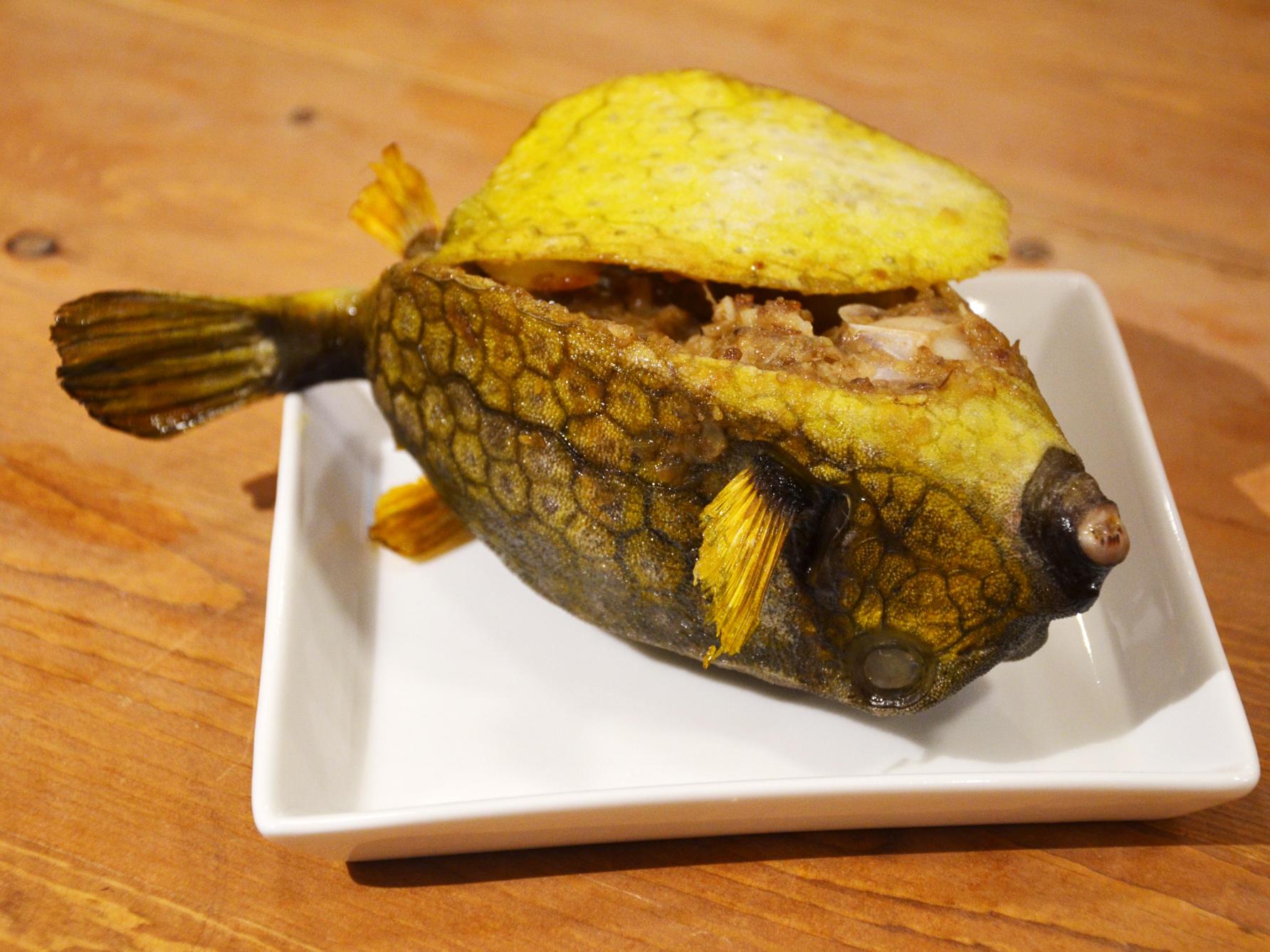 Goto is also famous for seafood! Get a taste of local sushi or other fish delicacies like the puffer fish.

★ TIP ★ Stay the night in a town near Arikawa port.
★ Travel Tips ★
Nozaki Island, accessible from Ojika Town by the boat that runs twice a day, is an uninhabited island home to the World Heritage Site contender - Villages on Nozaki Island. Its most iconic sightseeing spot is Nokubi Church that stands over the village remains next to the elementary school. In this itinerary, we present the tour as a day trip but the more adventurous can choose to camp on the various spots in the school field. Classrooms have also been turned into sleeping areas.

SUGGESTED ROUTE:
Take the 6:25am boat for Ojika (小値賀) from Arikawa Port (有川港), then transfer to the 7:25am boat for Nozaki Island (野崎島).

IMPORTANT NOTE: Please prepare food for lunch beforehand as no food is sold on the island. There is a vending machine for drinks. As you will be on an uninhabited island with few people (fellow travellers if any and the island's caretaker), take the necessary safety precautions. Wear suitable clothes if you are planning to explore forested areas, and choose appropriate shoes. Also make sure you have a watch or will be able to keep track of time! Last but not least, please respect the environment and keep it friendly for future visitors!
Former Nokubi Church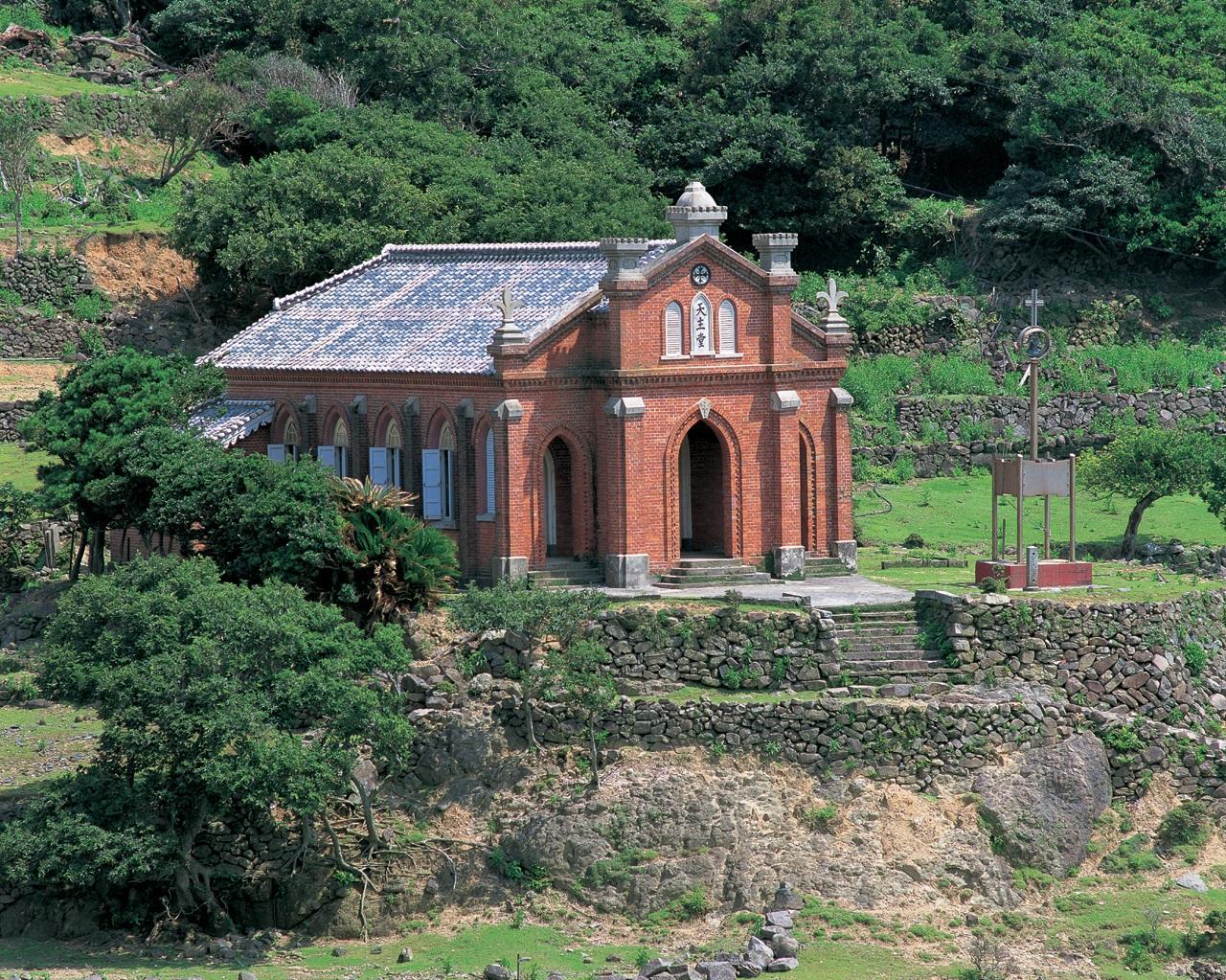 In the Nozaki Island, located in the north of the Goto Islands, there used to be two Christian communities, called "Nokubi" and "Setozaki." In spite of the poverty due to the mountainous area and infertile soil, both communities built wooden churches. Eventually, 18 Christian families began constructing a brick church. Through their endeavors and enthusiasm, Nokubi Church was completed. It was designed and constructed by Yosuke Tetsukawa, and it was the first brick church for him. However, after Japan entered the period of rapid economic growth, more and more people left the island. By 1971, all the residents had gone out of Nozaki Island. On the now uninhabited island, Nokubi Church soon deteriorated. However, the church was restored and repaired by the government of Ojika Town, in which the church is located.

★ TIP ★
Nozaki Island has plenty of other sights to offer. Check out the surrounding areas, or trek through the forest. For pictures, look here. Always remember to be careful when exploring the island, especially if you do not have any hiking experience. Please stay on the path!
| | | |
| --- | --- | --- |
| Address | | 857-4709 長崎県北松浦郡小値賀町野崎郷野首 |
| TEL | | 0959-56-2646(NPO法人おぢかアイランドツーリズム協会) |
【AFTERNOON OF DAY 4】 OJIKA TOWN
★ Travel Tips ★
Return to Ojika Town in the afternoon. Taking a walk through the streets of Ojika Town lined with beautiful traditional Japanese houses is akin to a walk back in time. Ojika's terrain is relatively flat, making cycling a possible option (rental bicycles are available at the port).

SUGGESTED ROUTE:Take the 3:10pm boat returning to Ojika Town.

IMPORTANT NOTE: Please get to the right port ahead of time!
Kominka Stay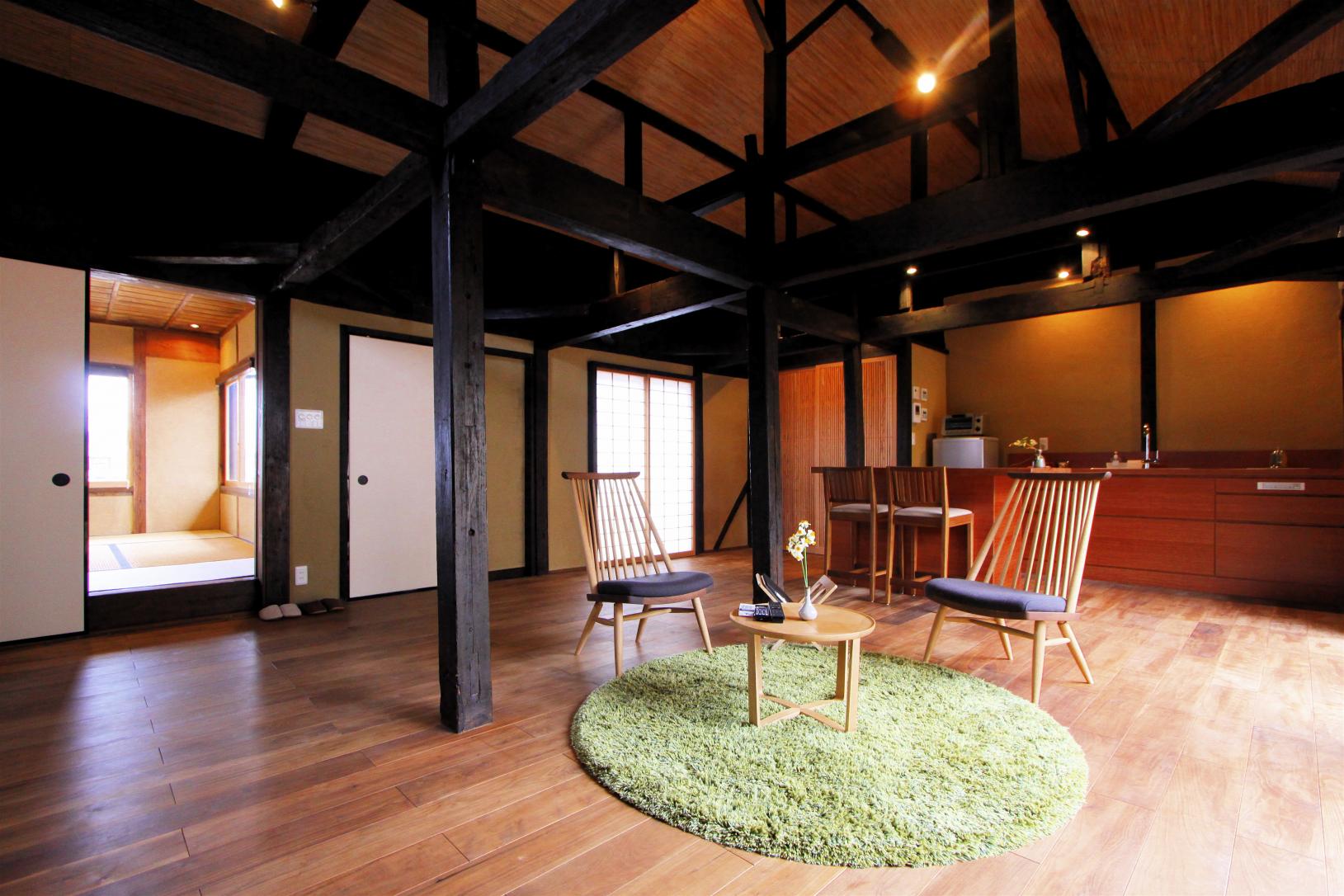 Stay in a refurbished Kominka (traditional Japanese house) for the complete immersive experience. Check out the Ojika homepage for more information (information is only available in Japanese and reservations need to be made in Japanese, but all guests are welcome!)
【DAY 5】 OJIKA TOWN
Explore the streets of Ojika. Visit a shrine, or head to the beach! Bicycles are available for rent at the port for a small fee.
★ Travel Tips ★
Return to mainland Nagasaki

SUGGESTED ROUTE:
Take the 2:10pm boat for Sasebo. Sightsee or return to Nagasaki City. Sasebo is also connected to Fukuoka Airport by buses and trains.
This itinerary takes you to 6 islands in 5 days, and only features main sightseeing spots. For a more immersive experience, we recommend spending more time on the islands that appeal to you most.
Sasebo Port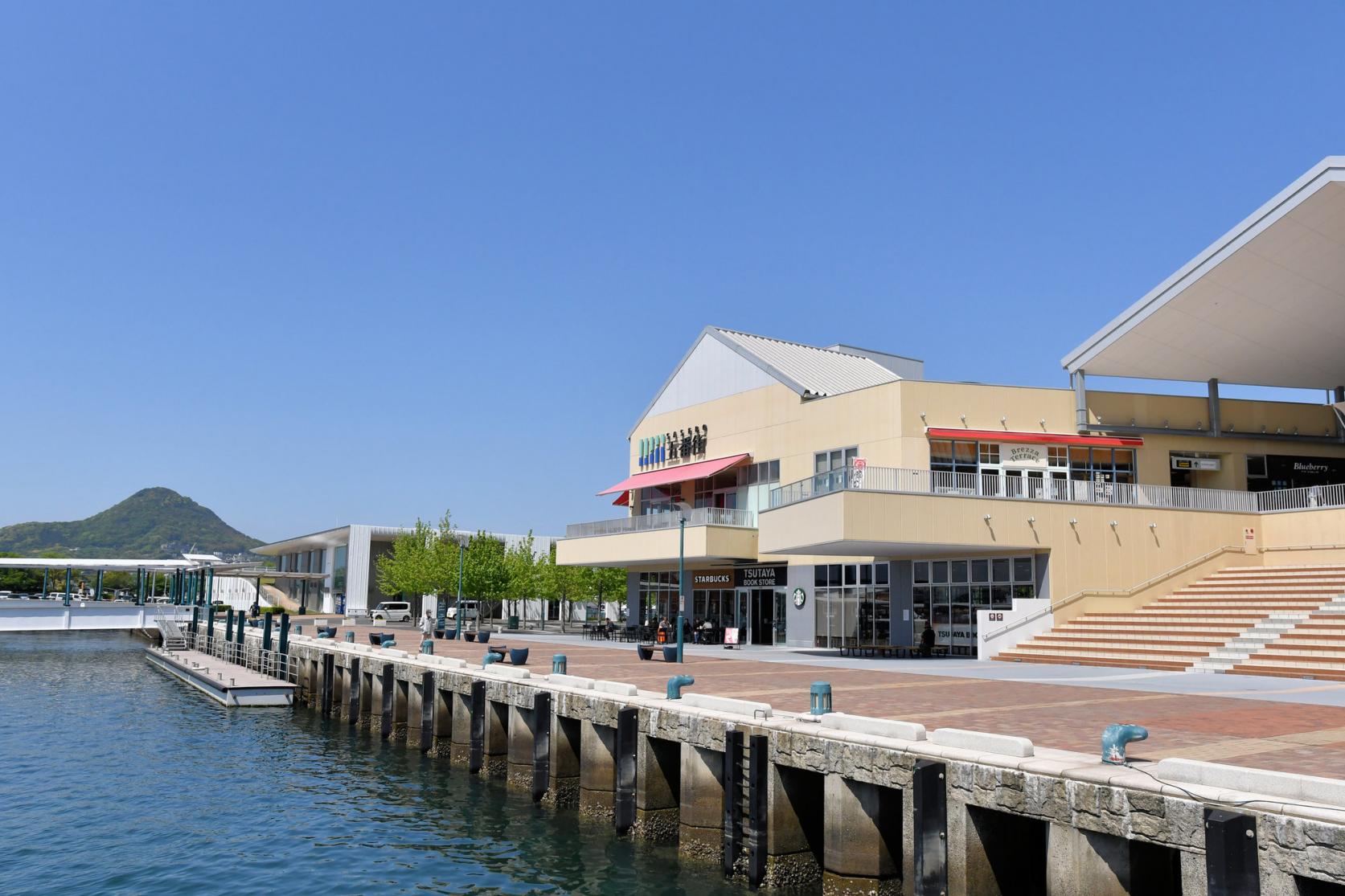 FINISH
Google Map may not be properly displayed if the volume per day exceeds the limit.
SHARE