A 5-Day Trip in Fukuoka Prefecture & Nagasaki's Shimabara Peninsula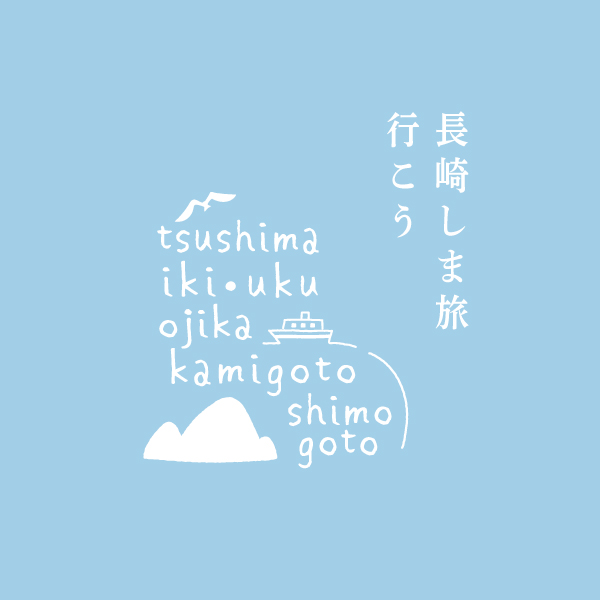 Gourmet food naturally comes to mind when thinking of Fukuoka and Nagasaki prefectures. This course lets you experience superb views, simple townscapes, and daily life in Japan.

Change into costumes from ages past in Shimabara, stroll around the castle and streets flowing with spring water, gaze at the starry skies in the wilderness of Unzen National Park, enjoy the ropeway stretched across the night sky, and don't miss the Instagram-worthy shrines in Fukuoka Prefecture.

Another highlight of this course is tasting a variety of gourmet cuisine, such as Isahaya eel dishes, so-called "Kurume" yakitori grilled chicken that is beloved by local residents, and a train where you can enjoy dishes made with ingredients from Fukuoka Prefecture.
Required Time:5days
Means of Transportation:by bus, by train, walk, by sea, by car
Print
START
Approx. 45 min. by airport limousine bus from Nagasaki Airport to Nagasaki City
【Day 1】Nagasaki Station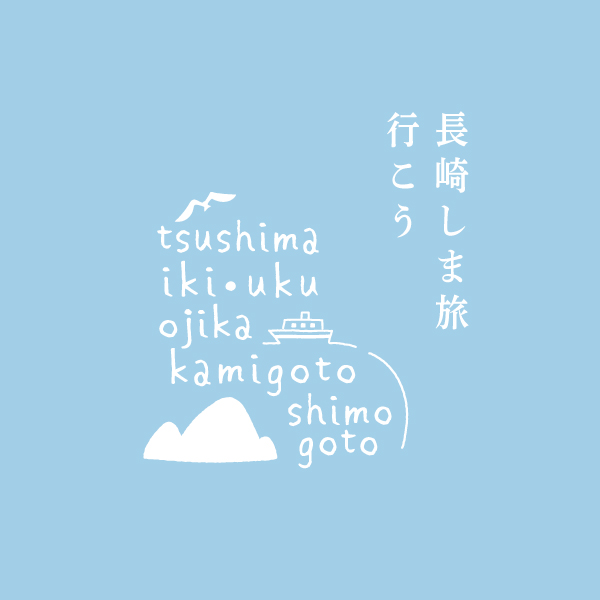 Approx. 20 min. by tram (JR Nagasaki Eki-Mae〜Shinchi Chinatown Tram Stop〜Oura Cathedral Tram Stop), then approx. 10 min. walk
【Day 1】Glover Garden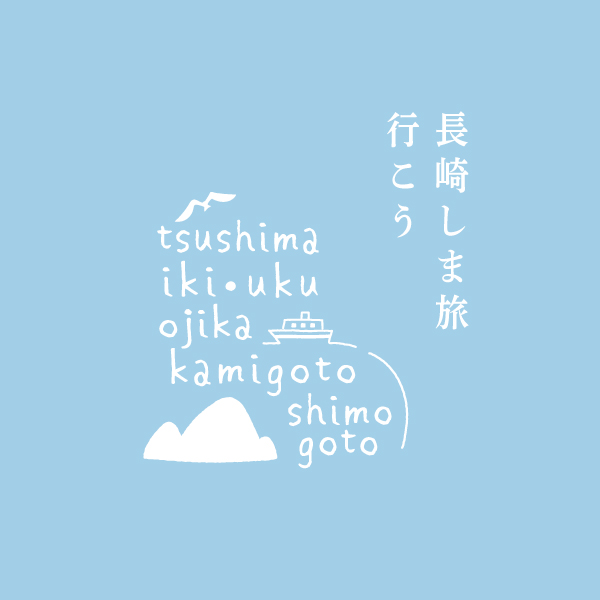 Glover Garden is situated on the southern slope of a mountain, ensuring that the garden's flowers can be enjoyed in full bloom throughout the year. This excellent vantage point offers a superb and extensive view of Nagasaki Harbor. The gardens feature the former Glover Residence, which, in addition to the gardens, was donated to the city of Nagasaki in 1957 by the Nagasaki Shipyard of Mitsubishi Heavy Industries and opened to the public. Eventually, six other Western-style residences from the Meiji era that had been built throughout the city were dismantled, moved, reconstructed and restored as important national cultural properties on this site of former foreign settlements. They joined the former Glover Residence, the former Ringer Residence, and the former Alt Residence on the site. All these buildings now form Glover Garden.

Inside the gardens, one can tour the Thomas B. Glover Residence, Japan's oldest wooden Western-style residence. Through his trading businesses, Glover contributed much to Japan's modernization. The gardens, in addition to revealing the living circumstances of Nagasaki's foreign residents during what is known as "the period of foreign settlement," also display an abundance of fascinating natural beauty. Now all can view the same scenery, and relax in the same gentle breezes, enjoyed by these renowned historical personages.
Information

| | | |
| --- | --- | --- |
| Address | | 850-0931 長崎県長崎市南山手町8-1 |
| TEL | | 095-822-8223 |
| Hours of Operation | | 8:00~18:00(Last entry at 17:40) ※Hours of operation may change depending on the season. |
| | | |
| --- | --- | --- |
| Address | | 850-0931 長崎県長崎市南山手町8-1 |
| TEL | | 095-822-8223 |
| Hours of Operation | | 8:00~18:00(Last entry at 17:40) ※Hours of operation may change depending on the season. |
【Day 1】Higashiyamate District
National Preservation District for Groups of Traditional Buildings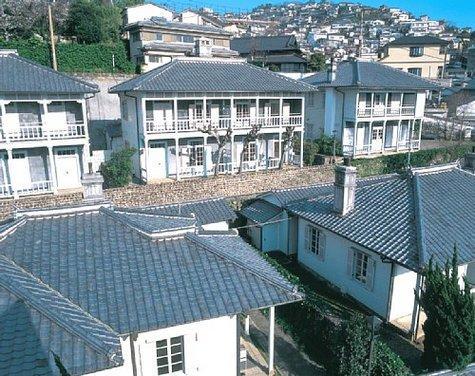 In the 19th century this area was known as consulate hill because of the rows of consulates and chapels from various countries, and traditional Western-style buildings still exist, such as wooden houses and the former British Consulate in Nagasaki.
【Day 1】Confucian Shrine & Historical Museum of China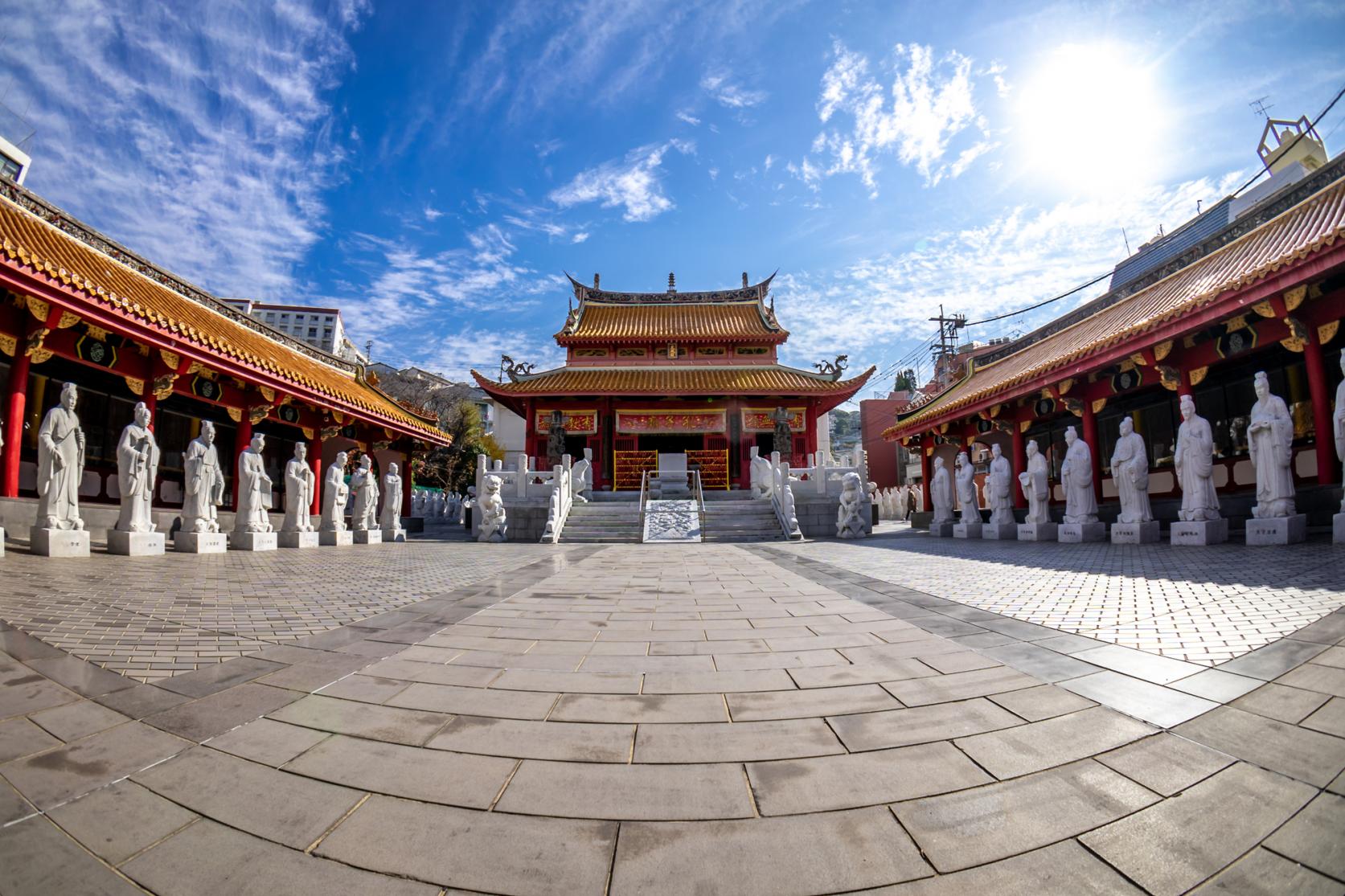 Built in 1893, this is the only Confucian mausoleum constructed by the Chinese outside China. Renovated in 1982 with the support of the Chinese government, the Temple and Cemetery of Confucius in Qufu, Shandong Province, this temple is a unique structure that blends the architectural styles of both Southern and Northern China. Confucius, the founder of Confucianism, was born over 2,500 years ago on September 28, 551 B.C. (in the Gregorian calendar) in Russia (in what is present-day Shandong Province) as the second son of a military man. He busied himself with study and preaching to his many disciples. His most famous writing is The Analects of Confucius. This is a record of his collected sayings, the teachings in his dialogues with his disciples, and the disciples' conversations with Confucius about their beliefs. The entire mausoleum contains 20 compilations, in 500 sections, for a total of over 16,000 characters of The Analects of Confucius carved into marble imported from Hualien, Taiwan.
| | | |
| --- | --- | --- |
| Address | | 850-0918 長崎県長崎市大浦町10-36 |
| TEL | | 095-824-4022 |
| Hours of Operation | | 9:30~18:00(Last entry at 17:30) |
【Day 1】Shinchi Chinatown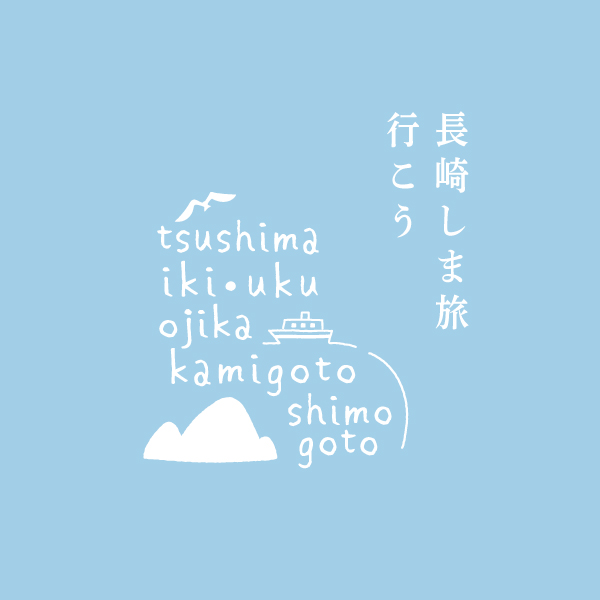 The Shinchi area was originally land reclaimed for warehouses used by Chinese boats. Today it is one of Japan's top three Chinatowns, featuring a total of 250m crisscrossing roads filled with Chinese restaurants, shops and large red Chinese gates.
| | | |
| --- | --- | --- |
| Address | | 850-0842 長崎県長崎市新地町 |
【Day 1】Stay at Nearby Hotels
Approx. 40 min. by train (Nagasaki Station〜Isahaya Station〜Hon-Isahaya Station)
【Day 2】Hon-Isahaya Station
【Day 2】Meganebashi (Isahaya)
Stone bridge that was the first nationally designated Important Cultural Property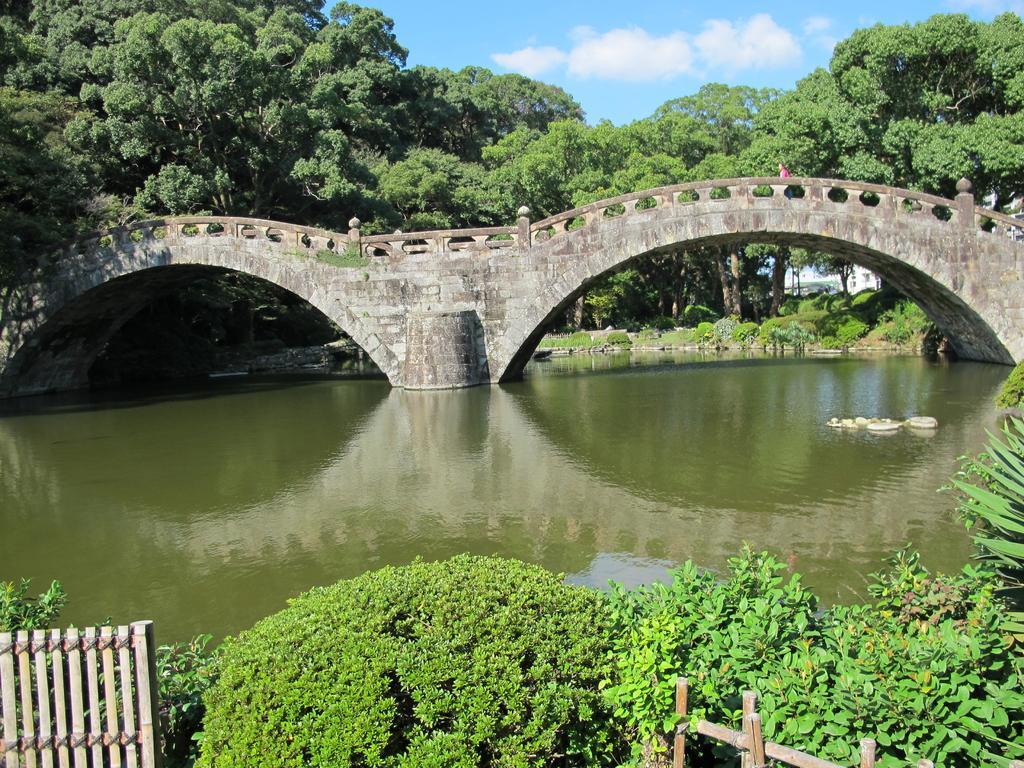 Meganebashi-Bridge is a stone arch bridge in a greenery-filled park in the center of Isahaya. It was built in 1839 over the Honmyo River, which flows nearby, but was then relocated to the park for preservation after the flooding in Isahaya in 1957.
【Day 2】Isahaya Rakuyaki Grilled Eel
Soft and exquisite eel cuisine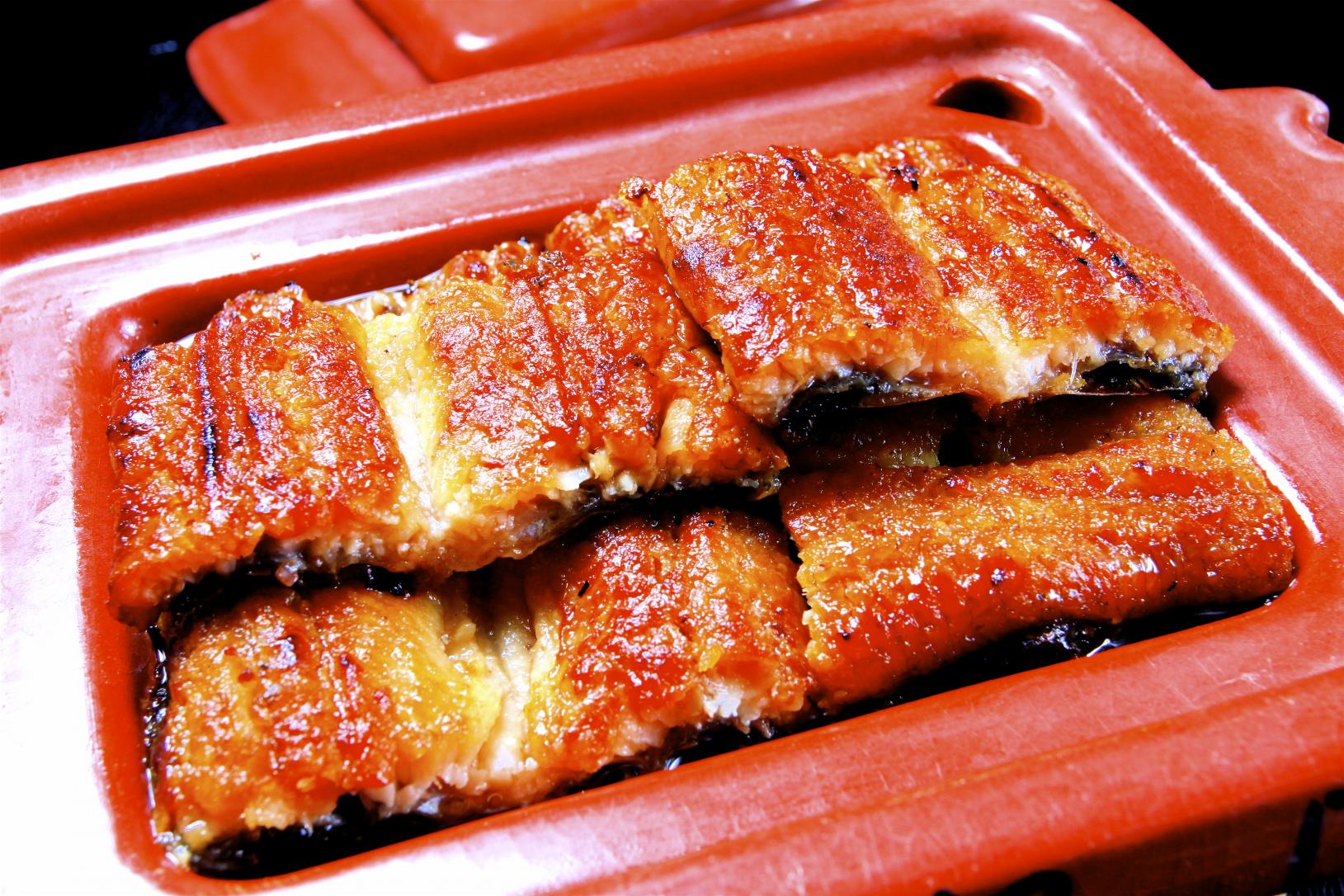 Both sides of the Honmyo River, which runs through the center of Isahaya City, are lined with restaurants specializing in eel cuisine, and you can enjoy the fluffy texture of the distinctive rakuyaki cooking method, in which eels are steamed after being baked.
Approx. 10 min. walk, then approx. 1 hour 20 min. by bus (Isahaya Eki-mae〜Kojigoku Entrance)
【Day 2】Unzen Jigoku (Unzen Hell)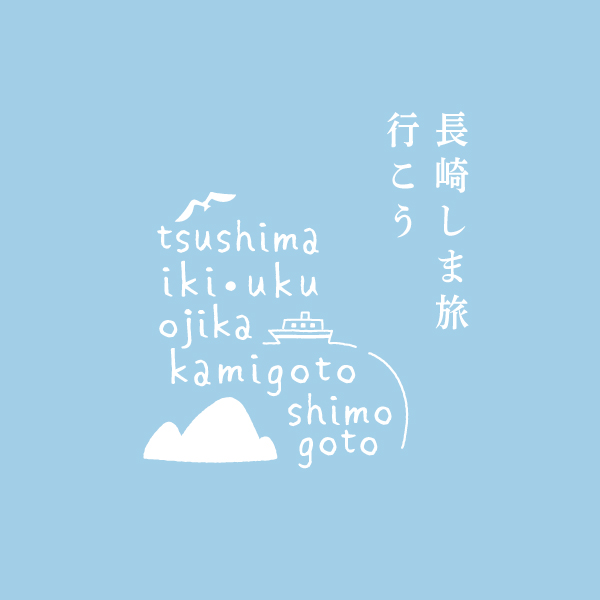 Unzen Jigoku, also known as Unzen Hell, is one of the best places to enjoy natural hot spring in Nagasaki Prefecture. Located inside Unzen National Park, which was designated as Japan's first national park in 1934, Unzen Hell has been a hot spring resort since the Meiji Period. It was also one of the first tourist resorts that became a well-known summer destination for foreigners. As such, a few western style architectures can still be seen here today.

There are around 30 geothermal fields that pump out natural hot spring from the ground every second. The constant steamy and almost apocalyptic like atmosphere (the smell of sulfur included) creates a hell-like scenery, hence its name - Unzen Hell.

Unzen Hell also has a macabre history as an execution ground for Christian martyrs in the early 1600s during the ban on Christianity in Japan. Christians were heavily tortured in Unzen Hell as a way of forcing them to renounce their faith, and it was said that 33 Christians were martyred in the area between 1627 – 1631. Today, the "Unzen Jigoku Martyrdom Site" located within Unzen Hell is there to commemorate the Christian martyrs who lost their lives during that time.

Take a stroll through Unzen Hell while indulging the smell of sulfur, the surrounding nature sound, and the live motion painting of a steamy apocalyptic setting dotted with hissing fumaroles – all of which is truly an unforgettable experience!
【Day 2】Unzen Nitta Pass Premium Night
An enchanting 360° view looking out on the sky
A popular event held in spring, summer, and autumn, this special bus tour takes you to locales where night traffic was prohibited for 1,300 years. Enjoy the nature and history of Unzen, and from the observatory, at an altitude of 1,300m, you can look out at the vast scenery and brilliant, starry sky.
【Day 2】Stay at Nearby Hotels
Approx. 40 min. by bus (Unzen〜Shimabara Eki-mae), then approx. 10 min. walk
【Day 3】Shimabara Castle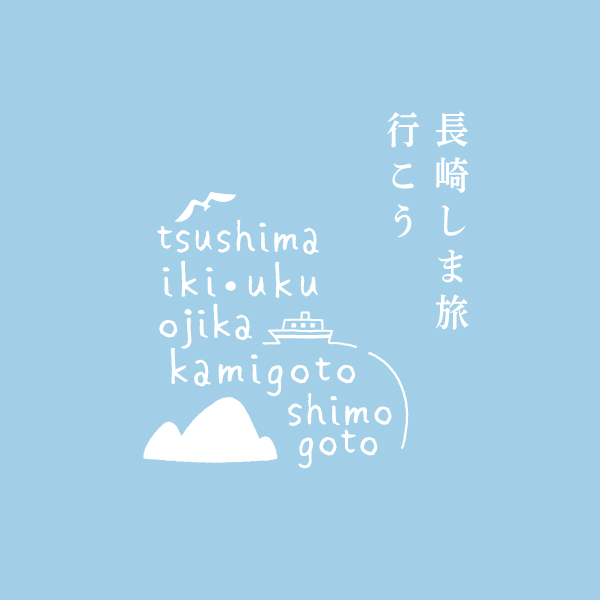 Shimabara Castle was built by Lord Matsukura Shigemasa, and the construction of the castle took seven years to complete (1618 ~ 1624). The castle served as the residence for 19 successive feudal lords from 4 clans (Matsukura, Koriki, Matsudaira and Toda), and it survived the fierce attack of the Shimabara Rebellion (a rebellion against the persecution of Christians). It also withstood a series of earthquakes and a giant tsunami that washed against the foot of the castle during the Shimabara Catastrophe in 1792.

However, during the Meiji Restoration, the castle was deserted and dismantled. The current Shimabara Castle was reconstructed in 1964, and today, many historical artifacts that relate to the Shimabara Rebellion, as well as documents on local history and folklore are on display.
| | | |
| --- | --- | --- |
| Address | | 855-0036 長崎県島原市城内1丁目1183-1 |
| TEL | | 0957-62-4766(株式会社島原観光ビューロー(島原城)) |
| Hours of Operation | | 9:00~17:30 |
Immediately nearby on foot
【Day 3】Shimabara Romantic Trip Haikarasan (Hakama dressing experience)
Wear a hakama and travel back in time to old Japan
Commemorate your trip by wearing a hakama (a style of Japanese clothing), which were often worn around the beginning of the 20th century. Choose from a wide variety of patterns for both adults and children.
【Day 3】Shimeiso Spring Garden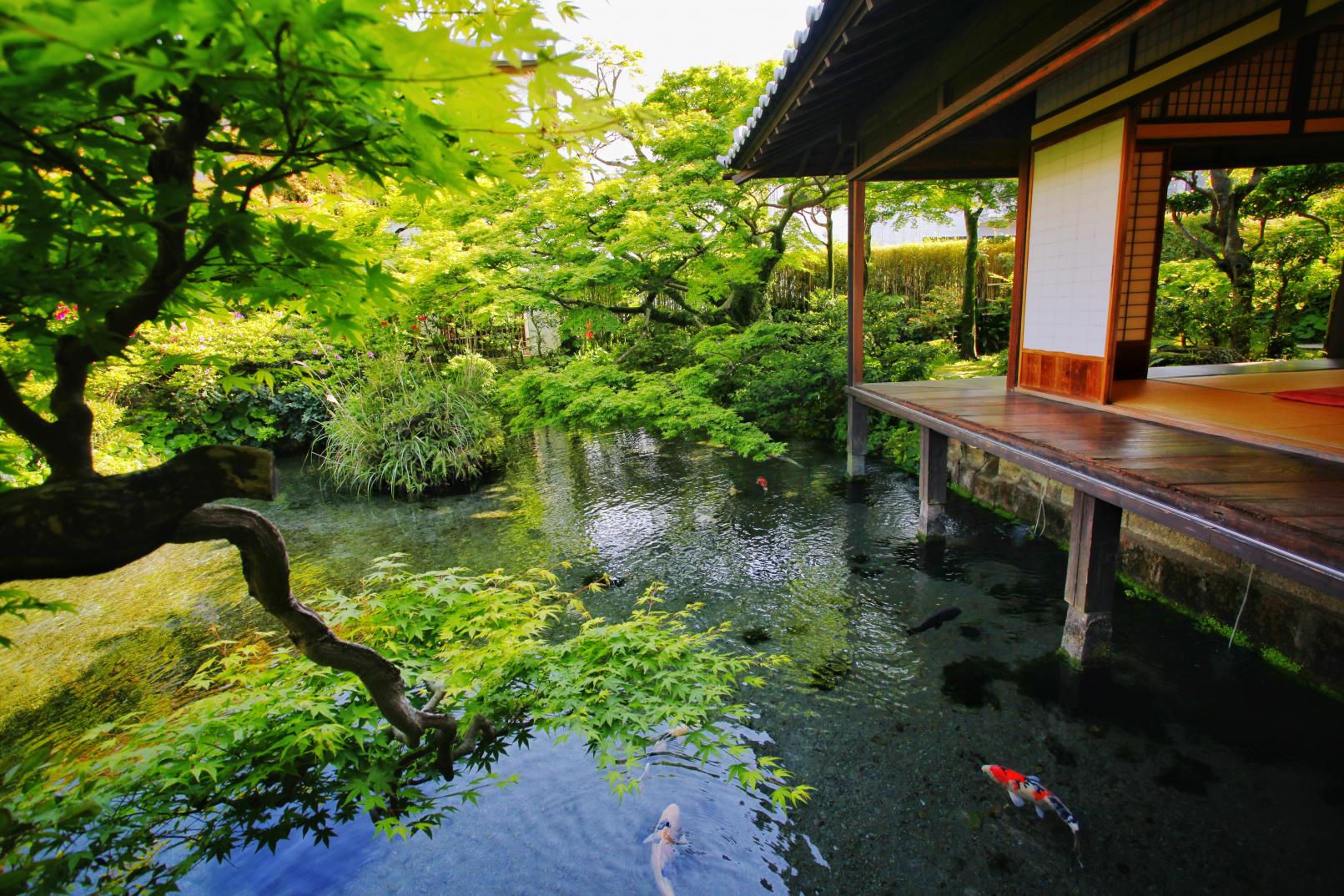 Relax with some freshly brewed green tea and take in the beautiful view of the Spring Garden Shimeiso - a traditional style villa built over a pond of rich local spring water.

This area is also well known for its "City of Swimming Carps", and it is said that approximately 3,000 tonnes of fresh spring water wells up from beneath the ground here every day.
| | | |
| --- | --- | --- |
| Address | | 855-0000 長崎県島原市新町二丁目 |
| TEL | | 0957-63-1121 |
| Hours of Operation | | 9:00~18:00 |
【Day 3】Lunch at Nearby Restaurants
【Day 3】Seiryutei Mountain Villa
Shimabara tourism exchange center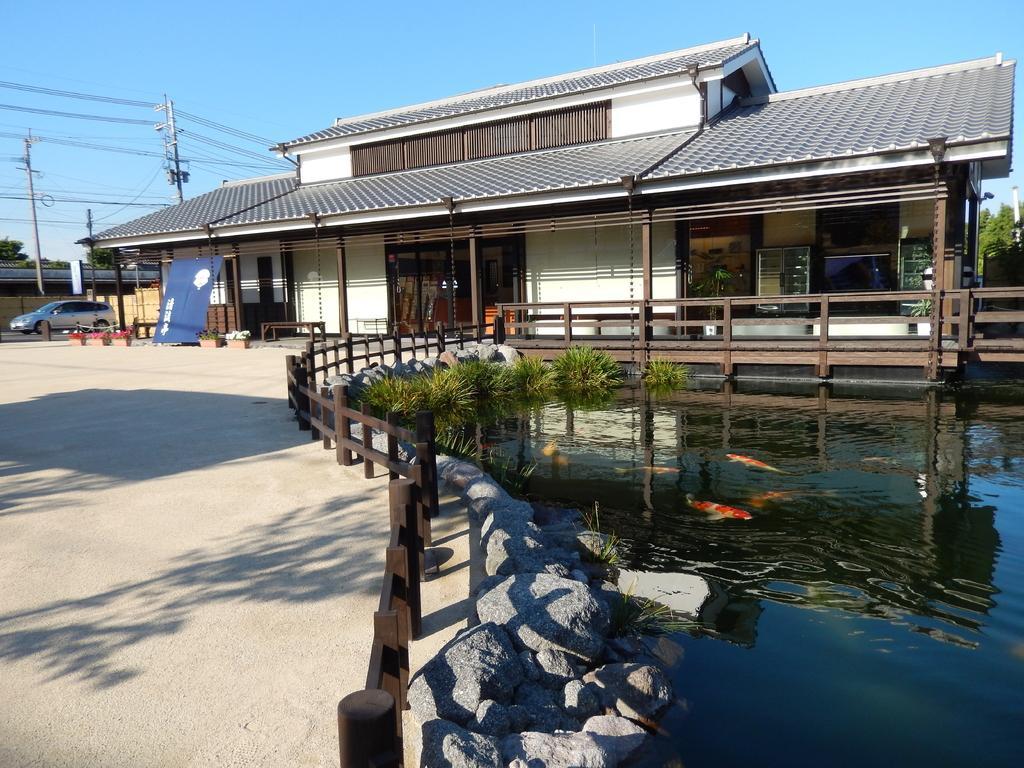 Located in Shimabara's famous "City of Swimming Carp," the tourism exchange center displays tourist information and sells specialty products. Its exterior embodies both the atmosphere of the castle town and the "City of Swimming Carp," and the colorful carp slowly swimming both inside and outside the building are also a highlight.
Approx. 15 min. walk, then approx. 15 min. by bus (Shimabara Eki-mae〜Shimabara Port)
【Day 3】Shimabara Port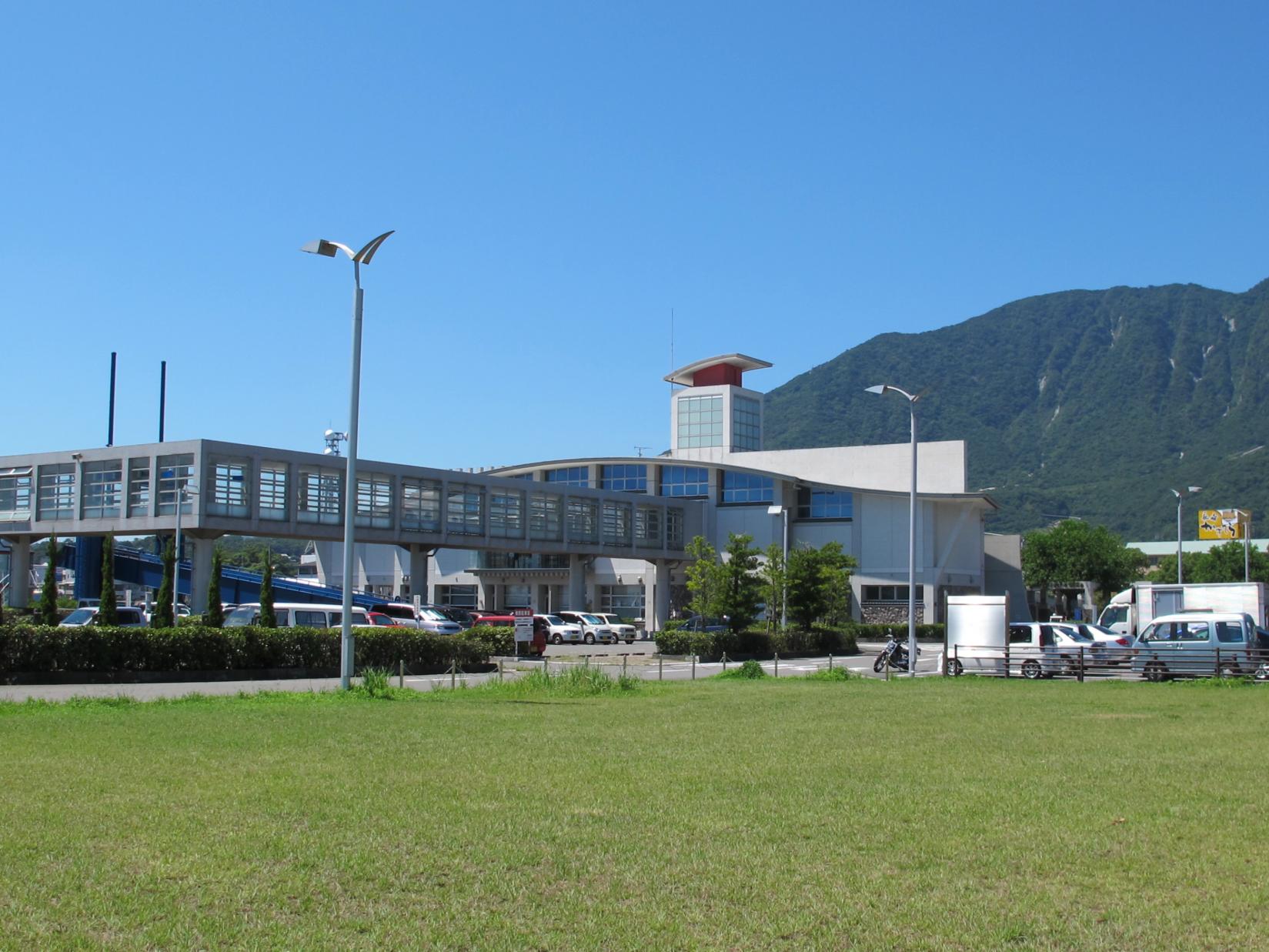 Approx. 50 min. by high-speed boat
【Day 3】Miike Port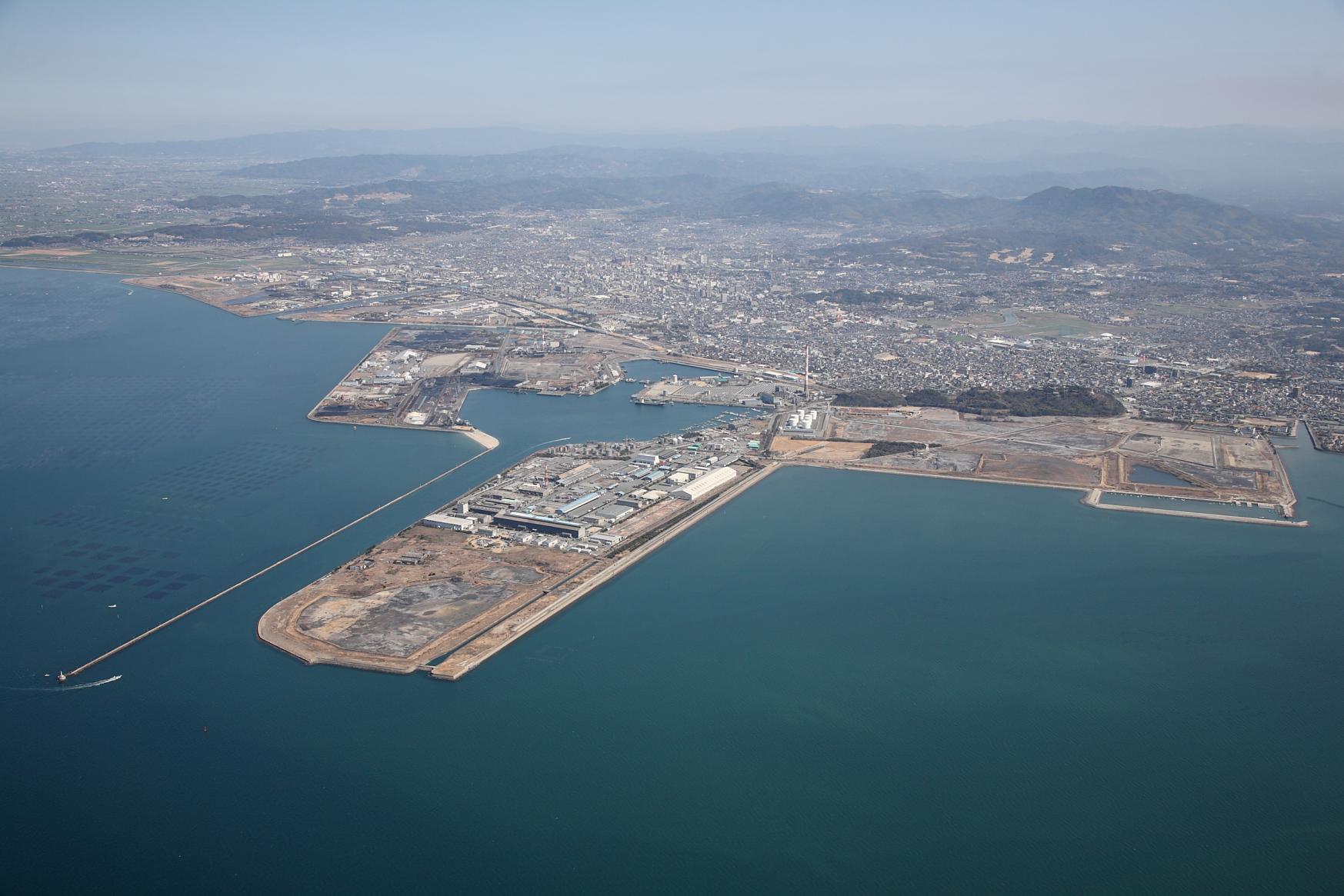 【Day 3】THE RAIL KITCHEN CHIKUGO
Enjoy a meal on this sightseeing train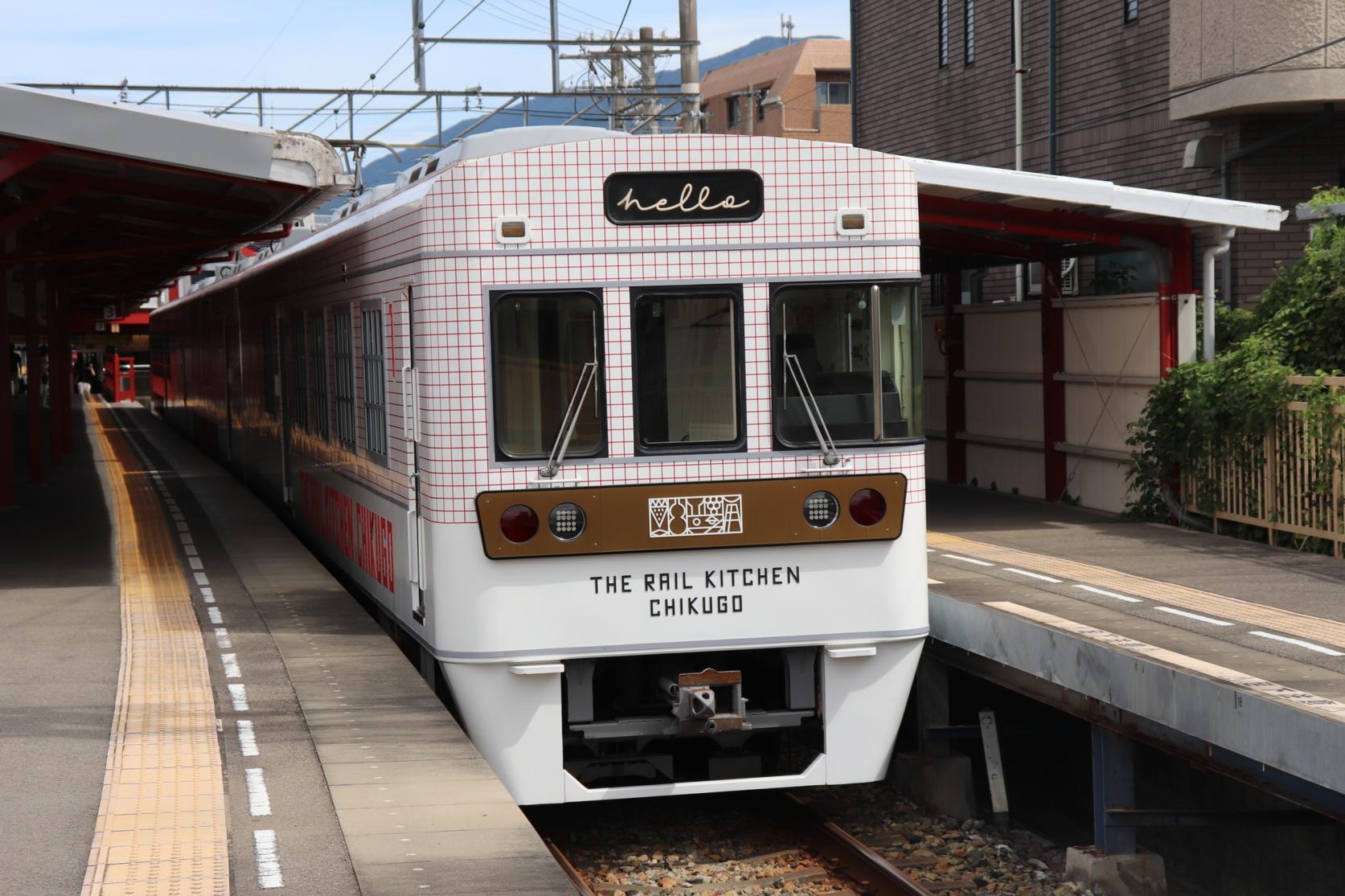 Savor dishes made with local ingredients while on this approx. 2.5 hour ride in the stylish 3-car train with 52 seats. A variety of original dishes are served, with the main one being kiln-fired pizza.
【Day 3】Fukuoka Station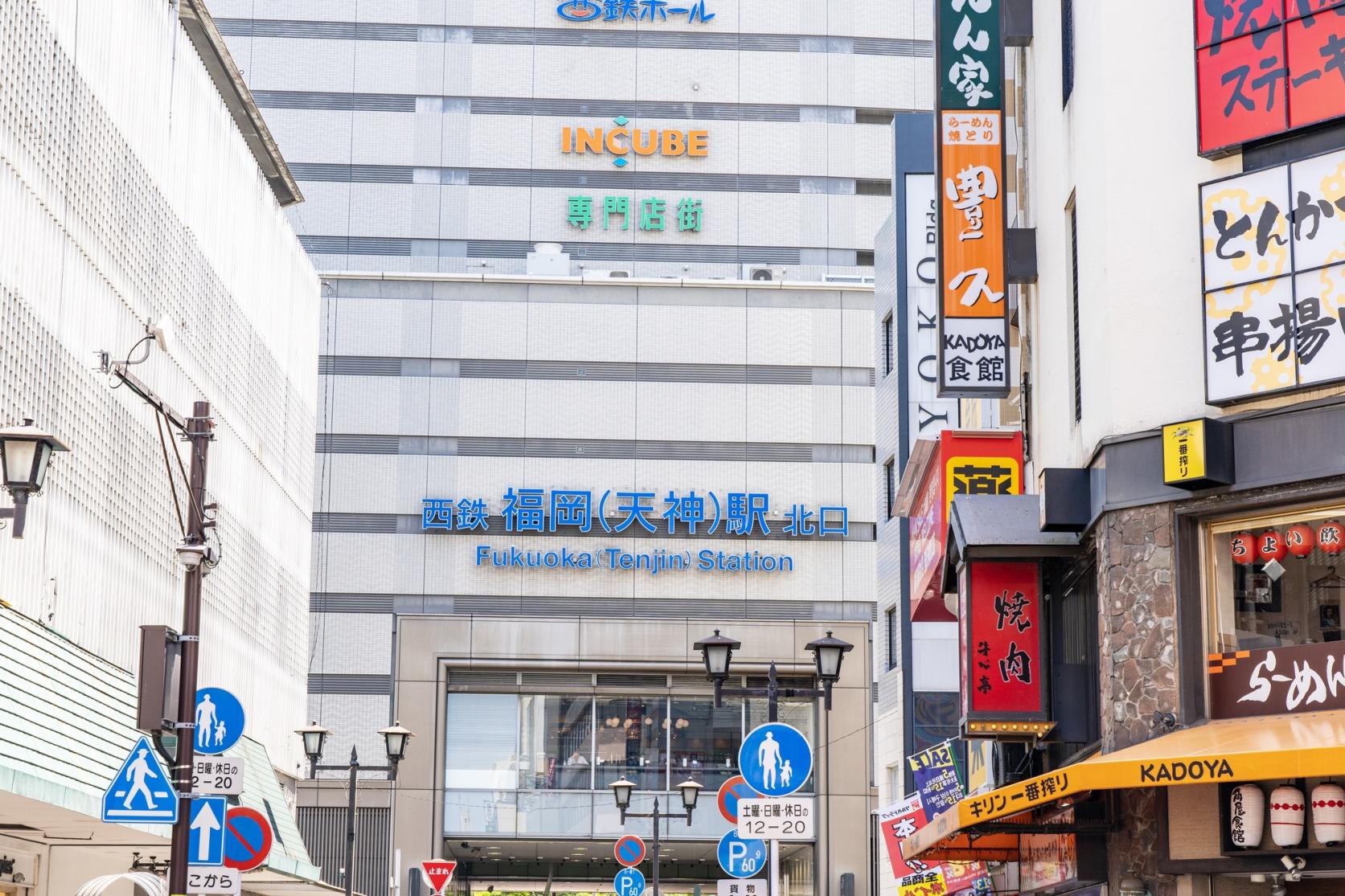 【Day 3】Stay at Nearby Hotels
Approx. 1 hour by car from Fukuoka City
【Day 4】Koinoki Shrine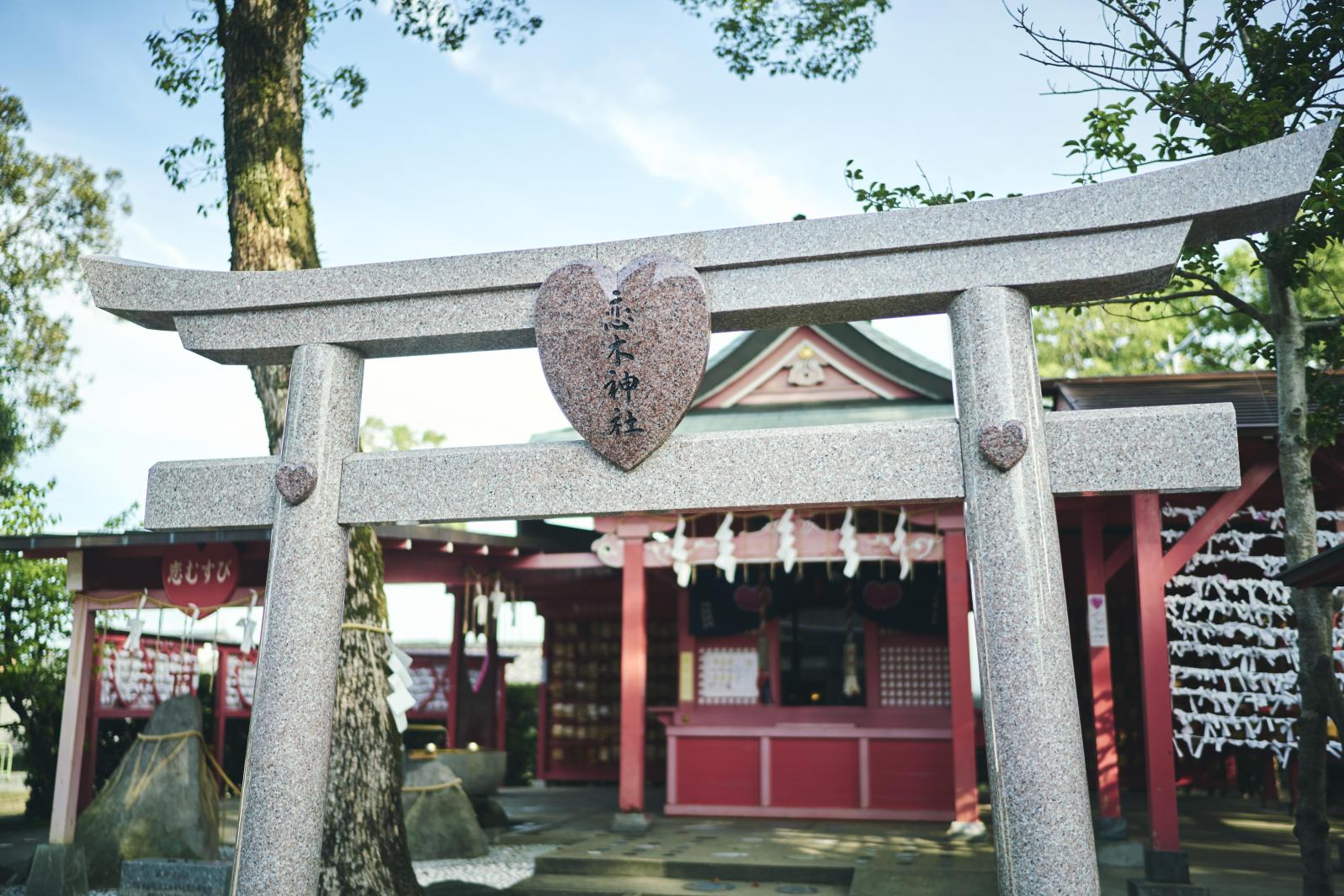 Koinoki Shrine which enshrines the God of Love was built as a subordinate shrine since Mizuta Tenmangu was founded in 1226 (Karoku 2). People think that Michizane Sugawara must have been missing the Emperor and his family as he passed away at Dazaifu. It is said that Koinoki Shrine was built to comfort Michizane's soul. Young people believe in the God of Love as a good match and happiness.The shrine is a well-known place for praying to make a good match as well as a wedding ceremony for only the bride and groom. Heart shaped porcelain panels cover Koi Sando(an approach to the shrine). A Heart-shaped Crest of the shrine, paper fortunes, amulets, and wooden plaques are popular among people.
【Day 4】Lunch at Nearby Restaurants
【Day 4】Fruit Picking
Savor Kurume's prized fruits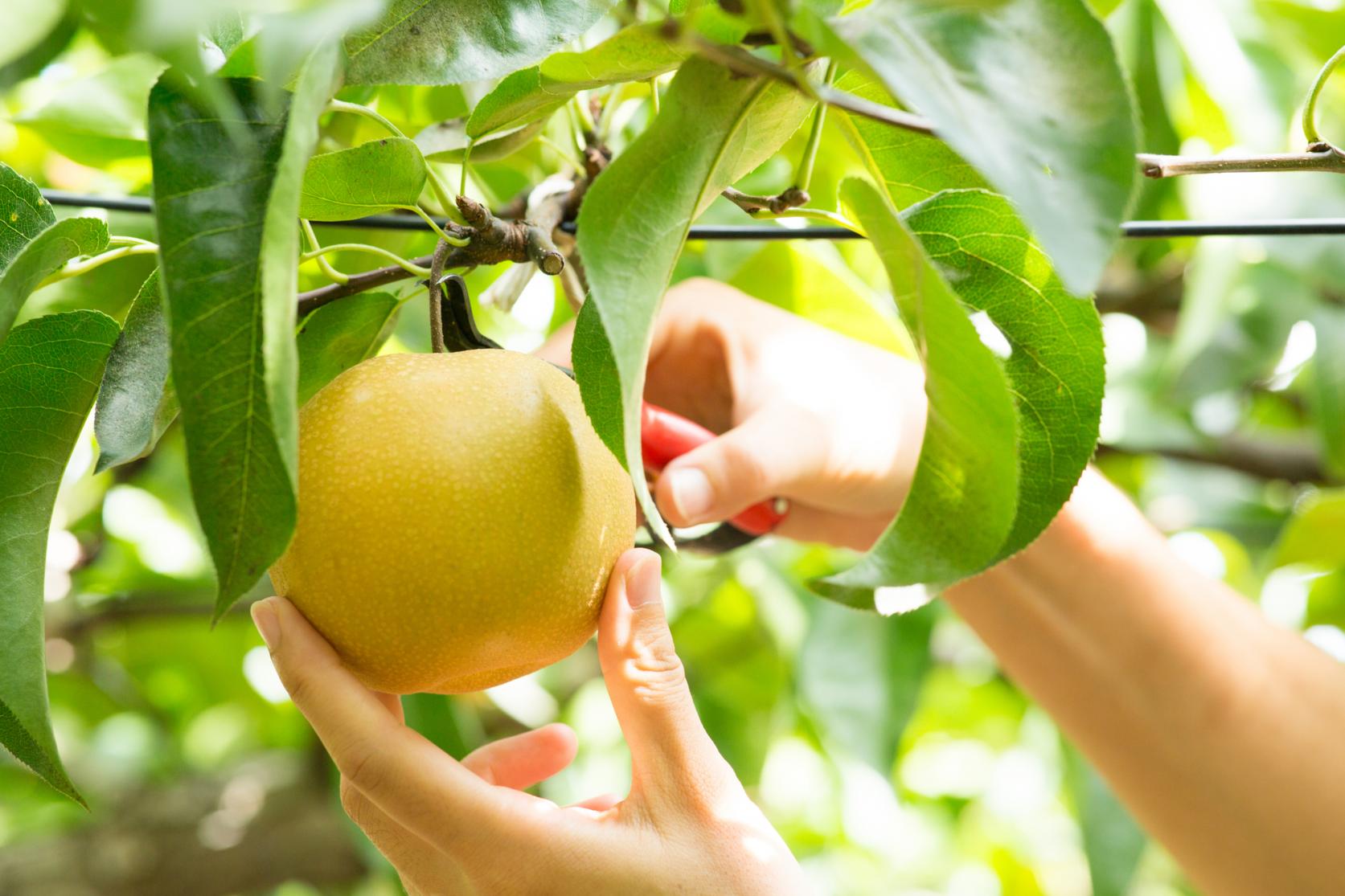 Throughout the year you can enjoy picking a variety of delicious fruits in Kurume City, including strawberries, grapes, Japanese nashi pears, and mikan oranges. Harvest these seasonal fruits yourself and create some sweet memories.
【Day 4】Kurume Yakitori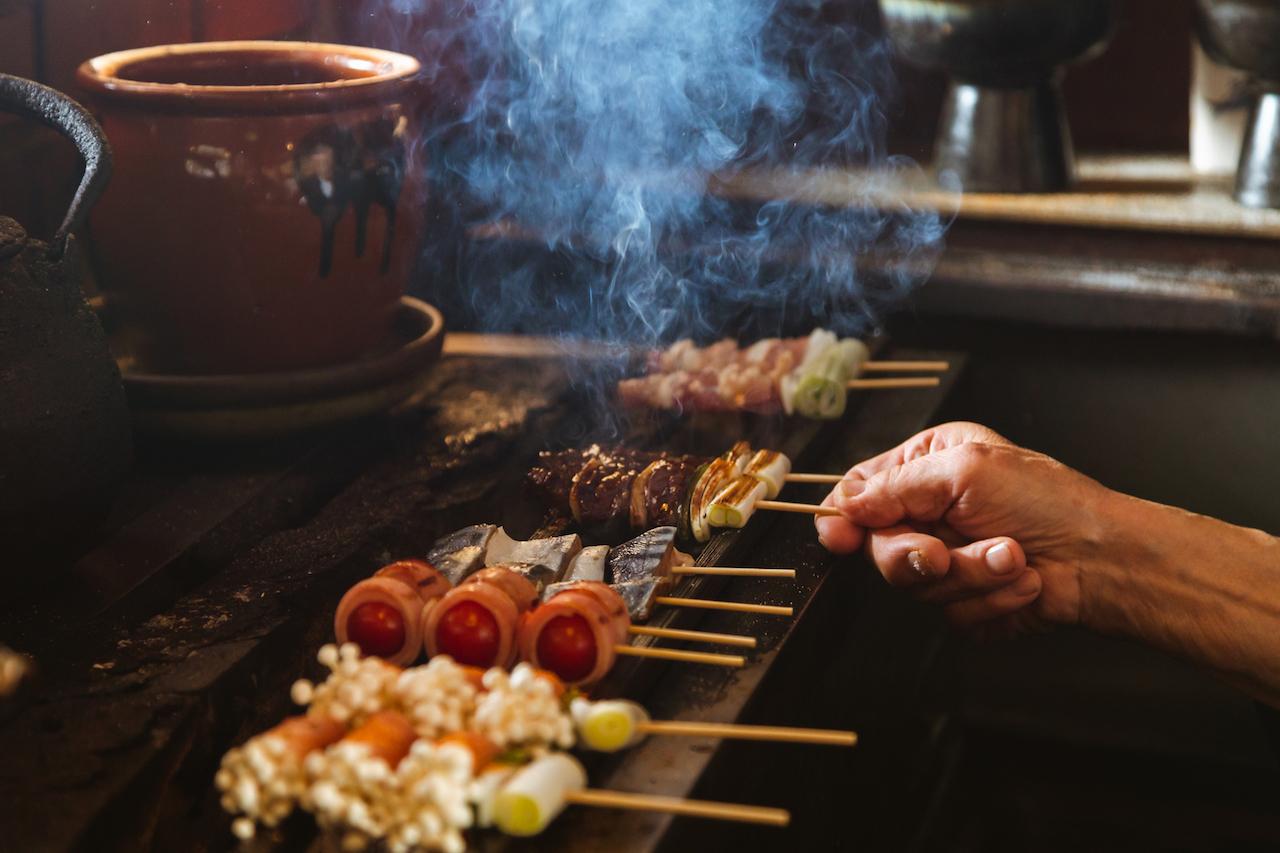 Kurume is one of Japan's leading contenders when it comes to great yakitori, and it is considered one of the region's top 3 foods in terms of casual dining. Furthermore, Kurume yakitori is considered one of the country's top 7 yakitori spots recognized for regional uniqueness, along with Muroran, Higashi Matsuyama, Imabari, Nagato, Bibai and Fukushima.

Kurume's yakitori stands out for deviating from chicken yakitori, letting diners enjoy a wide range of skewered meats like pork, beef and horse. Amongst these interesting types of yakitori, there is a variety known locally as darumu. Darumu (known to the rest of Japan as shiromotsu) refers to the soft organs of the animal, and the number of yakitori restaurants in Kurume that feature this dish as their trademark has been on the increase, making darumu synonymous with yakitori culture in the region.

An interesting fact is that several meat varieties in Kurume, including darumu, get their names from German. Darumu comes from the German word därme, meaning intestines. Heart meat, usually called hatsu in standard Japanese is called herutsu in Kurume, from the German word herz. The reason that German words began to enter the Kurume dialect is due to Kurume being home to several medical schools where German words are used in the learning of medical terminology. Medical students thus helped to spread German words, using them to describe not only anatomy but food!
【Day 4】Kora Taisha Shrine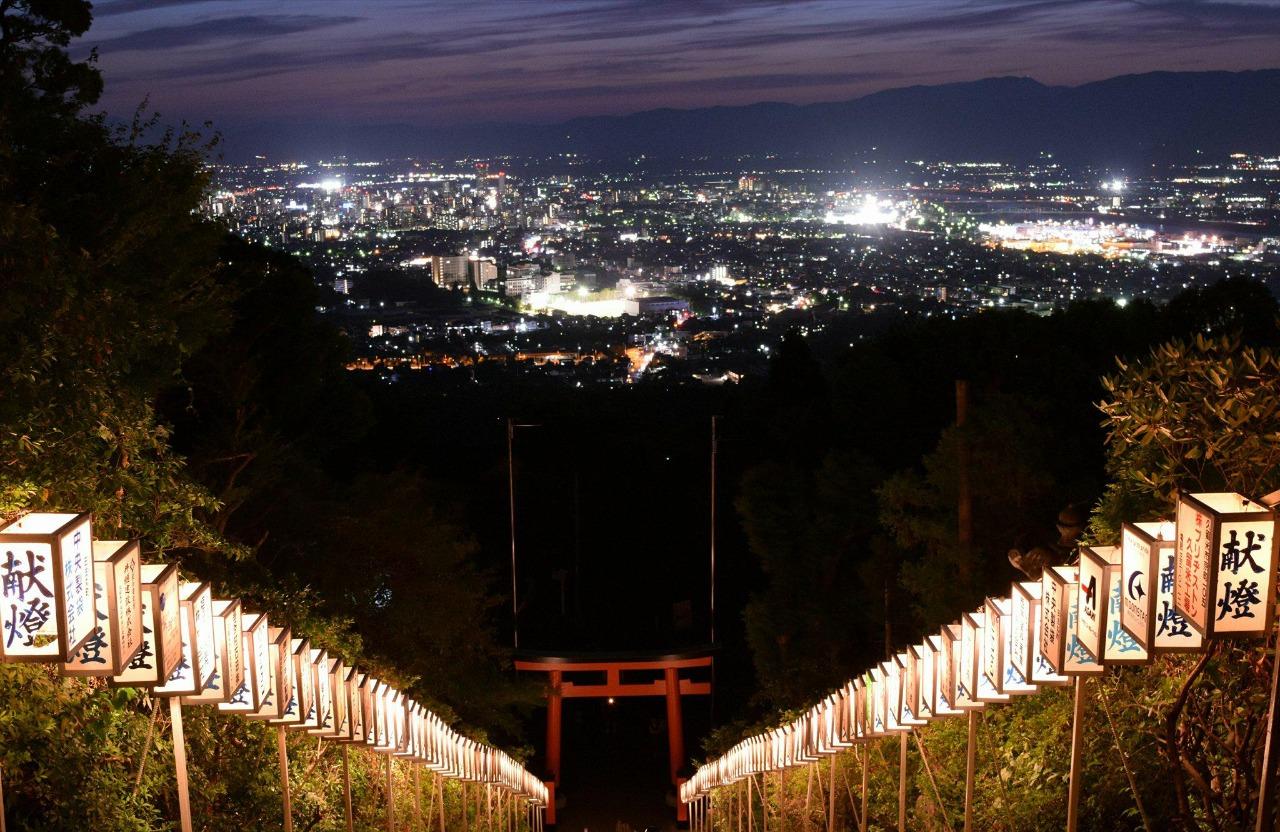 Located at the westernmost point of the Mino foothills, rising 312 meters above sea level, Mount Kora is enshrined here as a major shrine of the Chikugo region. In the past, this ancient shrine received support from the government. Said to have been constructed in 400 A.D. during the reign of Emperor Richu, Kora Tamataregu Shrine received the highest ranking of a shrine in 897, maintaining its high status by being listed in the Engishiki, an ancient book of Japanese laws. In the Middle Ages, Kora Taisha enjoyed such influence that it could compete with provincial governors. During the Nanboku-cho period of Northern and Southern Courts (1336-1392), this historical shrine received the prayers of Prince Kaneyoshi, a shogun who placed his residence at the base of the mountain. The current inner sanctuary, offertory and hall of worship were built by Yoritoshi Arima, the 3rd feudal lord of the Kurume Clan. The Japanese government has designated all of these structures as Important Cultural Assets. In addition, the shrine houses treasures such as a handwritten copy of the Tale of the Heike, another Important Cultural Asset of Japan, as well as a colored silk hanging scroll depicting the foundation of Kora Taisha, which is a Cultural Asset of Fukuoka Prefecture. On Mount Kora itself, precious natural assets such as Moso Kinmei bamboo grove, a National Natural Treasure, and the sacred rock remains of Kogo-ishi, designated a National Cultural Asset, are preserved.
【Day 4】Stay at Nearby Hotels
【Day 5】Ukiha Inari Shrine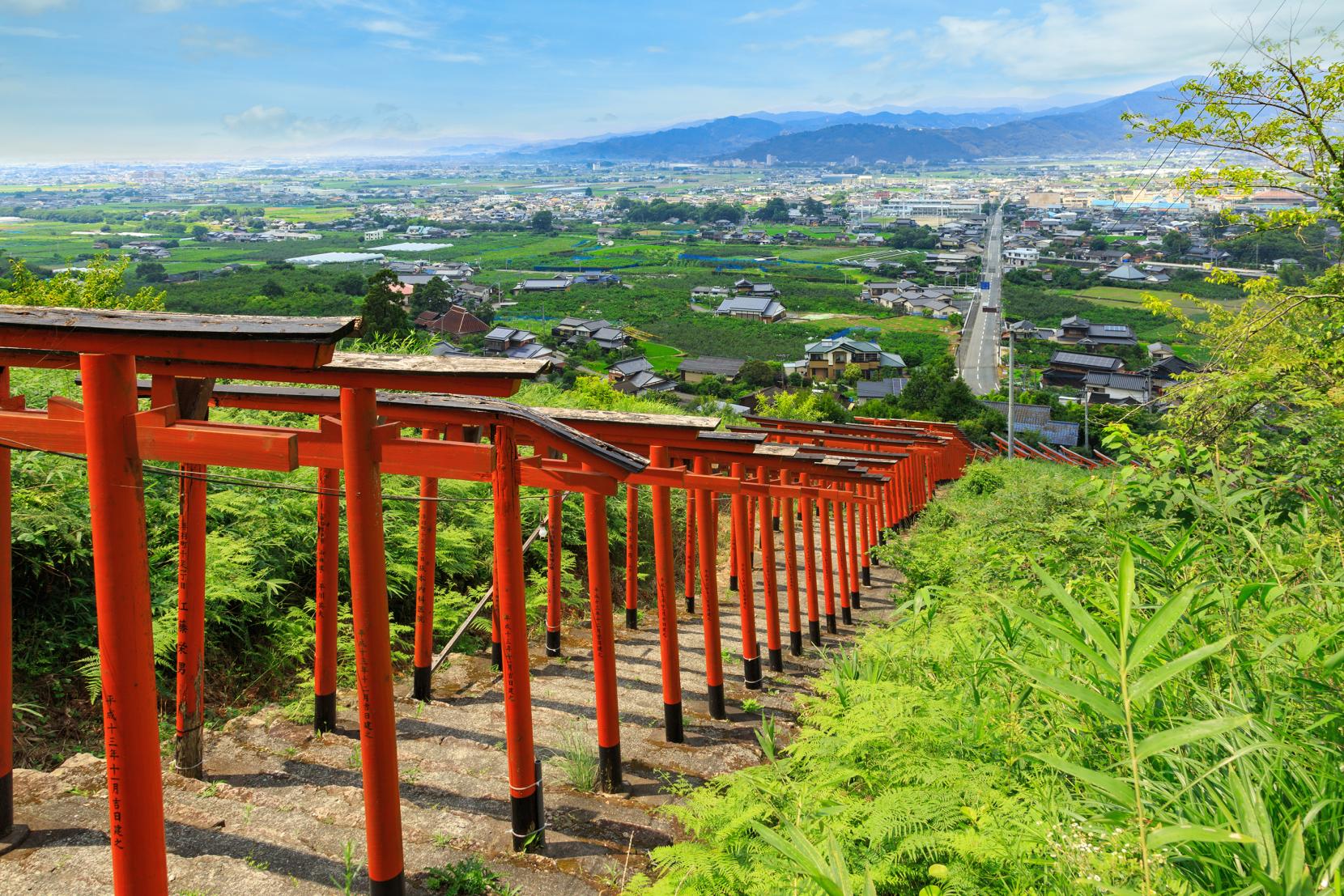 Ukiha Inari is a shrine which celebrates the gods of prosperous business, abundant crops, sake brewing, health, longevity, and scholarship. Climbing the mountain following the colorful red torii gate, it is a view spot with wonderful scenery and if the weather is good, you can see Harazuru Hot Springs, far off toward Amagi. It is also known as a famous place to see cherry blossoms in spring.
【Day 5】Michi no Eki "Ukiha" Roadside Station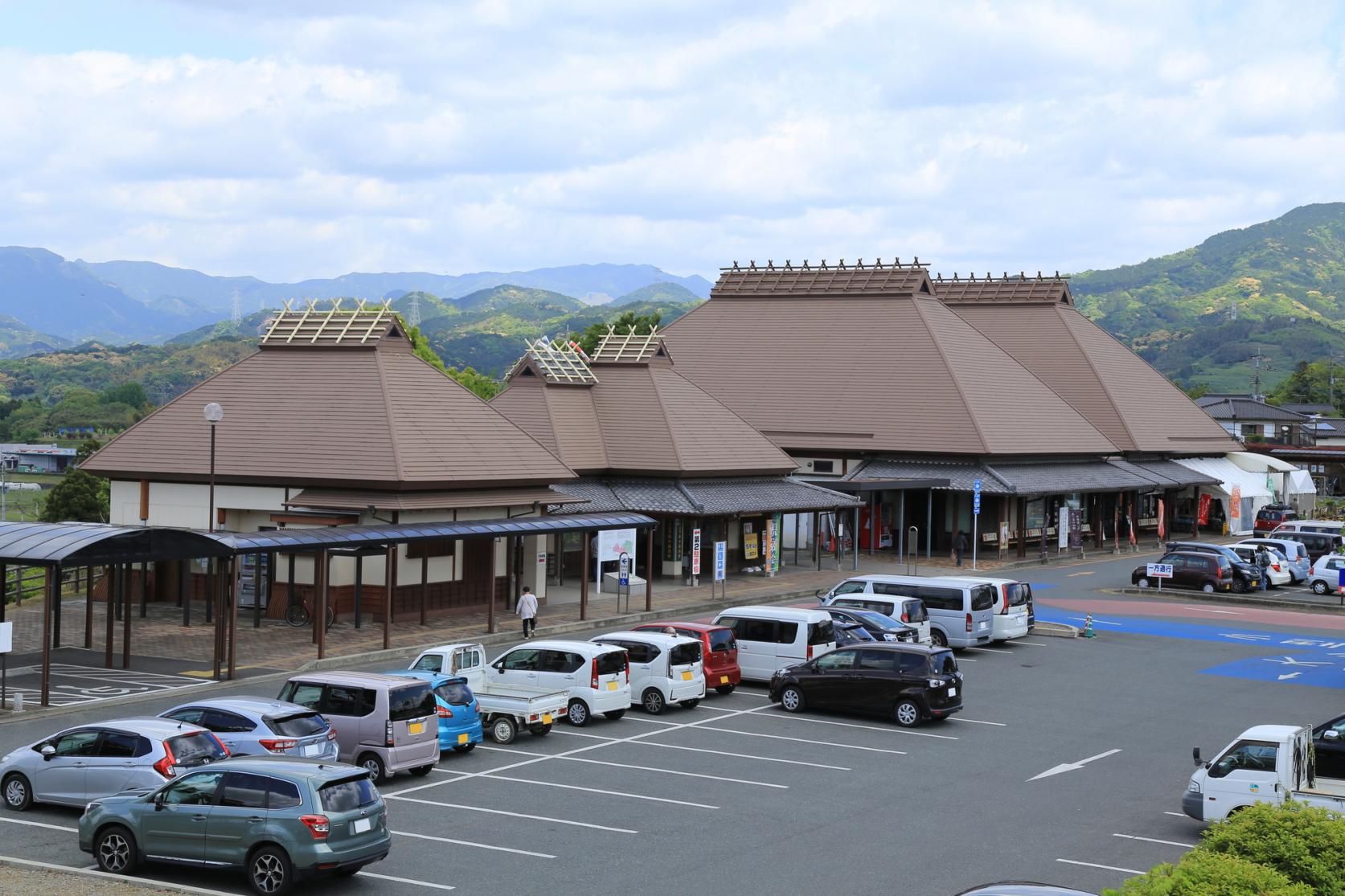 Inside this facility there are numerous amenities and attractions such as stalls to buy locally produced products, a viewing deck, an information kiosk, a mini rice field, a museum and flower beds with seasonal flowers. As well as the above mentioned kiosks, is an information corner showing highway conditions and information on sightseeing. Visitors can sample the local cuisine and hand handmade udon (Japanese noodles) in the restaurant Karausu.

*Accessibility: Priority parking for persons with disabilities; wheelchair-accessible bathrooms; changing table; textured paving blocks for the visually impaired; guide dogs permitted
【Day 5】Tosu Premiuim Outlets
Find famous foreign and domestic brands in the numerous shops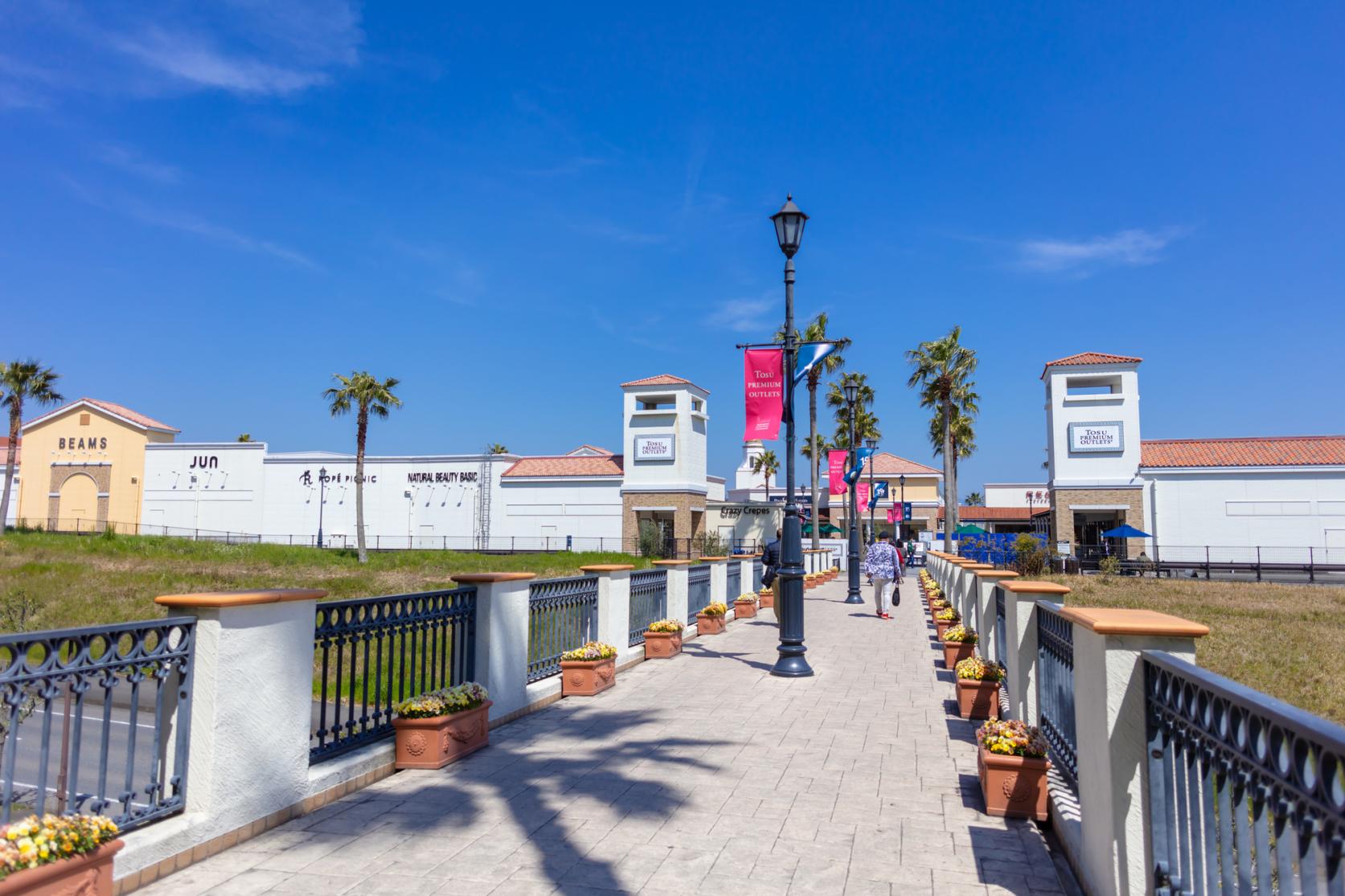 Modeled after the towns of southern California, with their refreshing air and bright sunlight, this outlet mall in Tosu City, Saga Prefecture, is one of Kyushu's premier shopping destinations.
【Day 5】Don Quijote (Chikushino Store)
Shopping that feels like treasure hunting
The comprehensive Don Quijote discount store stocks a dizzying array of products, from food, beverages, and miscellaneous goods to home appliances. What treasure will you discover?
【Day 5】Fukuoka Airport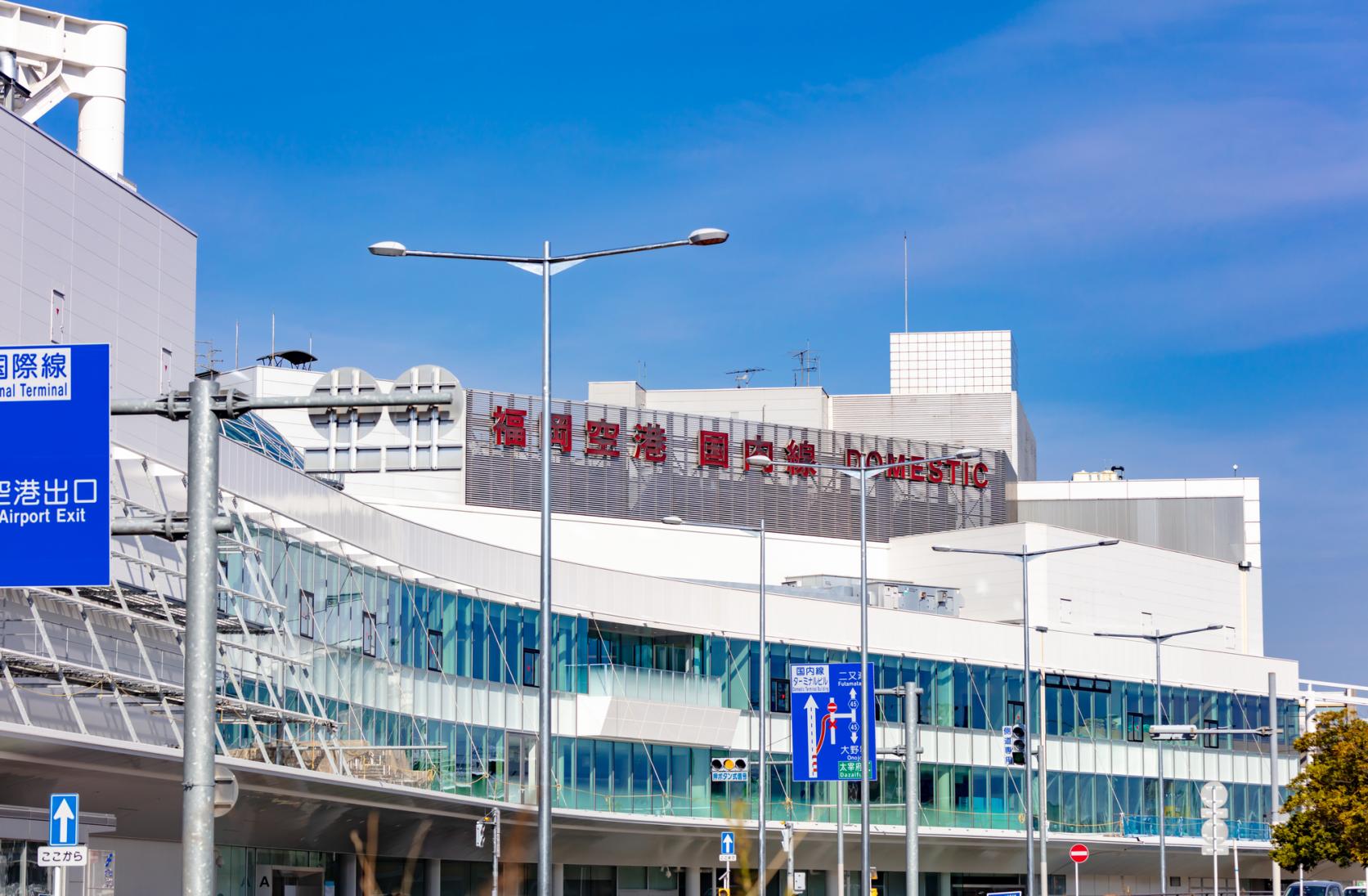 FINISH
Google Map may not be properly displayed if the volume per day exceeds the limit.
SHARE