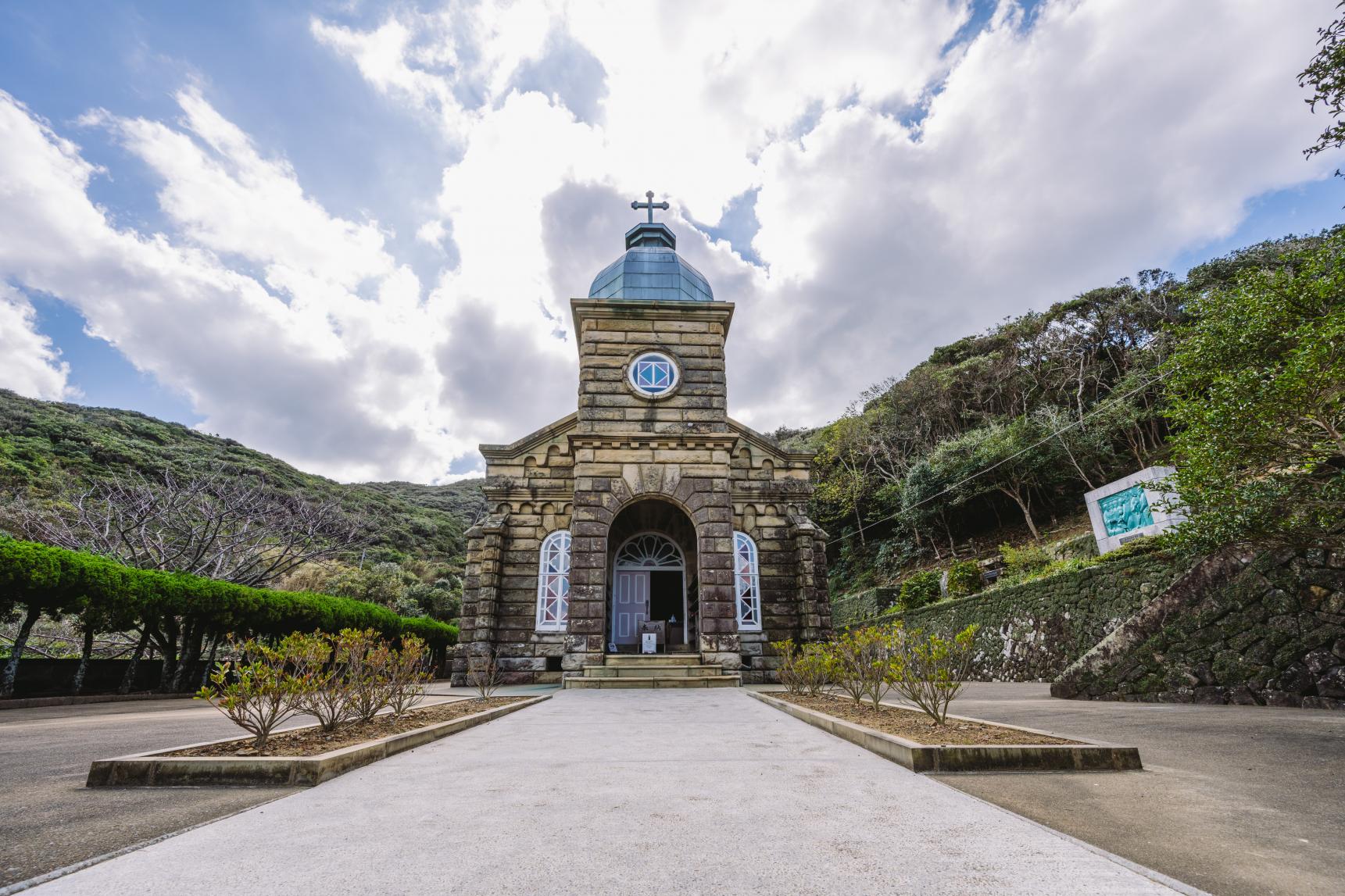 Uncover the secrets of Shinkamigoto!
Shinkamigoto is a town encompassing the upper islands in the Goto Islands, most notably Nakadori and Wakamatsu. This picturesque remote island town is home to not only a plethora of natural wonders and clear blue shoals, but also a deep and distinctive history and culture owing to its enduring faith, roots in Christianity, and unique geography. The perfect spot for nature lovers and the spiritually conscious alike.
Access to / from Nagasaki, Sasebo, Fukuoka, and Goto
Although the town is only accessible by boat, its daily access by ferry / high speed boat to and from the major cities of Nagasaki, Sasebo, Fukuoka, and Goto make it still easily accessible. It's perfect as both a vacation spot and a stop on a wider tour of the Kyushu region, especially due to its numerous sea ports, which allow further access to the surrounding remote islands!
Dive into Shinkamigoto's picturesque blue waters
White sand beaches, wide expanses of shoals, deep blue seas—Shinkamigoto's waters offer the perfect balance of calm scenic shores, marine sport hot spots, and delightful cruise routes.
Takaitabi Beach

The clear waters of this Goto Sea-facing beach in Narao are unmatched by any in the prefecture. This is the island's premier spot for marine sports, such as snorkeling and surfing. The beach houses lining the shore are available for rent, and all the necessary facilities including bathrooms, changing rooms, and showers are free for use. Plus, it's only a 10-minute drive from Narao Port Terminal!

View more

Hamagurihama Beach

With its beautiful expanses of white sand shoals and deep azure waters, Hamaguri Beach is by far the most popular beach on Nakadori Island. Ranked among Japan's top 100 beaches, Hamaguri Beach comes fully equipped with amenities including showers, bathrooms, coin lockers, refreshments, and beach equipment rentals. The popular beach opening event, "Let's Play at Hamaguri Beach Day", attracts visitors from the surrounding cities and the rest of Japan alike.

View more

Christian Cruise

This cruise offers not only stunning views of the clear, emerald waters of the Wakamatsu Strait and the table corals that inhabit it, but also a trip to a deeply moving piece of the island's Christian faith—the Christian Cave. Marked by a large statue of a cross and Jesus Christ erected in 1967, this cave was the hiding spot for eight Christians from Satonora during Goto Kuzure, a period of mass exposure of Christian communities in the Goto Islands when practicing Christianity was illegal.

View more
Explore the rich history of Shinkamigoto and its roots in Christianity
Christened with the nickname "the island of prayer", Shinkamigoto is home to a staggering 29 churches, owing to its deep roots in Christianity. Shinkamigoto, as well as the rest of the Goto Islands, was once a land of shelter for kakure Christians—Christian refugees who fled mainland Japan to avoid persecution when practicing Christianity was forbidden. Visit these historical sites and discover this distinct and often overlooked piece of Japanese history for yourself!

Kashiragashima Church

Kashiragashima Church, this sandstone church, a rare sight in Japan, was built by Christians returning to the islands after the period of persecution, from stones they quarried themselves. The church is designated as an Important Cultural Property of Japan and is part of the "Churches and Christian Sites in Nagasaki" bid for designation as a World Heritage Site.

View more

Aosagaura Church

Another striking piece of architecture from prolific Christian architect Yosuke Tetsukawa, Aosagaura Church is renowned for its distinct brick exterior and wooden interior. The building that stands here today is the third iteration; it was rebuilt in 1910 and designated as an important national cultural property in 2001.

View more

Former & Current Tainora Church

Two churches stand here: the former and current Tainora Church. The former church became the base for missionary operations in the area when Father Bourelle of the Paris Foreign Missions Society arrived in 1880. After the parishioners returned in 1949 following World War 2, the church was expanded and a bell tower was constructed using bricks from the original Urakami Cathedral in Nagasaki which was destroyed by the atomic bomb. The current Tainora Church was constructed in 1979 on the former site of the local kindergarten.


Located on the World Heritage site, "Hidden Christian Sites in the Nagasaki Region - Villages in Kashiragashima Island"
Known for the eponymous sea-facing stone church that now stands atop it, Kashiragashima Island is a beautiful island located northeast of Nakadori Island that was uninhabited until the Edo Period. A Buddhist man by the name of Gidayu Maeda from Hisaka Island cultivated the island and invited Christians to settle there in 1858. In March 1867, a Christian by the name of Domingo Mori Matsujiro moved there from Tainora, and the place of worship he built for training missionaries attracted many Christians to the island. Although Christians fled from the island in 1868 during Goto Kuzure, a period of mass exposure of Christian communities in Goto when practicing Christianity was illegal, they promptly returned after 1873 once the edict banning Christianity was abolished. The locals have perfectly preserved the church up until the present day, which stands as a testament to the undying faith and tenacity of its community.
Kashiragashima Church was designed by prolific Christian architect Yosuke Tetsukawa. It began construction in 1910 and was built over the course of a decade with the help of island inhabitants hauling thick and heavy blocks of sandstone cut from local quarries. Numerals that guided construction can still be seen etched in the brick exterior, while the interior is gorgeously festooned with countless flower motifs, notably within the ceiling's joists and corbels. The surrounding village displays a plethora of information regarding the village that existed here, and the nearby Christian graveyard is famed for its bountiful trailing ice plants which bloom in May.
Untouched nature and breathtaking vistas
With Shinkamigoto's vast stretches of untouched nature, a plethora of natural wonders and spectacles awaits around every corner.
Yagatame Park

Marked by a large, triangular rock commonly known as "Totoro Rock" due to its resemblance to the iconic Ghibli film character, this scenic observation spot at the mouth of Nama Bay offers a stunning view of the East China Sea. The main attraction of this spot is the marvelous sight of the sun sinking into the sea in the evening, painting the rippling waves a golden orange.

View more

Akadaki Cliffs

On the north side of Nakadori Island stands these strikingly tall 143-meter cliffs. Their exposed surfaces are composed of volcaniclastic stone which has been gradually eroded by waves, giving its bright red appearance. The nearby park, Shirakusa, offers a fantastic view of this naturally-made earthen mural.

View more

Mount Ryukanzan Observatory

This mountain on Wakamatsu Island offers a stunning view of the azure Wakamatsu Strait, Wakamatsu Port, and small surrounding islands. From here, one can observe the boats arriving and departing into and from the strait. It's also a very popular spot for hanami, or cherry blossom viewing, in the spring.

View more
Indulge in local specialties
As an island with a prominent fishing industry, the fish and sashimi served here are fresh as can be. In addition, Shinkamigoto has a wide variety of local specialties unique to Nakadori Island thanks to its unique geography and location. Local ingredients such as camellia oil and flying fish give each dish an identity distinct from cuisine served anywhere else in Japan.
Goto Udon and Jigoku Daki

Known as one of Japan's "big three" in terms of udon, Goto Udon is distinct for its thin, yet firm noodles and the use of a local specialty, camellia oil, in its recipes. Another such local specialty using Goto Udon is "Jigoku Daki", a special dish where the noodles are scooped directly from a pot of boiling water and enjoyed with soy sauce and agodashi (yet another local specialty!).

Agodashi (Flying Fish Broth)

One of the island's proudest local specialties, this broth made from flying fish gives the island's food its unique identity. From kara-age to soy sauce to udon, the distinct, refined and rich taste of this broth can be found in many dishes and food products throughout the island, as well as bought on its own for your own cooking. This broth derives its namesake from the local name for flying fish—"ago".

Kattoppo (Stuffed Boxfish)

A local specialty of Shinkamigoto, Kattoppo is a unique savory seafood dish comprised of many distinct flavors. Miso, ginger, onion, and other ingredients are mixed and stuffed inside the stomach of a boxfish, which is then fried in a mixture of miso, sugar, and salt. Its name is derived from the local name for boxfish.
Join in local traditions and seasonal events
With its centuries of history, Shinkamigoto is a place of long upheld traditions.

Let's Play at Hamaguri Beach Day

A beach opening event taking place in July with games, sports tournaments, and fun for the whole family. Fully enjoy the most popular beach Kamigoto has to offer with kayaks and banana boats provided free of charge.

View more

Church Concerts

Christmas is a very special occasion in Shinkamigoto, owing to its long and rich Christian history. The Churches are decorated with lights during the month of December, which when combined with their stunning orchestral performances of traditional Christmas songs, makes for a truly enchanting Christmas experience.

View more

Firefly Village

Two different types of fireflies (genjihotaru and himebotaru) appear at Aiko River in late May / early June. Walk along the riverside and observe thousands of these gentle creatures as they whimsically flutter around you.

View more

Kamigoto Kagura

With 30 unique dances, Kamigoto Kagura embodies the definition of Sato Kagura—Kagura performed outside the local palace, created and enacted by smaller communities. This traditional art form has persisted until modern day and boasts over 400 years of history. This dance is mainly performed at Aokata Shrine, though special showings also occur at different places in town on special occasions.
SHARE